Inheritence: Mwiraria ordered that 50 acres be set aside for trees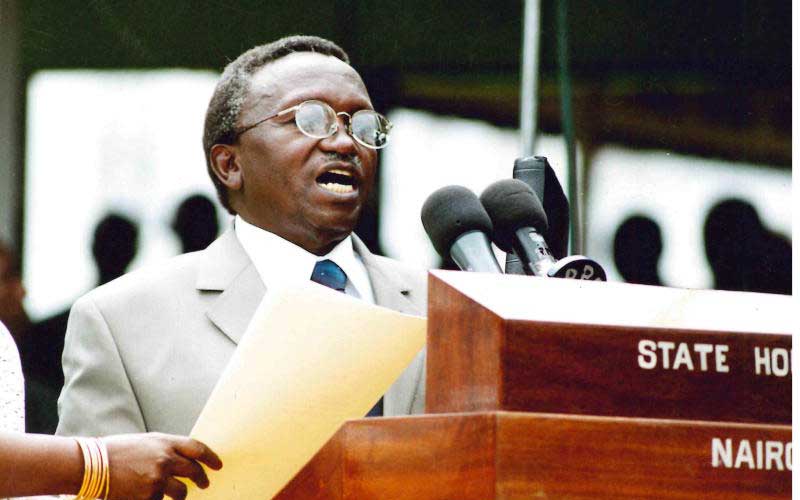 Ex-Finance minister David Mwiraria decreed in his Will that a portion of his land be set aside to plant indigenous trees with medicinal value.
Mwiraria issued the directive in 2016 — six months before his death from cancer at Karen Hospital at the age of 79.
Mwiraria, who had served as Finance minister for three years from 2003, wished that his children would sell the medicinal plants to help the sick.
The former minister was confined to the hospital during his last days. In fact, his bedside was converted into a court room because it was impossible for him to attend hearings on the Anglo Leasing case in which he was a suspect.
Mwiraria's last days clocked away as he fought to prove his innocence in the multi-billion-shilling scandal.
A reading from his Will points to an economist who wanted to alleviate others' pain or even provide cures for illnesses after his cancer battle.
In his five-page Will exclusively seen by The Standard, Mwiraria appointed his brother, Nehemiah Kimathi, as trustee of his empire that was to be managed under two holding companies named after trees — Meru Oak and Muringa.
"I appoint my brother Dr Nehemia Kimathi as my executor and trustee of this will. I give and bequeath all my estate, both real and personal whatsoever unto my trustee upon trust to hold and preserve my real estate and after payment thereto my debts and funeral expenses," Mwiraria's will written on November 7, 2016 reads in part.
"My trustee shall hold in trust and benefit to my children and the said beneficiaries' children."
A 50-acre piece of land in an area called Mulika in Meru County would be set aside for the medicinal trees and for rearing cattle. Mwiraria tasked his son, Koome Mwiraria, to take care of this farm whose proceeds would be transferred to Muringa Limited.
The former London School of Economics alumni envisioned that his family would grow his empire even after his death. His Will was about developing his estate and selling assets that would not bring money to his children.
For ease of management, he directed that all monies collected — be it from sales or rent — would be held under Meru Oak Limited and Muringa Limited.
Apart from Koome, Mwiraria had one other son and three girls: Muriuki, Makena, Mukami and Stella.
His wife, Jerusha Gatune, died in May 2003 and was interred in their Meru home. It was on this seven-acre land that Mwiraria wanted to be buried.
He instructed that the land should be sub-divided. One acre would be his final resting place next to his wife while the remaining six acres would be transferred to Meru Oak, which would build residential houses.
He wished that half of the houses would be sold and the rest used to generate rental income. Mwiraria issued a caveat that should the housing development not be feasible, it should be sub-divided and sold.
The patriarch directed that his two houses on the Meru land would be transferred to Meru Oak for use by all his beneficiaries.
Mwiraria also directed that his Karen homestead be transferred to Meru Oak and sub-divided. He willed that the family home be left under Makena's care but with a caveat that she would ensure that it would be available for Stella and her children, or any other grandchild who needed shelter while growing up.
The other portion, he decreed, would be sold and the income invested in securities.
Mwiraria had a plot next to Nakumatt in Meru town that he wanted developed into retail shops while another two-and-a-half acre plot at Kiringa would be developed into a petrol station or sold.
The confidant of President Mwai Kibaki was also embroiled in a two-acre land dispute with one Cornelius Imathiu. He directed that in the event the court allowed him to possess the whole portion, then one Mercy Kibiti would get one-quarter of an acre as appreciation for following up the case.
If Mr Imathiu was allowed to keep one acre, Ms Kibiti would get one-eighth.
Mwiraria had an apartment at Lantana Garden in Nairobi whose management he transferred to Meru Oak.
The former minister also directed that his farm in Nchoroiboro should be transferred to Muringa Ltd and managed by Muriuki. A house was to be built on the farm and it was not to be sold.
The will also revealed that Mwiraria had 22.5 acres of land in Tiwi Beach, Mombasa, that he wanted sold or held for rental income.
He also had interests in the banking sector and held Gulf African Bank shares. Although he did not disclose how much they were worth, he directed that they should be sold and the money used to develop all the properties he had placed under Meru Oak and Mulinga.
The Will did not reveal how many cars he had, but only directed that they would be for his family's use. He also did not disclose how much money he had in his Equity and Barclays banks accounts, only directing that the funds be transferred to Meru Oak.
He also directed that his Sh51 million held by another firm, Emkay Limited, ought to be collected and invested in Meru Oak.
Mwiraria also directed his family to collect Sh1 million from a Mr Gitonga to cover expenses for their Rongai shop.