Why Kenyans are so obsessed with buying land they barely use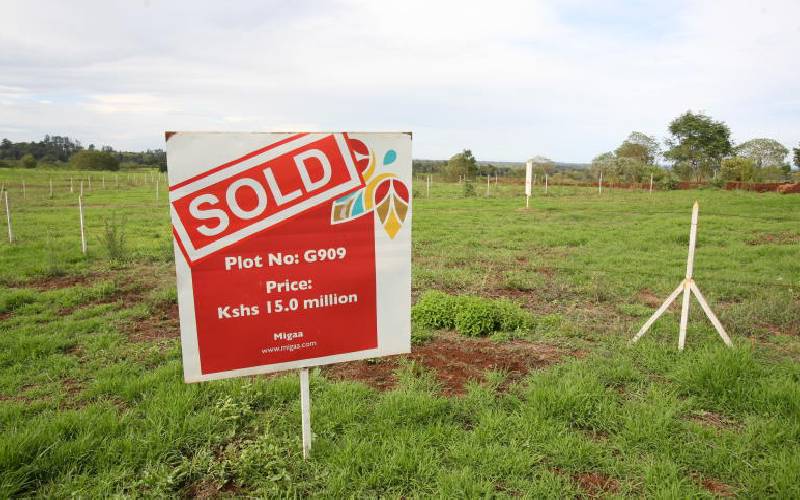 Truphosa Modi first saw the post on buying land in a Facebook investment group she subscribes to.
Members of the group were talking about the best financial decisions to make before one hits 30. The members were unanimous in their decision: "Buy land and watch it appreciate".
They were sharing their experiences on places outside Nairobi where people with low income jobs have saved and bought land. The narratives solidified the "grass to grace stories" where people were pushed by the desire to own homes and decided to buy land. "The post had more than 1,000 comments of people sharing experiences and urging one another on why land should be their first investment," she says.
A feeling of inadequacy crept inside her. The more she read stories of people younger than her talking about how they had bought land immediately after college, she was convinced she needed her own piece of land.
Three months later, with her savings and a loan, she went to Isinya and secured a half acre piece of land.
"It is the worst mistake I ever made. I bought the land without having a solid plan as to what to do with it, and now it is lying idle, and I am broke. I wish I waited and put my money in other income generating activities," says Modi.
Six years ago, Deborah Bosibori also fell into the rush to buy land. Her peers were talking about the irresistible chance to own land in Malaa KBC on Kagundo Road, and the deal sounded too good to be ignored.
For just Sh200,000, she could secure a quarter an acre of land that had a promise of accelerating in price to millions within a few months.
Second opinion
Her age mates urged her to go for it, and advertisements made it sound like land ownership was the best decision someone could make.
Years later, she is still struggling with what to do with the land that lies in the outskirts of the city; the hopes of making money from it has been dwindling every year when she checks on land prices in the area and realises the cost has stagnated.
"We were told that there is a road being built around the area, and the land was likely to develop sooner," she says. The road has never been built and the prices have remained the same.
Chege Mwaura, a land broker in Nairobi's Kitengela estate, says the allure to own land forces people to scramble for any piece they see just to fit in.
He recommends due diligence and thorough research before making commitment to buy land.
"If you are a buyer, you should visit the place where the land is being sold and ask around on the price of land around the place," he says, adding that the reason most people get duped is because they believe what brokers and sellers tell them, without seeking second opinion.
The wave and hurry to buy land seems to be sweeping through the country; both in the city and countryside. It seems to be the ultimate goal for most people who would not hesitate to spend their entire savings on a piece of land and make numerous trips to marvel at their investments even when they have not put anything on it.
"As long as I have something, somewhere I can call my own, I feel accomplished," says Evans Kipkirui who sold his dairy cows and moved to a smaller rental house just to afford land in Kitengela.
"Someday, I will sell it for a higher amount than I bought it," he says.