NLC's controversy filled six-year term whimpers to an end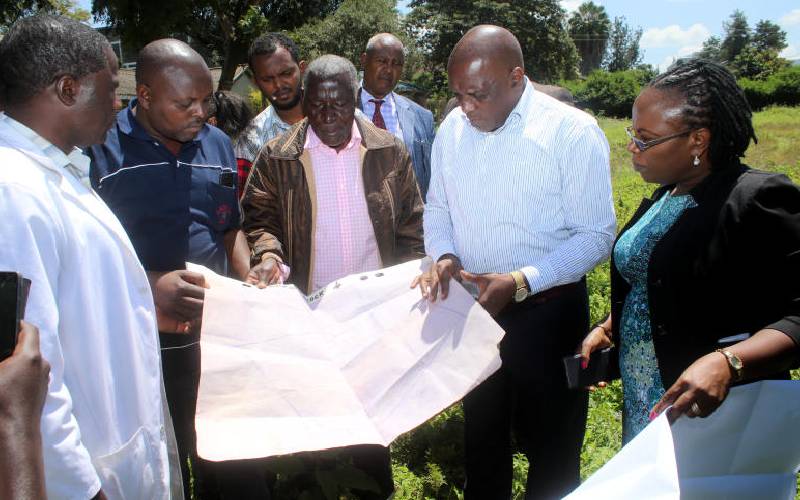 The National Lands Commission (NLC) will in two weeks draw curtains on a tumultuous six-year term. As the commissioners make for the door, they leave behind a conflicted legacy.
On one hand, the commission believes it has performed well in conditions that are less than favourable. On the other, peers believe the NLC is leaving behind a mess bigger than the one it was brought in to solve.
The NLC, a constitutional commission established under Article 67, was sworn into office on February 20, 2013. The term of the current commission comes to an end on February 19, 2019.
But as it departs, and the commissioners set their sights on the future, it leaves behind an almost unmanageable in-tray for those who will take their places.
After taking up their positions riding on the wave of optimism by Kenyans who believed the commissioners would solve key land questions that have bedeviled the country for generations, the commissioners go out in an inaudible whimper under a dark cloud of corruption allegations that have dragged none other than the outgoing Chairman Mohamed Swazuri, the Chief Executive Officer Tom Chavangi and a host of other officials to court.
All have maintained their innocence.
The cases, however, remain a mere symptom of a greater illness that dogged the commission's lifespan.
"They have done very poorly. They have been rent seekers using their mandate to acquire wealth. It is difficult to see any commissioner among them who is not tainted," Odenda Lumumba, the Chief Executive of the Kenya Lands Alliance, says.
Graft accusations
Odenda says the commission has failed to deliver on any of its key mandates, failing at every opportunity presented to it for self-correction.
"They were charged with managing public land but they have failed even at this," Odenda says. "They are yet to establish a proper lands inventory."
He says over its lifetime, the commission too shirked its responsibility of taking over the function of titling land and sat by as the executive assumed this function.
"After six years, they are still working on the concept paper instead of presenting a proper National Land Policy," Lumumba says.
The mandate of the NLC is drawn from the National Land Policy of 2009, the 2010 constitution, National Land Commission Act, 2012, the Land Act 2012 and the Land Registration Act of 2012.
Like many of its contemporaries, its existence is firmly backed by law. But it has, over its six year tenure, pushed existing legal boundaries, particularly with regard to the conduct of some of its members.
Chavangi says they did much more than they are being given credit for.
"One of our biggest achievements was the acquisition of land for the timely completion of the Standard Gauge Railway (SGR) in the middle of so many challenges," Chavangi says.
However, what he lists as the NLC's biggest success has also threatened to become its Achilles heel, sucking the commission's top brass, including Chavangi, into an unending dance of accusations and counter accusations of graft even among the commissioners.
In August 2018, Swazuri and Kenya Railways Corporation Managing Director Atanas Maina and five others were arrested over alleged dubious SGR compensations.
The payout has been subject to controversy after an audit revealed Kenyans could have lost more than Sh4 billion in intricate land compensation deals. The damning report by Kenya Railways gives a sneak peek into the lack of internal controls that gave NLC a free hand to spend public money without putting in place documents needed for accountability.
It further tabulated fake compensation claims, double payments, over payments, inflation of land values and payment of people whose land was never on the corridor.
Even as their exit looms, Swazuri still clings on to the belief that the commission did good.
"There are a million things we have done right," he tells Sunday Standard. "But no one wants to talk about this. Everyone talks about the negative. You only write about stolen computers. I call it rubbish."
A court order took him back to office even as his case continues. Speaking to him, one gets the feeling that Swazuri has an almost unnatural belief in the results of the institution he has presided over in the last six years.
He is quick to jump to numbers, figures that only his commission can verify.
"We have made 60 successful land acquisitions for major county and national government projects," he says, enumerating other interventions that the NLC has made in the messy Kenyan lands sector, including the processing of title deeds. The mess was so big the commission started eating itself.
"To be honest, the commission was divided because of interests. Personal interests that did not have the NLC's well-being at heart," Chavangi says.
But before they turned on themselves, they had a common enemy to fight. Their initial years were characterised by a pull and push between themselves and the Ministry of Lands, each battling to control the billions of shillings that exchanged hands both legally and illegally in the lands sector.
"There was resistance, reluctance and a complete refusal from the lands ministry to acknowledge our presence. We fought this war for three years. To date, ministry officials have never accepted us," Swazuri says.
Eventually, the ministry won, with some key functions annexed from the NLC and returned to it. When this happened and the commissioners had no common enemy, they turned on each other, with the chairman and his deputy Abigael Mbagaya pulling in different directions.
The two work on the same floor but do not see each other eye to eye. Swazuri and Mbagaya have differences that blew out of control after he was arrested and charged.
Though Mbagaya insists that there is no bad blood between her and her boss, who was also her lecturer at the University of Nairobi in a typical case of student against teacher, she says they have not interacted for a while now. He does not attend her meetings. She says this is in conformity with a court order that barred him from interfering with the rest of the commissioners who are prosecution witnesses.
This essentially means that they will be testifying against their boss and their testimony is what may help convict or free him.
Mbagaya, a warm and loud talker, says the commission has done its best despite the challenges. In two weeks, her team will leave behind an institution that has built a reputation of being one of the most corrupt constitutional commissions created by the new constitution. Under their watch, taxpayers have lost billions of shillings through fictitious claims.
They also recently made a controversial decision to let Deputy President William Ruto keep a parcel of land where he built the Weston Hotel despite having found that it was public land.
"Don't look at the individual but the process," Mbagaya says, arguing that the Sh350 million will help the airport authority acquire similar parcels of land. She says it would have been unfair to bring down the hotel when the law allows for restitution. But not many people were lucky to keep their parcels.
Commissioners will be exiting their 10th floor offices at Ardhi House, leaving behind a mountain of unresolved land cases. The courts currently are adjudicating more than 10,000 land disputes.
The new disputes are growing faster than the land agencies are able to resolve. Besides corruption and double standards in the application of laws, the commission is exiting before the country deals with historical land injustices.
Messy sector
But the commission says it is exiting with its heads held high having put in place regulations to operationalise their mandate.
"What I can say as a scorecard for the last six years is as a commission, we have built the institution. We came and started from scratch," Mbagaya said.
"Being a pioneer commission, we had to look at the land laws to align them to the new constitution. We did the regulations and we participated in the creation of the Community Lands Act," Mbagaya noted.
The other achievement Swazuri and Mbagaya list is the development of a public lands database and recovery of several public spaces.
Mbagaya says Kenyans will be shocked to discover just how many titles of public properties are in private hands.
"There are also cases where people went and allocated themselves the ocean in Kibarani area. We have dealt with this one," she said.
But they remain alive to the fact that the commission is a long way from achieving its intended goal.
"Expectations in the lands sector will never be met. The mess was too much. It will take another two or three generations to deal with our land problems," Swazuri says.
Others think their creation muddied the waters further.
"They have been a failure," Odenda says.
Swazuri remains headstrong. He sees nothing but malice in the accusations of non-performance, impending court cases, allegations of graft on the commissioners and NLC's omnipresence in all things murky within the lands sector.
"I am satisfied and proud of what we have done. Anyone who has anything to the contrary should speak up," he says with pastoral finality.
Words and conviction are however not enough to push aside the dark cloud that has floated over the commission for years. Try as they might, they cannot wish away the reality of a commission that failed to live up to the expectations of an entire nation.