Cardinal Maurice Otunga sainthood fete plan on course
In 2009, Lance Chacha Mahiri, a class five boy, had kidney failure.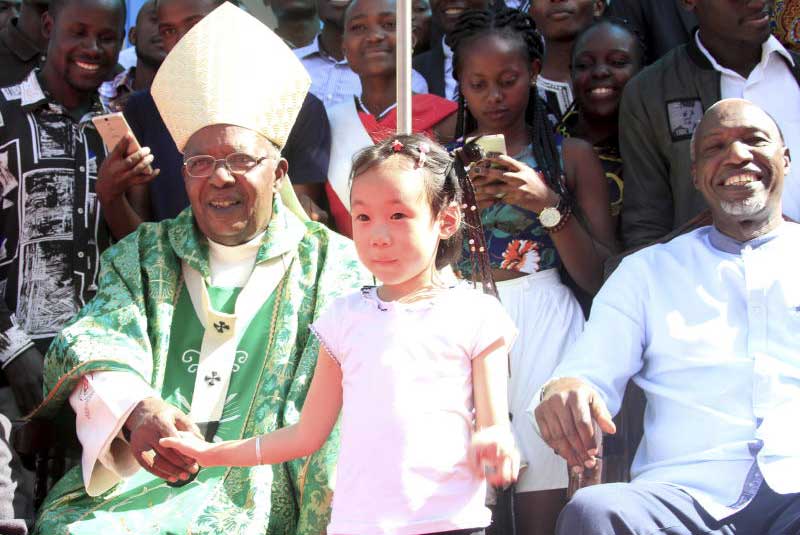 According to his mother, Everlyne Mahiri, Lance was put on life support.
He also suffered a pneumonia attack.
Yesterday, Lance stood before a large congregation at Kenyatta University (KU) chapel and addressed worshipers who included KU Vice-Chancellor Paul Wainaina and Catholic Church head John Cardinal Njue.
Lance confidently commanded the crowd, side by side with his mother, who narrated how a miracle snatched the boy from the jaws of death.
Ms Mahiri said when her son's condition grew worse, she silently prayed for his recovery.
"One nurse told me to pray for my son's eternal rest because he was not going to make it," said Mahiri.
It was while she was praying, she narrated, that a voice told her that her son was going to live.
"It was 3am, his soul was leaving his body. His body was cold and the skin was changing colour. The life support machine went flat and he was pronounced medically dead," said Mahiri.
Within minutes of praying for Maurice Cardinal Otunga's intercession, Mahiri said Lance became better.
The life support machine began working again. Two days later, he left the ICU and has been living healthily since.
Miracle act
Mahiri said she believed her son's recovery was a miracle performed by Cardinal Otunga.
The act is one of a minimum of two miracles required by the Catholic Church to beatify Cardinal Otunga, a process that has been ongoing since 2009.
Yesterday, the Catholic Church, presided over by Cardinal Njue, held an awareness Mass on Cardinal Otunga's beatification at KU.
"We need to create awareness on the heroic acts of Cardinal Otunga so that everyone knows about his noble causes," said Njue.
Njue sent a petition to the Vatican requesting the beatification of Cardinal Otunga in 2009.
The petition involved submission of theological and historical documents detailing Cardinal Otunga's heroic acts to the Vatican.
By January 2014, the documents had been scrutinised by the Office of Saints at the Vatican and validated.
Since then, the Committee for the Beatification has been assembling his biography.
It will have to be sent to Rome for proofreading.
After that, there will be an anonymous vote for the cardinal to be called 'Venerable' (heroic in virtue), thereby concluding his beatification.