Violet Kemunto: Case of broken and estranged family with few links of kinship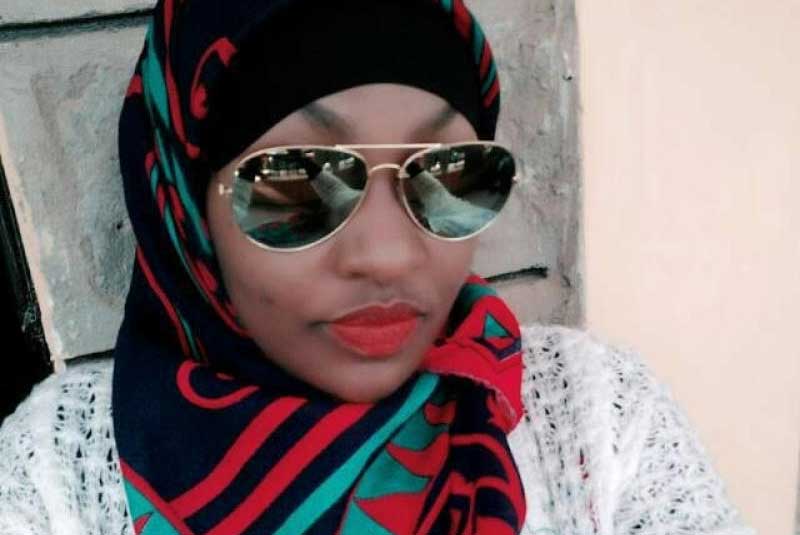 Details on the background of the woman believed to be one of the masterminds of the deadly terror attack at 14 Riverside Drive that left 21 people dead have emerged.
According to close relatives, Violet Kemunto Omwoyo (pictured) and her four siblings converted to Islam after their mother Margaret married a Muslim man.
Her marriage to Kemunto's father, Zablon Kirioba, ended owing to his drinking problems.
Kirioba drove a tour van and died after a short illness in 2015.
"The dad's drinking was pretty bad and their life didn't go well with Margaret. He was also always traveling and she didn't like that lifestyle," said a relative.
Kemunto, believed to be in her late 20s, is the third born in the family and has three sisters and a brother who lives in the US.
Three sisters
The Standard has established that Kemunto's family hails from Nyamache sub-county in Kisii County, but they hardly visit.
Relatives said that after the nasty breakup, Kemunto's mother became estranged with her Kisii relatives, especially after she married the Muslim man, who is also now dead.
Another relative said the family hardly visited Kisii and the last time they were seen was during Kirioba's burial.
The man was well-known in the village as he visited often when he worked in Nairobi.
The relative said she only saw Kemunto and one sister during the burial and they were wearing buibui.
Kemunto became one of the most wanted Kenyans owing to her links with Ali Salim Gichunge, said to have commanded the attack on the 14 Riverside Drive office complex.
A Masinde Muliro University of Science and Technology journalism graduate, she had been living with Gichunge for the past three months at Guango Estate, Muchatha.
Official version
Kemunto's whereabouts remain unclear, with the official version being that she ran away to Somalia, contradicting earlier reports that she had been arrested at their Guango house.
The relative said she last saw Kemunto in 2015 during the burial of her father.
"The family didn't have much connection with people at home after they converted to Islam, but at least Kemunto and one of her sisters would try and reconnect," she said.
The relative said that after completing her university studies, Kemunto went to live in Thika and that is where she probably met Gichunge.
According to the relative, Kemunto has said she doubted whether she would ever have children as she "would be running a lot of activities that would restrict her from having a family".
Kemunto was a keen observer of her faith and would tell relatives that "there are a lot of gains in being a Muslim".
Luxury cars
The relative said that although laid back and an introvert, Kemunto loved the finer things of life and wanted to own a big house and luxury cars.
"She loved nice things and wanted glamour but was an introvert depending on the environment she was in," said the relative.
The relative said that it was difficult to know that Kemunto was involved in terrorism-related activities.
"When her pictures started circulating, we couldn't imagine it was her. And as we watched, the news we were shocked," said the relative.
The relative added that Kemunto was hard to trace as she had three phone numbers and operated many Facebook accounts.