Dusit Attack: Police response was swift but mistook it for a robbery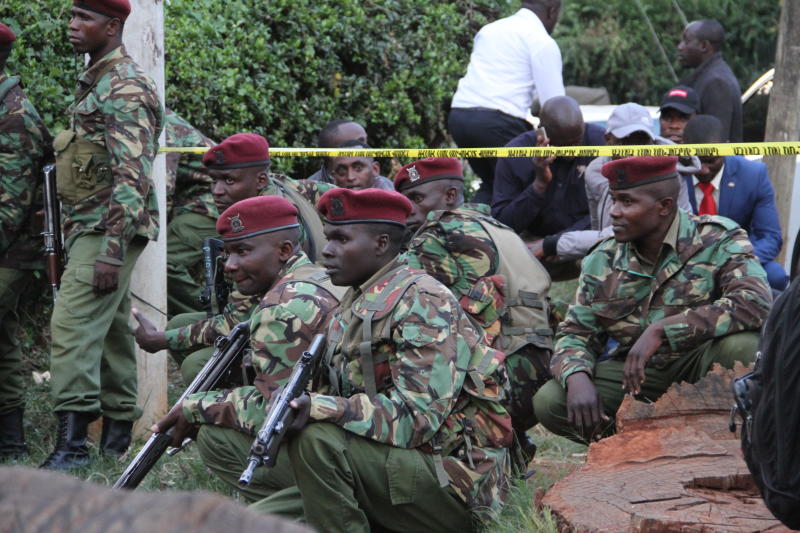 Police responded to the Riverside terror scene almost immediately engaging the terrorists for up to five hours.
The first team to respond to the scene were officers from the nearby Australian embassy. They shot at the about five terrorists pushing them into the hotel's main entrance.
The officers managed to deflate the tyres of the car stalling it about 40 meters away from the main security barrier to the hotel.
The officers called for reinforcement saying they had engaged the gang in a shootout. Initially police had mistaken the attack for a robbery at a nearby bank but as the explosions continued to be heard from inside it called for serious attention.
Traffic police manning nearby roads diverted flow and allowed emergency vehicles to the site.
Three cars that had been parked at the entrance of the hotel went up in flames after the attackers lobbed a grenade on them.
More police officers arrived there few minutes later armed with sophisticated weapons. They walked into the compound and rescued dozens of those trapped therein.
Among the response teams that arrived there included officials from various embassies including those from US, UK and Australia. Special forces from the General Service Unit's Recce squad and those from the military also arrived there in efforts to contain the situation.
They had sniffer dogs that led them from one room to the other at the hotel that has 101 rooms.
Deputy Inspector General of Police Edward Mbugua and Director of Criminal Investigations George Kinoti were leading the operation that followed after there was a lull of gunshots from the hotel side.
They kept briefing their bosses at police headquarters on the progress. By 8 pm, the teams clearing the rooms had arrived fourth floor where they reported meeting resistance from the upper floor. There were gunshots that were heard from the hotel as ambulances kept driving in and out of the premises.
Police said they recovered at least three live grenades at the entrance where at least five bodies lay.