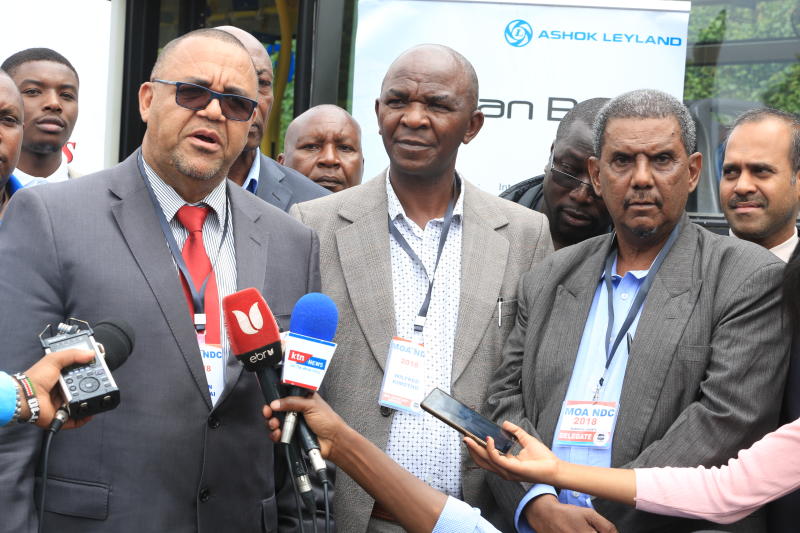 A matatu lobby group has accused rival associations of colluding with the Government to drive 14-seater vehicles out of business.
National Confederation of Matatu Transporters leaders yesterday claimed Matatu Owner Association (MOA) and the Matatu Welfare Association (MWA) have supported the ban on promise that they would be allowed to operate new city commuter buses.
The National Transport and Safety Authority (NTSA) announced it will halt renewal of licences for 14-seater matatus that pass through the capital's Central Business District.
Chairman of the confederation Nelson Mwangi yesterday accused MOA's Simon Kimutai and MWA's Dickson Mbugua of siding with NTSA in exchange for being allowed a share of the Bus Rapid Transit (BRT) system.
"We are aware that the associations have been promised to manage the BRT buses to be soon rolled out by the Government and that is why they are supporting phasing out of the 14 seater matatus. The Government is dealing with cartels. They have betrayed us but we will not take it lying down," said Mwangi.
Read More
Mwangi highlighted the perils of driving 14-seater matatus from the CBD, noting that hundreds of thousands of jobs will be lost.
He also raised concerned that matatu owners were currently servicing loans and halting their operations would affect them.
Mwangi was speaking during a press conference at Marble Arch Hotel. He was flanked by the confederation's Secretary General Moses Njau and other officials.
MWA chairman Mbugua, however, clarified that there was a five-year agreement since 2011 drafted at the Bomas of Kenya between the Government and matatu operators for them to phase out 14 seaters.
"We had originally asked the Government to give us seven years to phase out the 14 seaters but we were granted five. In fact they have given us more time," said Mbugua.