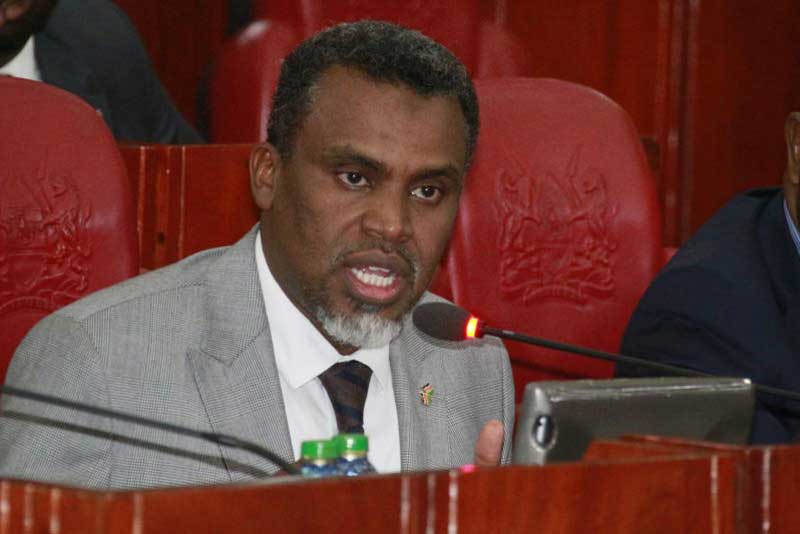 The Director of Public Prosecutions has asked the Chief Justice to intervene following the suspension of criminal proceedings against lawyer Tom Ojienda. Prof Ojienda was arrested on December 21 over claims of fraudulent acquisition of Sh89 million from the ailing Mumias Sugar Company. He was released on Sunday night and on Monday, Justice Chacha Mwita halted his prosecution to determine whether the DPP acted illegally. DPP Noordin Haji said such orders were meant to cripple his office and the Directorate of Criminal Investigations (DCI), adding that they also jeopardised witnesses and evidence.
SEE ALSO: Suspects struggle to follow virtual courts as kin left out
"The net effect of these orders is crippling the DPP and the DCI in discharging their respective constitutional mandates and jeopardising the status of witnesses and evidence in criminal cases," he said. "Such a deleterious trend that is likely to erode public confidence in the criminal justice system, due process and a major setback in the fight against corruption has been noted and is worrisome." The DPP said the directive rendered it impossible for his office and the DCI to pursue cases involving Ojienda until petition 470 was determined. The lawyer was to take plea before Senior Principal Magistrate Martha Mutuku. "The prosecution and the accused were both represented in court. The setting aside of the matter was for unknown reasons," said the DPP.
SEE ALSO: Lobby seeks Maraga's direction over case
As Ojienda waited for the charges to be read to him, his lawyers were at the High Court fighting his prosecution. Justice Mwita's ruling suspended investigations, recommendation of prosecution, arraignment, and searches at Ojienda's homes and offices until February 18. The DPP said his office would respect the ruling but added that such determinations would erode public confidence in the criminal justice system. He termed it a major setback in the anti-graft war but said his office would respond in line with its obligations to the public and cane farmers in particular. Mr Haji cited several cases in which similar orders have been issued in Ojienda's favour. "This requires urgent attention," he said.
SEE ALSO: All eyes on Chief Justice as LSK seeks to send MPs home
Haji said in November, Justice Mwita barred the AG, DCI and KRA from commencing civil or criminal proceedings against the lawyer for the period of 2009-2016. "Another order was issued on December 4 directing KRA to issue the senior counsel with a compliance certificate despite the fact that he was under investigation regarding tax compliance," said Haji. He added that Justice Mwita prohibited the EACC from implementing summons issued to Ojienda with respect to the use of the official Government vehicle assigned to him. "In May 11, Judge George Odunga prohibited KRA from demanding Sh443,631,000 for the year 2009 to 2016 and a further Sh378,682,140 as total tax," Haji said.