Pain for commuters as Sonko drives matatus out of city centre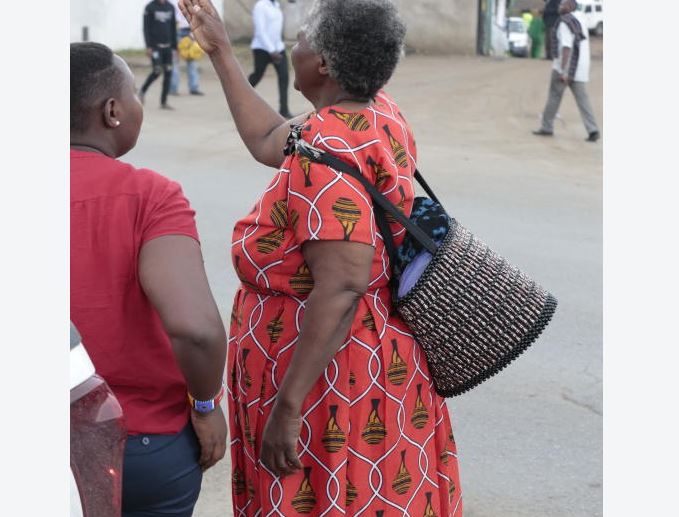 A routine journey for Grace Wangari, 73, yesterday turned into an agonising walk.
Wangari's journey highlighted the pain thousands of city commuters had to endure yesterday when matatus were banned from getting into the city centre.
Wangari, who says she has lived in Nairobi for more than 30 years, left her home in Kayole at 7.30am and it took the bus two hours to get to City Stadium, where matatus plying Jogoo Road dropped off passengers.
The PSVs from Jogoo Road are permitted to drive up to Muthurwa and Machakos bus terminus but they had conspired to drop passengers at city stadium, so commuters had to walk to the city centre.
For Wangari, who operates a business at the Kamukunji trading centre, the OTC bus stop, where she usually alights, was out of bounds, so she joined other commuters in the long walk.
Her back
With a kiondo on her back, she had to endure more pain for she had to, again, walk across the city centre to the Ngara bus terminus to catch a bus to Kangemi.
"Where is the BRT system promised by the Government? It is high time we started electing leaders who have our interests at heart, not those who do things without proper planning," Wangari complained.
She added: "The fact that there are no matatus being allowed into the CBD means that it us the elderly and poor people who will suffer the most. President Uhuru Kenyatta and Governor Mike Sonko should rethink this directive because there are no vehicles to ferry commuters from the drop-off points into the CBD."
Heavy police presence at all the city entry points such as Westlands, City Stadium, Ngara and GPO made sure that matatus were confined to the designated 11 terminuses gazetted by City Hall last week, much to the displeasure of commuters.
As the unprecedented human gridlock built up early in morning, motorists spent hours on roads.
With the matatus jostling to get into the gazetted terminuses, major roads had snarl-ups, with many people arriving late for work.
Fredrick Mbugua, a Roysambu resident, could not hide his unhappiness with the confusion that ensued as a result of the ban.
He had to alight at Ngara and walk to Railway Station to catch a matatu to Mombasa Road.
"Governor Sonko's idea is noble, but the execution is just poor. How do all these vehicles fit in the small terminuses that have been gazetted, yet there are no holding grounds? What about expectant women and the disabled, who will take care of them? asked Mr Mbugua.
The CBD, which usually roars to life as early as 6am, was quiet, devoid of the deafening music and noise from matatus.
The city streets were orderly and the absence of the PSVs gave the city a more spacious look.
As late as 11am, most businesses were yet to open as residents struggled to make it to town.
Former bus stages such as Khoja, Odeon, Commercial and OTC were all empty, with some being turned into parking lots for private vehicles. The hawkers and conductors who usually shout to attract the attention of commuters were conspicuously absent.
Some of the matatus operating from Latema Road found their way into the CBD, but it was not long before county officers caught up with them and clamped them.
Joseph Masese, a driver with Mololine Sacco, had to refund commuters their fare after his vehicle was clamped. He explained that his and other vehicles had spent the night in town and had planned to carry passengers from the CBD to Nakuru.
"The county officers quickly clamped our vehicles and left. We now do not know our fate. I thought getting out of town would be easy, but guess I was wrong," said Mr Masese.
"I do not support the ban at all. It's not wise allowing private vehicles that only carry one to four people into the CBD and restrict those that carry 15 to 40 people. It should be the other way round."
Boda bodas and some private vehicles took advantage of the chaos to make an extra shilling.
Anyone seeking to ride a boda boda from the 11 stages into the CBD had to part with between Sh150 and 200.
Governor Sonko has maintained that the ban will continue to restore order on the roads.
Had spoken
Appearing before the Senate County Public Investment Committee, Sonko said he had spoken with President Uhuru Kenyatta and plans were underway to bring in buses to save physically-challenged commuters the pain of moving from one terminus to another.
"I know people are suffering, I am just requesting for patience from commuters; we are going to work on an amicable and permanent solution. In the morning, I spoke to the President and we are looking for the big buses from NYS to transport the physically-challenged from their stages to the CBD," said Sonko.
He had been summoned to answer queries raised by the Auditor General in the audit for 2014-15 financial year.