300 more police reinforce county marshals in banning PSVs from CBD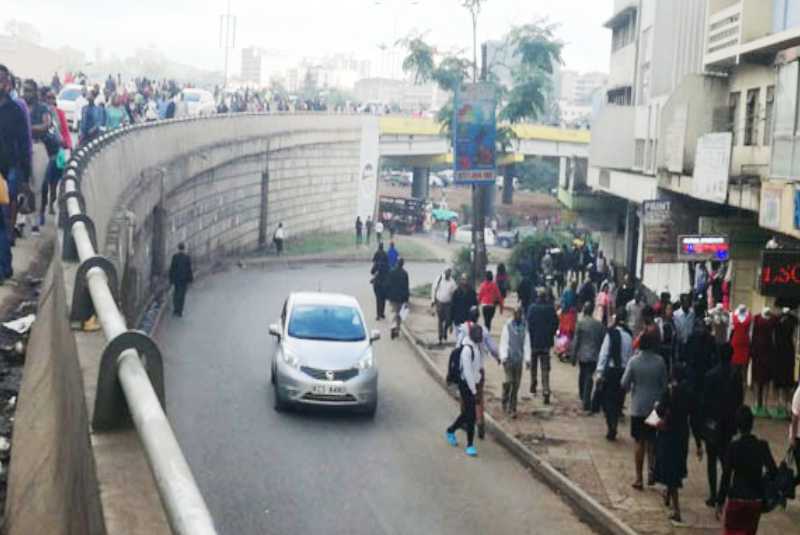 More than 300 police officers were pooled to help county marshals enforce the ban on Public Service Vehicles (PSVs) accessing the city centre.
The officers were deployed at various entry points and instructed not to allow any matatu beyond the designated areas.
Their commanders said the deployments were done by 5am with the personnel ensuring no PSV drove into the Central Business District.
County personnel were too asked to patrol the city and clamp any PSV that was there. More than 30 vehicles were clamped and fined.
Nairobi police boss Joseph Ole Tito said they were asked to reinforce in the operation that came to effect yesterday. The ban had been postponed from past dates to allow more preparedness.
"They knew and had been alerted by the relevant authorities on the plans. We are there to reinforce the county officials in effecting the law," said Tito.
The officers will man the areas as others will patrol the city to ensure compliance. Tito said more officers will patrol places where muggers may strike to ensure security.
He added they had called on the county to help in controlling major footbridges that were jammed with pedestrians following the ban on the vehicles from accessing the city.
"Those who flout the rules know the repercussions. Let them know that," he said in reference to claims some matatus may sneak into the CBD.
The ban on PSVs from accessing the city centre took effect yesterday morning with dozens of police and county askaris being deployed at major entry points.
This saw many commuters who were dropped far away from the city centre especially on Thika Road.
Matatu operators had asked for more time to provide enough space to hold all vehicles operating in the city.
The ban compels all matatus to operate from designated termini without entering the Central Business District to pick and drop off passengers.
City Hall officials say that the provided termini – which have 505 parking slots – will only act as pick-up and dropping points for passengers and not holding grounds for the matatus with each PSV given between 10 and 40 minutes at a time.
The operators threatened to seek a legal redress if the county does not listen to them and suspend the ban setting up stage for a chaotic capital city even as the county maintain that there is no going back on the order.
Many commuters were seen walking to and from the termini in the morning hours. They fear things will get worse when it rains.
The ban is part of plans by the county government to address congestion in the CBD.