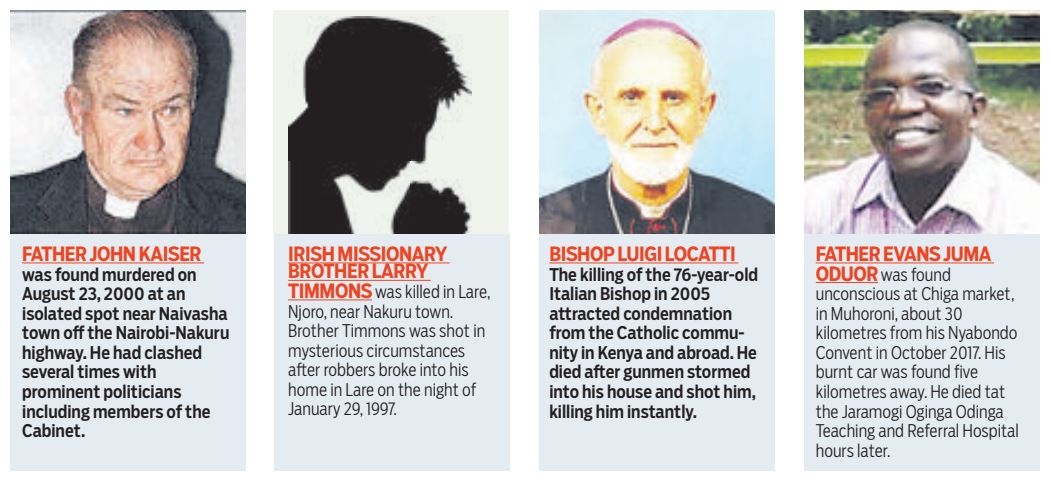 For 10 years, among South Sudan's poor ravaged by ceaseless conflict, Father Victor Luke Odhiambo lived up to the centuries-old mantra.
And on the ungodly hours of November 15, he paid the ultimate sacrifice when unknown gunmen stormed the local Society of Jesus (Jesuits) Community in Cueibet, South Sudan and shot him dead.
A Jesuit for 40 years, Father Victor was at the time of his death acting Superior of the Community and died aged 62 years. A firm believer in education and its power to transform, he was also principal of the Jesuit-run Mazzolari Teachers' Training College in the area. He had helped set up the college in a bid to nurture local teachers who would later impact knowledge on residents.
That fateful beckoning of dawn, the gunmen struck while he was watching TV. He had just finished doing some writing and was looking at a building plan whose execution would see the training college expanded.
Four gunmen cut the barbed wire fence, destroyed the grills and accessed the TV room where he was alone. There were four other Jesuits in the community who were asleep and also students who upon hearing the commotion ran to help.
Two gunshots rented the air and the gunmen ran away, unnerved. Unfortunately, Father Victor had been shot on the head while the other bullet tore through his heart.
It was not clear why they had attacked the institution that also served as a refuge for locals escaping inter-clan fighting. Three of the gunmen, however, have been arrested.
Brutally killed
Father Joseph Oduor Afulo, head of the Eastern Africa Province of the Society of Jesus (Jesuits), said that it was the first time the community was attacked. The Eastern Africa Province consists of 210 Jesuits from Ethiopia, Kenya, Tanzania, Sudan and Uganda.
Kenyan priests currently make up half of the 16 Jesuit priests serving in South Sudan. Father Victor became the first Kenyan Jesuit to die in South Sudan. Recently, a nun was also killed in the area whilst providing medical services.
At a conflict zone in Kembong, Cameroon on Wednesday night, Father Cosmas Ondari Omboto, part of the Mill Hill Missionaries was killed shedding light on the dangers Kenyan missionaries are exposed to in conflict areas.
Father Joseph, however, said that their faith was unwavering especially in liberating the people of South Sudan through education. "Being a missionary is always dangerous, we are there for the vulnerable and oppressed," he said. "We become victims in some of these circumstances but our main tasks are proclamation of the Gospel, improving livelihood and most importantly ensuring education."
Father Victor, who hails from Seme, Kisumu County, was buried at the training college in line with Jesuit traditions, which he joined in 1978. Sister Marianne Odhiambo, his sister and also a nun of the Franciscan order of St Ann described Victor as gifted with the common touch and with a passion for education.
She said he had fulfilled the mission that he had been called for. "The killers have helped Victor set him off his cross. Being a priest means a life of sacrifice."
Sister Marianne said that he hardly stayed for long in Kenya and used to joke that he had found his roots in South Sudan, where the Luo tribe is believed to have originated from.
"He would come and stay for two or three days and tell us he is going back to his own people in South Sudan," she said. "He loved people and people loved him."
She said almost everyone she met had a special relationship with Father Victor, who was passionate about education and had realised it was key to finding peace in South Sudan.
Pitiful situation
"The society then opened a school to train teachers so that they can in turn teach the local communities," said sister Marianne.
"It is a pitiful situation down there. If you do not have a heart you would call it hopeless or useless but somebody has to liberate them and that is why missionaries are there."
Father Joseph said education and a strong government structure was key to finding a solution in South Sudan. "I see education as the only means through which people of South Sudan can be liberated."