Sh10 billion estate street lighting project goes dark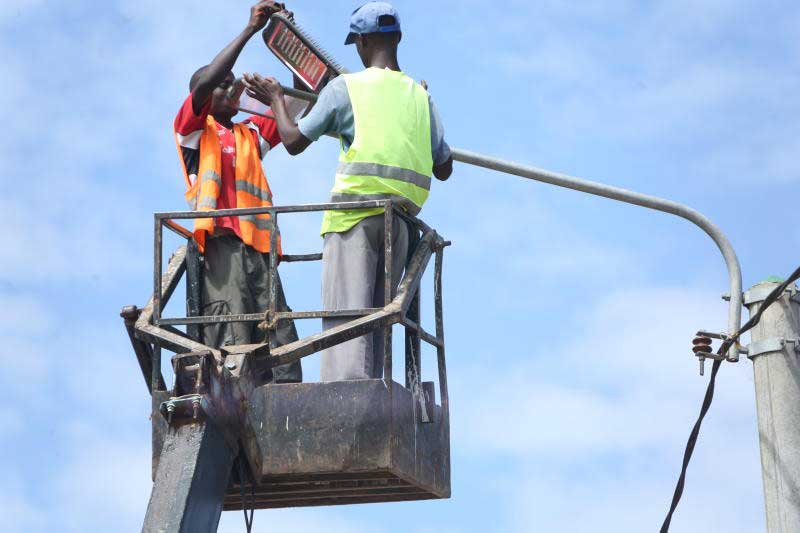 The ambitious Sh10 billion deal between Kenya Power and the Government to light up Nairobi streets is going dark.
Signed in 2014, the project targeted residential and commercial areas including Westlands, Eastlands- Embakasi, Buruburu, Kahawa West and even Dandora.
Industrial areas set to benefit from the program included Kariobangi and Baba Dogo Light Industries as well as informal sector zones such as Gikomba and Kamukunji.
"The goal of the program is to facilitate the provision of an effective, efficient and sustainable public lighting not only in Nairobi but also in all other counties," then Kenya Power MD Ben Chumo said at its launch.
"We will pilot Nairobi as the pace setter as it was the seat of the Government and contributed 55 percent of the country's GDP," he added.
Four years later, the effectiveness and efficiency that he promised has dimmed out in Nairobi.
Most of the 54,029 streets lights and 12, 959 public lighting masts installed at about Sh8.84 billion are not working.
A spot-check by Standard Digital at Mowlem in Embakasi revealed that the lights only worked for a short while before going off.
"We only enjoyed the lights for less than a month, otherwise what we see here are only the masts. Even the bulbs themselves are nowhere to be seen," says area resident Dismus Asangai.
Baba Dogo, Kariobangi and Kayole also suffered a similar fate and are wallowing in an upsurge of insecurity.
Business owners say they are forced to close shop at 9pm against the project's promise to revive a 24-hour economy.
"One person was mugged and severely attacked when coming from a Kesha (night prayer meeting) recently, if we had lights, these could not have occurred," says Jennifer Otieno.
Mowlem MCA Ben Mwangi however argues the problem is vandalism and not mismanagement of the project.
"The government found it expensive having to replace the stolen equipment every now and them. Others pluck the copper wires at the control system which they then go to sell,"
"There are also those who divert power from the masks to their houses or other people's houses and charge them some fee," he said.
42 killed as bus catches fire
At least 42 passengers have been confirmed dead, Zimbabwe police said Friday, after a suspected gas tank exploded on a bus.