Melania Trump 'too shy' to show her dance moves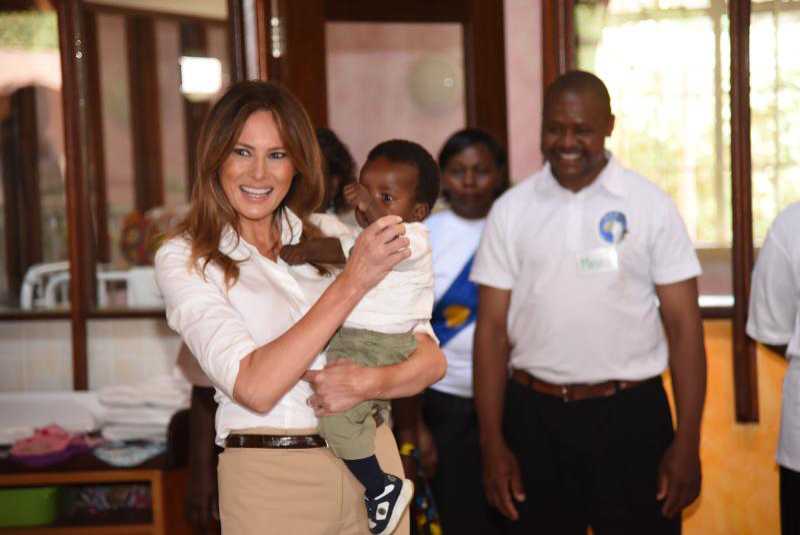 She came, she saw, and almost conquered our hearts; but the dance failed her. In what is a tradition in Kenya, dancing it off is one of the rites of passage for any foreign visitor - Melania Trump tried, but not that hard.
As she strolled down the walk way at The Nest children's home in Gigiri Nairobi, children and women sang their hearts out to welcome the grand visitor, and make her feel at home.
They shook their shoulders as they belted out folk songs, switching from Kikuyu to Kiswahili.
As they danced, two children - a boy and girl - holding Melania's hands danced and shook their hands in rhythm of the song, may be in an attempt to urge the Flotus to dance.
She took time, trying to get the rhythm of the song. It did not work.
She went ahead to do the simplest - swayed her hips two three times, flashed her smile as she approached the cameras as she walked inside the children's home nursery for the newborn. Mission accomplished.
Though she did not move her body much, she was better off than the British Prime Minister Theresa May who was lured by scouts in a dance and ended up wiggling her body out of rhythm.
Melania was careful, probably too careful and even when the children escorted her outside from the nursery with song and dance, she appeared to hasten her strides towards the seat to avoid more dancing.
She sat quickly, her left leg across the right, and started reading a short story to the children seated on mats rolled on the grass. One child later presented to her a book as a gift.
"Oooh thank you so much. It is beautiful," she said. She was then dragged to dance, again, and this time she just swayed her body left and right, nodding her head, with her smile glued on her pretty face.
She was then prayed for by staff of the home, with children stretching their hands towards her as a sign of blessing and that was it; the event was done, which was so unlike Kenyan events which never end without speeches to urge and call upon Kenyans to do this or that.
It is not clear how she chose to visit in particular The Nest children home. However, the home is known to rescue children of women serving prison sentences, which shyly marries with her husband's US President Donald Trump agenda of prison reforms.
Melania was dressed in chocolate brown boots, khaki brown trousers and light blue shirt. When she arrived at the children's home at 11:40am, she was just from feeding calves at the Kenya David Sheldrick Wildlife Trust Elephant Orphanage in Nairobi.
The presence of the secret service, her security detail, was evident all over - men and women with suits wearing sunglasses with ear pieces and now and then, they would be seen talking on their mouth pieces neatly hidden in the wrists of their coats.
This include seven fully armored officers in full combat gear who did not talk, but had their eyes wide open, fingers on the triggers of their heavy guns ready for any unprecedented move.
Kenyan police, though present, was so overshadowed and Gigiri OCPD Richard Mugwai was spotted under some shade metres away from where the secret service was.
It was like they were not present, a totally different scenario if it were First Lady Margaret Kenyatta visiting the children's home, where her security detail is highly visible.
Sadly, restriction was also put on how the media covered the event. American journalists were given priority. Earlier, First Lady Margaret Kenyatta hosted Melania at the David Sheldrick Wildlife Trust's Elephant nursery in Nairobi National Park.
Later, Melania was on her feet as Sarakasi Dancers jammed to the popular Kenyan Gospel song Odi Dance at the national theatre. The music was varied between playback as well as live African Drums that filled the 350–seater theatre in true fanfare.
Mrs Trump would clap in between as part of the roaring reaction from the audience largely made of school children drawn from the slums of Nairobi.