One of the suspects in the attempted murder has been arraigned in court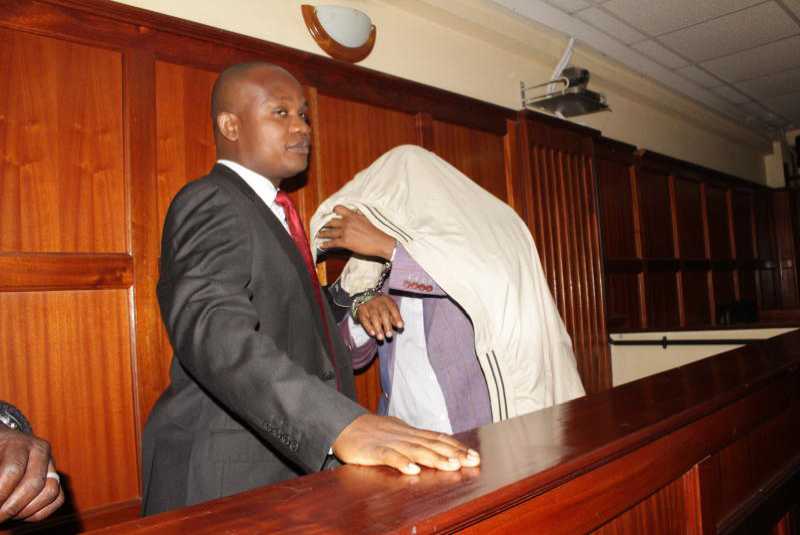 A suspect in the attempted murder of a former county official has told a court he was tortured into signing a confession.
Mohammed Hussein Aden yesterday appeared before Deputy Registrar Faith Muguongo, who directed that he be taken to Kenyatta National Hospital for treatment.
Mr Aden, a former soldier, is among suspects who were arrested after the shooting of a former Garissa County executive committee member for finance, Idris Mukhtar, on August 19 in Kileleshwa, Nairobi.
Mr Mukhtar was shot three times in the head and is in critical condition at a city hospital.
The suspected hitman, David Mwai, was found dead inside a cell at Parklands Police Station last Friday.
It is not clear if Mwai committed suicide or was killed, pathologists have said.
Yesterday, through his lawyer Cliff Ombeta, Aden claimed he had been tortured in police custody and that he needed medical attention.
Aden's family had filed an application seeking to have the suspect produced before the court.
In an affidavit, Aden said he was beaten and treated in an inhumane, degrading and cruel manner in an attempt to make him sign confessions regarding the alleged attempted murder.
He said that he was arrested at about 5pm on August 27 at Legadin Restaurant in Ngara by a female detective and was bundled into a police car.
Beaten and tortured
"The car was driven through the night, stopping at various places. Eventually they stopped at a police post at Mawe Mbili. The police took me from the car and into a mabati structure, where I was beaten and tortured," claimed Aden.
He said he was slapped on the face and hit with a baton on his private parts. The officers also sat on his stomach and threatened to kill him.
"I was forced to sign on a plain paper titled 'witnesses', which had my name and ID number alongside other names," said Aden.
He alleged that a senior superintendent of police wrote a statement he was reading from his phone and they attempted to force him to sign it.
He claimed the confession stated that he had had a hand in the shooting and attempted killing of Mukhtar in Kileleshwa and that he had bought the gun for the hitmen.
"A certain lady called Fatuma, the DCIO Kilimani, and one Hatim insisted that I collaborate with them. The police electrocuted and continued to torture me," Aden claimed.
He added that the next morning, the police placed him into a car boot and took him to Gigiri Police Station at about 11am.
Legal counsel
Aden said he was denied his rights to legal counsel at a purported hearing concluded at the police station on August 29.
During the hearing, police were granted 15 days to complete investigations.
The matter will be heard tomorrow.