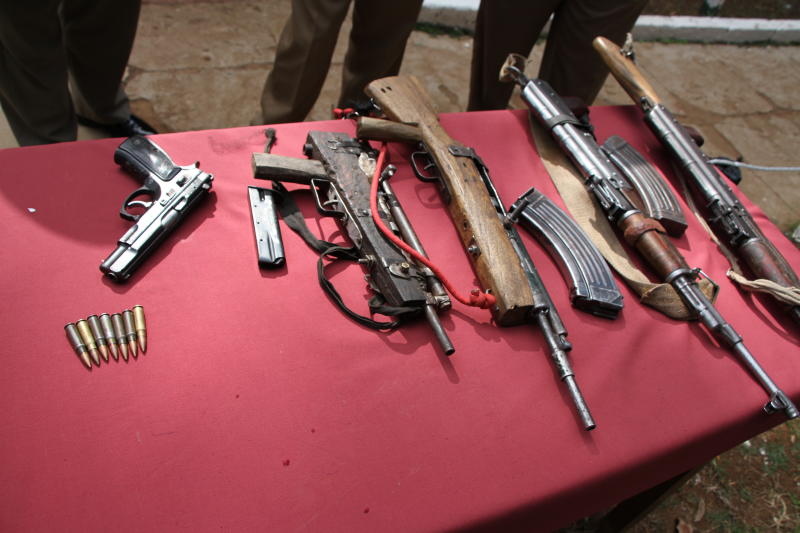 Six suspected thugs were Sunday killed in two separate incidents and weapons recovered from them in war against crime in Nairobi.
Police say the men were aged between 18 and 25. Three pistols, rolls of bhang and other crude weapons were recovered in the operation.
In the first incident, five suspected thugs were gunned down by police bullets in Dandora, Nairobi.
Buruburu Police boss Geoffrey Mayiek said the five were gunned down at the Dandora dumpsite where they were ambushed by police acting on a tip-off.
The OCPD said police recovered three firearms and 14 rounds of ammunition from the suspects who had been using the dumpsite as their hide out.
Read More
Police said one of the firearms was a pistol, which is believed to be of a police officer in Nairobi while the other two were homemade guns.
The OCPD added that 180 rolls of bhang were also recovered from the make shift house where the suspects were hiding.
The bodies of the suspects were taken to city mortuary as police launched a hunt for one other suspect who reportedly escaped on foot with wounds.
Another suspect was shot dead in a botched robbery on a matatu in Luckysummer area, Nairobi.
His accomplices managed to escape on foot. The suspect and his three accomplices had tried to attack a matatu in the area when an alarm was raised alerting police on patrol.
The victims on board helped police to pursue the attackers before one was killed while the rest escaped. Cases of attacks on matatus by gunmen have been on the decline due to continued police operations.
Elsewhere, a police officer is fighting for his life in hospital after he was stabbed and seriously wounded in a robbery incident in Mathare, Nairobi.
The officer was in civilian and was walking to his house at Mathare depot Sunday night when he was confronted by four men who were on a robbery spree.
And when he resisted, they stabbed him in the chest and stomach before grabbing unknown amount of money and other valuables and escaped on foot. No arrest has been made.