Tracing the origins of Gikomba market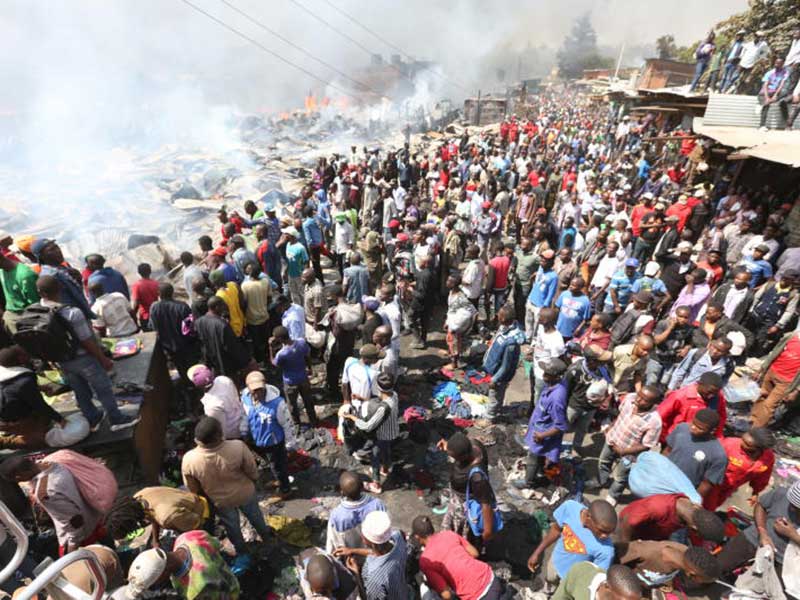 Potholed roads with puddles of raw sewage, loud hooting from rickety matatus and the stench of sweat is what welcomes you to Gikomba market.
It is difficult to access, whether on foot or by vehicle.
Railway construction workers from Muthurwa, Nairobi, used flock here to buy household items and, most importantly, secondhand clothes brought in by Asians.
When the Government saw how rapidly the market was growing, iron sheet shelters were built for the traders in 1952 and a barbed wire fence put up.
"This was meant to reduce open air activities in that location. It was, however, recognised that the capacity of the market was small compared to the high population of the traders. Hawking activities continued along Pumwani Road," wrote Ngugi Joan of the University of Nairobi in a research paper dated June 2014.
The paper titled Examining Fire Disaster Preparedness and Mitigation in Gikomba Market sought to find the cause of the frequent fires at the market.
According to the paper, congestion, poor roads and slow response of fire engines contributed to massive losses every time a fire broke out.
Somehow, despite the losses incurred, Gikomba has always bounced back.
According to Ms Ngugi, the evolution of informal trade in Gikomba during the colonial period was influenced by several economic factors.
"Transport routes from upcountry had their terminus in Gikomba, supplying goods for sale in the market. Secondly, there existed a high population with low purchasing power in neighbouring residential areas," argued Ngugi.
She further said that land and business restrictions imposed by the authorities pushed most of the traders in the market into informal business.
Reports indicate that in 1975, informal cottage industries sprung up to provide low-cost goods for low-income residential areas.
Old Gikomba
Later, in 1977, the old Gikomba market was demolished to pave the way for light industries at the Chiriku area.
But as the rising cost of living continued to hit the low-income population of Nairobi, several of residents set up informal kiosks and stalls.
The informal activities also increased due to availability of land in the area.
"While there was no specific land allocated to these activities, it was found that these informal activities thrived on any land left undeveloped. The Nairobi River riparian reserve and adjoining Nairobi City Council and government land provided space for the informal activities," wrote Ngugi.
Gikomba is the largest market for secondhand clothes in the region.
From food to kitchenware, one is guaranteed affordable prices - well, unless you wear an 'I am new here' look, in which case the traders will try their best to rip you off.