Expectant mother among 3 killed as building collapses in Huruma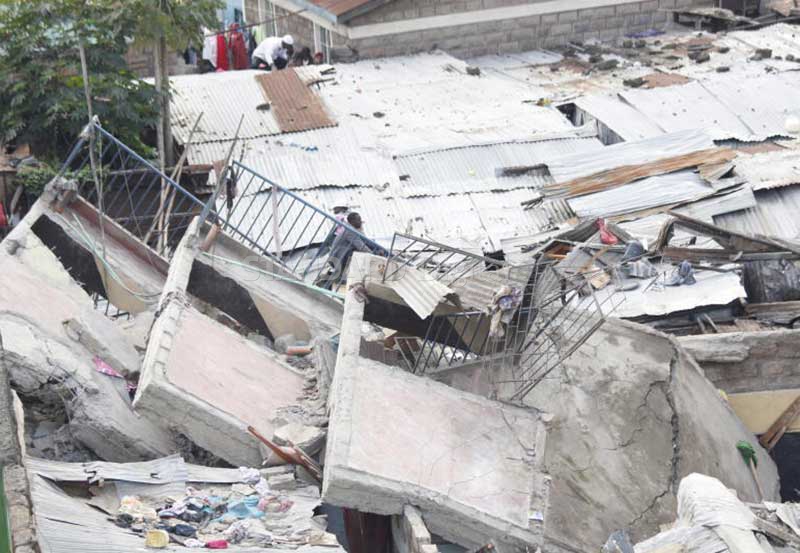 The first few minutes of Sunday brought with them disaster to some families in Nairobi's Huruma estate. A 10-year-old boy had been in deep slumber only to be startled as his father bellowed firm instructions that brooked no dissent.
"Wayne, chukua huyo mtoto na upotee (Wayne, take the baby and get out)."
The boy jumped out of bed without a second thought. He left his father searching for his trousers and his younger sister looking for her sweater. His mother was not home.
Those were the last moments Wayne remembers before their home, a five-storey building in Ngei, Huruma, came tumbling down at 12.30am.
The scene of yesterday's tragedy is just a stone's throw away from where another building collapsed in April 29, 2016, killing 49 people.
It was not until 6am when a community health volunteer, Jacinta Muthoni, found the two children shivering in the morning cold. She gave them fresh clothes to wear before taking them to her house in Kiamaiko.
There was no word about the whereabouts of their father and sister.
Managed to escape
Take a quick survey and help us improve our website!
Take a survey
While Wayne might have escaped, clutching his 10-month-old brother tightly to his near-naked body, three tenants were not so lucky. Two of the deceased were a couple, and the woman was pregnant. None of their two children – one in Form Two and the other Class Seven – was home, at least according to neighbours. The other dead tenant was a man, whose body was retrieved from the debris at 10:56am.
The building had shown signs of structural weakness on Saturday night after a crack appeared on the ground floor. According to Ruth Wanjiku, who lives in a different building nearby, the four-year-old building was weak from the word go.
"Every time I climbed the stairs, I would literary feel my hips swaying with the vibrations of the stairs. It was just a matter of time," she told The Standard.
Wanjiku, who alerted the Kenya Red Cross after the building collapsed, is housing Everlyne Mareshia, 25, who escaped unhurt with her two children.
Mareshia got out of her house on the second floor following hard kicks to her door. Her ground floor neighbours had seen the crack and raised the alarm. Security persons were also called and they broke down the gate to help evacuate people in the nick of time.
"Immediately I stepped out, the house just went down. I escaped by a whisker. I have not saved anything. Just my two children," she said, clutching her blissfully unaware baby daughter swaddled in a borrowed shawl on her waist.
Mareshia's feet were crusted with mud, telling of the numerous fruitless trips done in the night to try and see if she could salvage any property. "I was actually the first tenant in the building four years ago. The fifth floor was completed when I was already settled in," she said.
Swaying building
Her husband had travelled a day before. And as fate would have it, he had not yet paid the Sh3,500 rent for June because they had grown scared of the swaying building and were searching for somewhere else to live.
"But I am not moving in a flat. Not ever," she vowed.
The National Disaster Management Unit Deputy Director Pius Masai said 15 households with 27 persons were affected. "Kenya Red Cross has organised cash transfers to resettle the affected population," Masai said.
To fight drought, involve communities
According to the latest information from the Meteorological Department, rainfall will be poorly distributed in April, May and June, and this will have a serious impact on agriculture