Drama as Wanjigi thwarts arrest bid by armed police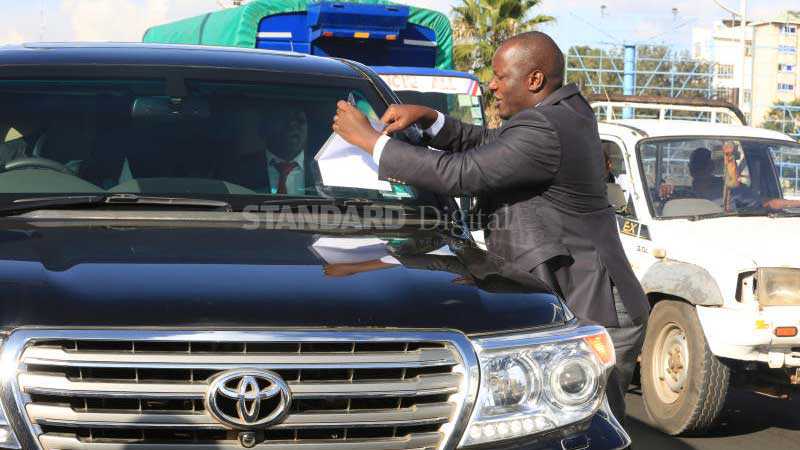 Businessman Jimi Wanjigi yesterday foiled an attempt by a dozen police officers to arrest him in Nairobi when he locked himself in his bullet-proof car.
The officers had blocked Wanjigi's Toyota Land Cruiser V8 near Museum Hill after he declined to get out, demanding to know the reason for his arrest.
The drama had started in Westlands as Wanjigi drove from his business premises at ABC Place.
Wanjigi said he noticed police cars trailing him before he joined Ring Road, Parklands Road, and later made a U-turn towards Prof Wangari Maathai Road.
Police cars
"After realising the police cars were behind us, we decided to take the Prof Wangari Maathai Road and head to town where things are busy. They could have even injured us," he said.
Wanjigi was headed for his Muthaiga home.
Near the gate of National Museums of Kenya, one of the police cars overtook Wanjigi's black car and blocked it, scratching its left side.
He was being driven and had a bodyguard in the front passenger seat.
The officers ordered him to get out, but Wanjigi picked up his mobile phone and started to take photos and videos of the officers from the Flying Squad. They could be seen touching the windshield, doors, and windows.
The officers blocked the one-way traffic for almost 30 minutes, trying to force Wanjigi to open the door in vain.
They then mounted an unstamped court summons on the windscreen, showing that he was wanted before a magistrate's court in Nyeri today over a criminal case.
The drama caused a huge traffic jam and attracted the public, who watched from a distance.
The officers were armed with different types of rifles.
They later jumped back into their cars and sped off, leaving Wanjigi's car on the road.
By then, videos and still pictures of the drama had spread on social media, attracting journalists there.
By the time the media arrived at the scene, the police had left.
Alleged offence
Speaking to journalists, Wanjigi said he had never been questioned by police regarding any alleged offence.
"This is new to me. I don't know what they are talking about. They came with unstamped alleged summons and now want to arrest me on the street.
"The other day it was my passport, then gun revocation, and another day an obituary," he said.
Wanjigi called his lawyer, Willis Otieno, who condemned the police action.
"They know Mr Wanjigi's physical address and if they wanted to serve him they did not need to trail him on the streets like a criminal," he said.
Wanjigi has found himself in trouble over several issues, including the resistance by NASA following its leader Raila Odinga's symbolic swearing-in on January 30.
To fight drought, involve communities
According to the latest information from the Meteorological Department, rainfall will be poorly distributed in April, May and June, and this will have a serious impact on agriculture