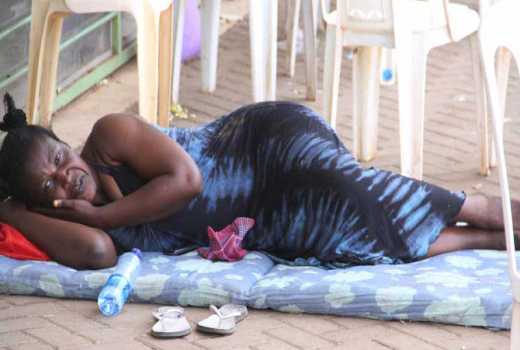 Tears rolled down Monica Lema's face as she watched her four children aged between six and 14 settle down for a meal of rice and boiled cabbage. It is her family's fifth day of squeezing at her friend's house for the night and her face showed little traces of hope. Her half undone hair and chapped lips and the dirt on her children's clothes told it all. A jerrycan next to her was the only thing she salvaged. Being poor is something she says she has learnt to live with but losing the little she had is taking a toll on her.
SEE ALSO: Today's Governor Waiguru's make-or-break moment
"My children have not gone to school the whole week because the clothes you see them in are the only ones they have," she said as she tried to chock down a sob. "The school has allowed them to attend classes in civilian attire but I can't send them to learn with the same clothes every day. They have had so much it would break their spirits down since they are still too young," she said. Six days after a fire brought down the entire Kijiji slum in Nairobi's Lang'ata neighbourhood, the more than 5,000 families that lost their houses like Lema's are still struggling to come to terms with their sudden misfortunes. A plan to construct for them houses announced by the government has sparked tension as it is not clear who between the tenants and landlords the new structures will be handed over. Informal settlements are run by slumlords who own several structures, sometimes as many as 100. Although the landlords lost their investments, those who were living in their houses do not know their fate. On Thursday, the government told everyone who lost their house to stand where it was as it took a census in order to ascertain how much it would need.
Sunday Standard
understands the National Youth Service (NYS), which has been tasked with the job, will construct less houses than the affected population.
SEE ALSO: Is Waiguru on her own or will Jubilee politics save her?
Heavy losses This according to a government directive will enable the construction of access roads in the slum. When the fire broke out on Sunday night, fire fighters could not access the inside of the slum due to lack of roads, leading to heavy losses. The idea that less houses than the original number will be constructed is a course of concern. "What if where your house was will be part of the road? Some of these questions require answers and it appears no one cares," Jeremiah Ombachi, who has lived in the slum since 1962, questioned. At the Ngei Primary where they are housed, the IDPs told
Sunday Standard
of the agony of sleeping on a cold floor not knowing when their lives will return to normal. Some of them are still wearing clothes covered with soot that they had on the night of the fire. The women and children are housed in the school's hall while men share a huge tent on the field. And since the camp is in a school, the IDPs are forced to share six mobile toilets since they cannot use the same bathroom facilities with the 1,200 pupils of Ngei Primary. Hosting 6,000 more souls for the school, whose half of its learners population (568 students), were left homeless following the fire is proving to be a challenge. "It has been hectic but we are trying to cope. We are in the middle of a school term and learning has to go on but it is also our duty as Kenyans to be mindful of those who were affected by the fire," Teresiah Wanjagi, the school's senior teacher said. "We have allowed all the affected pupils to attend school without uniform as we seek for learning material for them," she said. As a result, the IDPs are restricted to one side of the school's compound as learning takes place on the other half. Still, the IDPs complain the government is not doing enough. "The problem here is there is no organisation of any sort. The food comes late and the portions are very small especially for those with families," said Nancy Musavi.