Boda Boda Association denies claims of collaborating with muggers, want CBD ban lifted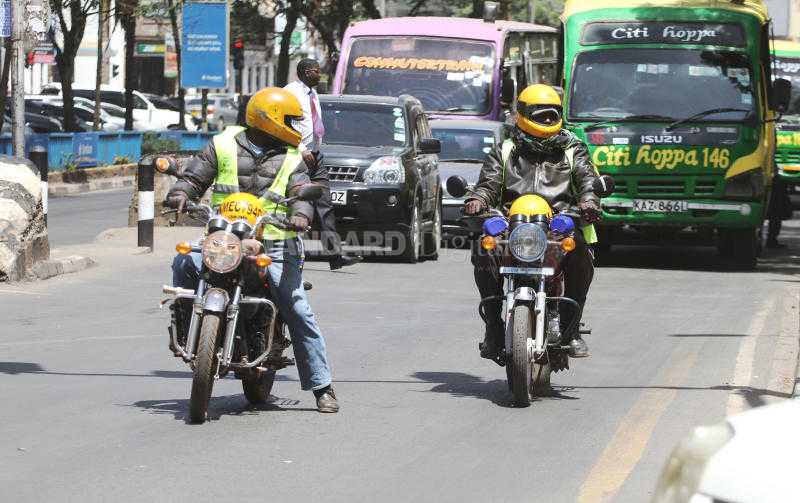 Boda boda operators have now shifted blame to 'cartels' pretending to be riders, saying they are behind the recent spate of crime in the central business district.
They motorcycle taxi riders also distanced themselves from allegations that they were being used by criminals, saying they were out to make an honest living.
Boda Boda Association Chairman Kenneth Onyango said yesterday there were plans to engage the county government in the hope of reaching a middle ground.
"Governor Mike Sonko has agreed to sit down with us so we can analyse the problems facing us and city residents, and come up with a solution," said Mr Onyango.
He also urged the city administration to stop victimising them, insisting that there was a 'cartel' purporting to be boda boda operators, but that only used motorbikes for crime.
The county administration has banned boda bodas from operating in the CBD.
"We want to inform the public to beware of people pretending to be boda boda riders who, instead of providing services, mug clients and take off with their valuables," he added.
On Monday, City Hall Director of Operations Peter Mbaya issued a notice to the riders to evacuate the CBD effective Tuesday.
Mr Mbaya said the move was necessitated by the fact that some of the riders worked with the gangsters.
To the same effect, a notice was issued by acting County Secretary Leboo Morintat directing riders to vacate the city streets. They were meant to identify other operation areas such as Ngara and Uhuru Park.
"Pursuant to the provisions of the Traffic act Cap 403 of 2014 of the laws of the Republic of Kenya, the Nairobi City County Government wishes to inform all motorcycles (boda boda operators) ferrying passengers to and from the central business district that such activities have been banned with immediate effect," read the notice.
"Any operator and passenger found contravening this law will be arrested for an offence punishable by hefty fines and jail terms as provided for in the Traffic Act, 2014," it added.