Maasai warriors prepare for revenge attack against lions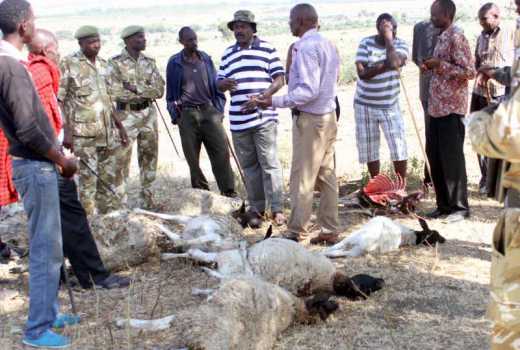 Maasai morans plan to storm the Nairobi National Park today in a revenge mission against lions they accuse of killing more than 100 of their domestic animals in a month.
The plan comes after six lions that have been terrorising residents of Kitengela struck again on Wednesday night, killing 15 sheep and goats in Empakasi village.
The lions had attacked the same homestead a week ago, killing several animals and leaving many injured.
According to Jackson Kaloi, who lost livestock, the six lions attacked the homestead at around midnight.
''We did not sleep the whole night. We tried using vehicles to push the lions back to the Nairobi National Park where they had come from, but they were very violent.'' said Mr Kaloi.
The revenge attack is expected to begin today.
When The Standard team arrived at Kaloi's home, agitated residents armed with spears and swords had gathered to prepare for the retaliation.
"Last week, when 20 of our goats were killed by the lions, we gave the Government seven days to compensate us failing which we would storm the Nairobi National Park and kill wild animals to avenge the loss of our livestock," said Simon Lila, one of the residents. "That's what we are planning to do now."
Take a quick survey and help us improve our website!
Take a survey
Cool tempers
Efforts by James Kiparus, a senior community warden, to cool down the residents' tempers were futile.
The warriors are accusing the Kenya Wildlife Service (KWS) of not doing enough to end the human-wildlife conflict.
"Enough is enough. We will not listen to anything coming from the Kenya Wildlife Service. We will continue losing livestock while their wild animals are enjoying themselves in our fields," said James Turere.
The revenge mission opens another front in the human-wildlife conflict in the region.
Last weekend, morans in Imbuko location on the border of Amboseli and Tsavo national parks vowed to kill elephants that stray onto farms in the area. They accused KWS of failing to respond promptly.
To fight drought, involve communities
According to the latest information from the Meteorological Department, rainfall will be poorly distributed in April, May and June, and this will have a serious impact on agriculture