Retail giants feeling the pinch amid rapid expansion as new rivals pick up sales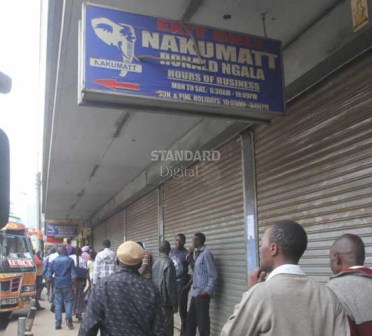 Two of Kenya's largest retail supermarkets have closed two of their stores within a fortnight while the third one is still struggling to sell its assets to turn around its fortunes, exposing the woes facing the retail industry.
Nakumatt has shut its Ronald Ngala branch, while Tuskys Supermarket closed its Sheikh Karume branch both in Nairobi.
The biggest question now is why the fastest growing industry in Africa and a major contributor to the economy has suddenly slumped and no one seemed to notice despite the clear symptoms all along. All indicators show an industry in turmoil.
Nakumatt, the biggest player in the market, is saddled with a Sh18 billion debt, which has quadrupled from Sh4.7 billion in 2012, and is facing serious stocking challenges on the shelves of its local stores. The supermarket has blamed this on bad economic times.
In Uganda, the retail giant was recently forced to clear the air on whether it is closing down after it reduced the number of operating hours in one of its branches amid reports that it is facing stocking challenges there too.
Uchumi survived a winding up suit mid last year after its debts piled up to Sh6.1 billion, out of which Sh3.6 billion was owed to retailers and Sh2.5 billion to suppliers.
On Thursday, it emerged that new entrant Karrymart Supermarket is also saddled with debts amounting to millions of shillings.
And while it is not possible to know the cash flow position of Tuskys, the fact that it closed one branch is enough to send bells ringing about the exact state of Kenya's retail sector.
Retailers, while agreeing the industry is going through turbulence, partly blame it on the economy.
"2015 was a difficult year but the industry is on a recovery mode right now. There was a slight slump in consumption and the people who feel that are mainly the retailers," says Willy Kimani, the Chief of Operations at Naivas Supermarkets.
However, Retail Traders Association of Kenya (RTAK) Chief Executive Officer Wambui Mbarire says the retail stores are only closing down to focus on profitability, and not out of distress.
"It is not a sign of distress. What you are seeing is just a shift in strategy as supermarkets are now shifting to the profitability of branches and not just having them because of availability of space," says Mbarire.
Tell-tale signs of trouble in the retail industry started showing in 2015 when Uchumi announced it was exiting the Ugandan and Tanzanian markets, but the warning signs were largely ignored since the listed retailer was also having governance issues of its own.
At that time, the company's CEO Julius Kipgetich said their regional outlets were accounting for over 25 percent of their operational costs, yet they were only making up for 4.75 per cent of the operations.
Seven months later, the company closed down five of its branches in Kenya in an effort to turn itself around. Meanwhile, Nakumatt had abandoned the 24-hour concept in some of its stores, while Naivas had closed its Garissa branch barely three months after opening.
Dr Kipgetich now says the chickens have come home to roost.
"The flu only hit Uchumi earlier but all the rest will be affected because there are serious governance issues in the whole sector that no one wants to talk about," he says.
He argues that while all the other professions have professional bodies that regulate them, the retail sector is running on "autopilot", despite the huge responsibility it has on the lives of Kenyans and the entire economy.
"If a doctor, a lawyer or a banker messes up, they are held responsible, but for a retailer, who asks them if they mess up? Retail does not have standards, a training school and professional career progression. The system itself has an inherent capacity constraint," says Kipngetich.
Rush to open
"It is a huge science globally, but in Kenya it is run by families. People go from a kiosk to a supermarket without professional skills, but with a lot of blind ambition."
When it was placed on receivership in 2006, Uchumi, whose problems were partly blamed on over expansion and bad governance, owed Sh957 million to banks, Sh900 million to suppliers and Sh125 million to former staff.
The vacuum created by the fall of Uchumi in 2006 caused a rush to open stores by retailers that saw Tuskys and Nakumatt trade places a couple of times on who had the highest number of outlets.
Fuelled by an economy that has been increasingly leaning towards being consumption-driven and a blossoming mall culture, there was a mad rush by retailers to increase their market presence.
For instance, between 1992 and 2002 Nakumatt had opened only 10 new stores, but from 2003 and 2013 it launched 42 others. It now has 64 stores, while Tuskys follows closely with 60 and Naivas has 40, closing the top three.
By the time Uchumi was back on its feet in 2011, it had long lost its pole position to Nakumatt and trading partner Tesco to Tuskys. By this time, both Nakumatt and Tuskys had already expanded their territories to neighbouring Uganda.
And just two months after Uchumi got back on its feet, Nakumatt opened a store in Moshi, Tanzania, and announced it would soon enter Burundi and Rwanda as part of a plan it called the 'Nakumatt 2.0 Corporate Strategy'.
However, instead of learning from its mistakes, Uchumi re-embarked on a rapid expansion. Then CEO Jonathan Ciano announced it was planning on opening 17 new stores in a period of three years in order to catch up. This opened a supermarket war in the country that had never been witnessed before.
In just 10 years between 2006, the year Uchumi was placed on receivership, and last year, Kenya's retail industry has grown by a staggering 272 percent, outgrowing even the Kenyan economy itself, according to data from the Kenya National Bureau of Statistics (KNBS).
In 2006, its gross value was Sh153 billion but by last year this had grown to Sh521 billion, only third to agriculture and manufacturing whose value stood at Sh1.8 trillion and Sh644 billion respectively.
Eric Munywoki, the Head of Research at Sterling Capital, says most of this growth has been driven by blind ambition, but with wrong strategy.
"Some of these companies have been borrowing heavily in order to grow their expansion drive and by so doing they have found themselves on a tight liquidity situation," says Munywoki.
"When you are in the retail space you would want to maintain your market share and one of the ways you do it is through increasing your network. You want to be visible in every region and most of these players fell for this trap by opening branches when there are other supermarkets."
Munywoki says a good number of the stores set up where other outlets are already present do not break even and end up affecting the whole company.
On Ronald Ngala Street, for instance, where Nakumatt last week closed one of its stores, there are three other outlets -- two belonging to Naivas and one to Tuskys.
Along Thika Road, which coincidentally has the highest number of malls per road in the country, each of the seven malls on the 46km stretch has a supermarket as its anchor tenant, creating a congestion of supermarkets.
"Just look at Limuru Road," admits Ngetich, "At Muthaiga, there is Chandarana at Oilibya, then you come to Muthaiga Mini Market, then Nakumatt at Village Market and there is Rosslyn Riviera before Carrefour at Two Rivers. And Ruaka itself has three big supermarkets."
Nevertheless, by the end of 2015, retail trade was contributing 7.5 percent of the country's total economic growth and was the third largest employer, with a total of 230,000 employees.
"The largest contributors to wage employment in the private sector were agriculture, forestry and fishing; manufacturing; wholesale and retail trade, repair of motor vehicles and motorcycles; and education, accounting for 16.7, 15.3, 13.1 and 10.7 per cent of the total private sector employment, respectively," says last year's Economic Survey.
And last month, a survey by Procter & Gamble (P&G) said Kenya's retail spending hit Sh1.8 trillion in 2016 as the sector expanded by 13 per cent, firmly cementing it as the biggest outside South Africa.
"The total cumulative figure for retail spending in 2016 is $17.62 billion (Sh1.8 trillion), which can be allocated across different channels based on 30 per cent supermarkets, 67 per cent traditional retail and three per cent special channels," says the report released on February 7.
Driving this growth was Tuskys and Nakumatt, followed closely by Uchumi, which was hungry to be part of the big players club again and conquer the region in the process. Analysts at that time said it was a signal of Kenya's prosperity and might in the East African Community (EAC).
Naivas, which resisted the urge to go regional, says it was not worth it in the first place.
"Why should I leave a market here that has a penetration of only 30 percent to go look for new markets where operations and everything is different because all the retailers having problems have gone regional? asks Kimani.
Uchumi has already made a retreat from Uganda, while Nakumatt is facing problems in the same market. It is not clear how its three branches are faring in Rwanda, but it is yet to open stores in Bujumbura and Juba.