Lies, distortions used to cover up mess in Rio, says Cherangany MP Wesley Korir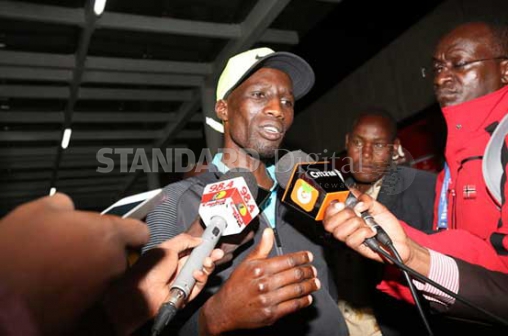 Lies and distortion have been spread to cover up mismanagement of Kenya's Olympics team which happened in the presence of Deputy President William Ruto, a star athlete said yesterday.
Marathoner Wesley Korir, who was in Rio during the Deputy Presidens't visit to the Olympic town urged Mr Ruto to disregard lies by National Olympic Committee officials about the mismanagement of Rio Olympic Games.
The Cherangany MP, who was also the Kenya team captain, said he would sponsor a motion in Parliament to have Sports Cabinet Secretary Hassan Wario sacked.
"I have already talked to MPs to support it so we can change the ministry. The CS has to go because he was there and did nothing, even when we were being taken to the slums. I called him but he didn't pick up. I even told the Deputy President that things were not right, but he is being lied to by one person. They don't want to listen to other people," said Korir who is also Team Kenya's captain.
He questioned the hurry with which Wario disbanded the National Olympic Committee, saying it was a smokescreen to cover up the real issues and rot at the ministry.
"Definitely Wario is overstepping his mandate. First of all, we are going to be banned by IOC, which is not a big deal because we have four years to prepare. Although it may be a step towards the right direction, the problem is we are only going for the small fish, but leaving the big ones.
He said the first solution is for Wario to resign.
"When he called the press conference, I expected he would to step down for mismanagement under his leadership. So, for him to blame other people for his own failures is uncalled for," Korir said.
Ruto was in Rio on August 12, a day before Team Kenya's Chef de Mission Stephen Soi hounded out Sprints coach John Anzrah for what he claimed as "impersonating an athlete and attempting to submit urine and blood samples for doping test".
It turned out the 61-year-old Kenyan sprints legend had used 800m runner Ferguson Rotich's accreditation to access a meal after National Olympic Committee failed to secure him his.
The International Olympic Committee later absolved Anzrah, in spite also of being disowned by NOC-K president Kipchoge Keino.
Anzrah's plight did not catch the attention of the Deputy President.
And moments after landing in Nairobi following a harrowing experience during the Rio Olympics, Korir said, "The CS himself was in Rio, what did he do? Nothing. His security guy was with us, I asked him where his boss was and he said he was trying to find him but he was unreachable."
The legislator is livid that one man, Soi, ran the show and all other officials would cower at the mention of his name. He shudders of the thought of what would have happened to the athletes had he left Rio de Janeiro after his marathon race.
"We were sent out of the Olympic Village at 10 O'clock (Wednesday), but since Soi was not there, we were put in a bus and we sat there until four O'clock in the afternoon without a meal - just waiting for Soi because nobody else knew anything except this one man," Korir said.
Korir's claims were backed up by boxer Rayton Okwiri, who said, "We went through a lot of suffering after the closure of the Olympic Village. We were taken to an insecure and mosquito-infested town. It was just like a ghetto place, not befitting our status. Gunshots is the order of the night there."
Korir said he had already instructed his lawyer to sue NOC-K for endangering their lives.
"From the time we landed in Rio, NOC-K seemed they didn't know what they were doing. I had to wait for more than two hours to get my room keys. We had a one-man show, whereby Soi controlled everything. If Soi was not around, nothing could be done and that's where they started failing," he said.