President Uhuru leads African presidents in historic meeting ahead of ivory burning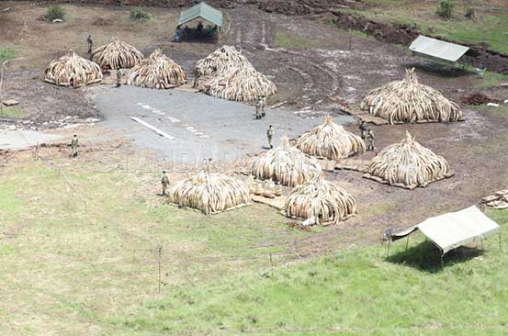 President Uhuru Kenyatta will today host three African Presidents in Nanyuki, Laikipia County to bolster Kenya's efforts in wildlife conservation.
President Kenyatta will preside over the inaugural Giants Cub Summit of which he is a founding member, together with Presidents Yoweri Museveni (Uganda), Ali Bongo (Gabon) and Seretse Khama (Botswana).
The Heads of State, conservation experts and philanthropists will discuss wildlife conservation.
Tomorrow, Uhuru and the visiting presidents will preside over the burning of 105 tonnes of ivory and 1.35 tonnes of rhino horns to reaffirm Kenya's commitment to fighting poaching and wildlife crime.
Kenya Wildlife Service Director General Kitili Mbathi said the stage is set for the burning of the largest stockpile of ivory and rhino horns in Kenya's and Africa's history.
court cases
The event that is scheduled to take place at Nairobi National Park ivory burning site has attracted international interest due to its significance in wildlife conservation.
Mr Mbathi last week supervised rangers in stacking elephant tusks in preparation for the event. KWS Director Patrick Omondi yesterday said some elephant ivory and rhino horns will not be burned as they are subject to court cases, while others will be stored for historical and education purposes.
He said 8,000 elephants were killed to accumulate a total of 105 tonnes of ivory and 343 rhinos were killed for the 1.35 tonnes of their horns.
"We have 16,000 pieces of elephant tusks which have been stacked into 11 pyres and one pyre of rhino horns. It is an accumulation of ivory and rhino horns from 1989 up to August last year, when we finished the first ever elephant census," Mr Omondi said.
He said most of the ivory was as of the result of poaching.
"However, we have some as a result of human-wildlife conflict and the natural elephant mortality, which stands at five per cent in any animal population," he added.
KWS spokesman Paul Gathitu said security had been beefed up at the park.
high temperatures
Total Kenya Communications Manager Martin Mutuma said they would provide fuel.
A mixture of diesel and kerosene will be sprayed under the tusks through pipes and jets. This together with firewood in between the tusks will achieve very high temperatures from steady heat to reduce the tusks to ash.
The system was designed by Robin Hollister, a well-known location manager in the film industry who was also in charge of the event in 1989.
"We value wildlife and that is why Total has been providing fuel for all the previous burns. We have provided 20,000 litres of diesel and kerosene for this occasion," Mr Mutuma said.
Mr Gathitu said they would open the gates to the media at 6am to set up their live broadcast equipment and then allow the public to start getting in at noon.
"We will then close the main gate and we expect the President to come and set ablaze the stacks at 3pm. But normal park visitors can access it using the other gates. For security reasons, we will stack the rhino horns tomorrow morning," Gathitu said.
"Safari tourism, which accounts for the lion's share of tourists visiting Kenya is a product of wildlife and we should jealously guard this precious heritage," he added.