650,000 illegal firearms in circulation in Kenya, report reveals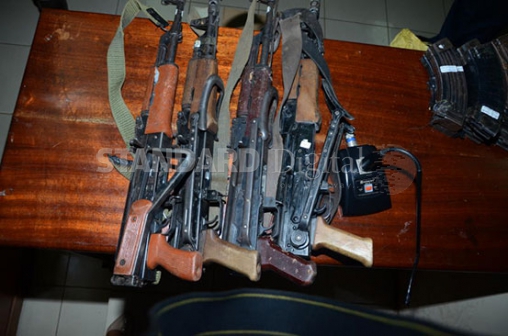 NAIROBI: There are more than 600,000 illicit arms circulating in Kenya, the Government has said.
The arms are particularly among the pastoralist communities in North Rift, North Eastern and Upper Eastern.
The Government says proliferation of small arms and ammunition has increasingly posed significant security threats since holders used them to perpetuate conflicts.
In the Annual State of the National Security Report to Parliament, the country security apparatus admit that they have failed to successfully disarm the pastoralist communities of the small arms, light weapons and ammunition.
The communities, the report says, are pushed to acquire the arms due to unending conflict over resources, cultural aspects, porous borders and organized crimes.
"It is estimated that there are between 580,000 to 650,000 illicit arms circulating in the country which have been used to perpetuate conflicts thus increasingly posing significant socio-economic, political and security risks countrywide," reads the report partly.
It admits, "Disarmament initiatives by the Government in the affected areas have not yielded the desired results."
The report says that the illegal arms have aggravated insecurity in urban centres like Nairobi, Mombasa, Eldoret, Thika and Kisumu since they are "weapons of choice for criminals".
According to the report, conflicts in the neighbouring countries as well as weak control measures in international transfer of arms have also facilitated arms availability.
However, the Government says it has come up with a raft of measures in its effort to address the matter, which is a threat to national security.
"In an effort to address the proliferation of illicit arms, the Government has developed a draft National Policy on Small Arms and Light Weapons and the Small Arms and Light Weapons Control and Management Bill," says the report.
The Government is further implementing the Protocol on the Prevention, Combating and Eradication of cattle rustling in Eastern Africa. It is also facilitating ratification of the Arms Trade Treaty.
But as the Government says it continues to fast tract the completion of state owned and civilian owned marking, it calls upon all persons possessing illegal firearms to surrender them to relevant authorities.
Apart from illegal arms being a threat to the country's security, the report says there are about 40 organised criminal groups.
Some of the proscribed gangs are separatist Mombasa Republican Council (MRC) in Coast and Mungiki in Central.
"Organized criminal groups still pose a challenge to the country's national security. There is growing recognition that the intersection between organized crime and terror organization are deepening and becoming more complex," observes the report.