Family closer to locating body of freedom fighter Dedan Kimathi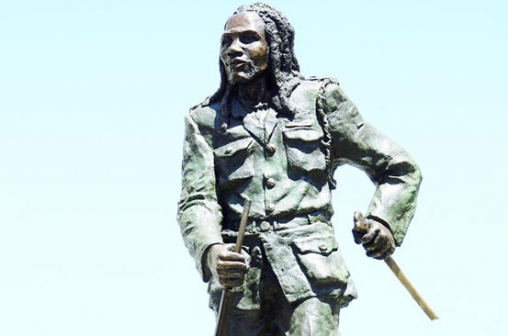 NAIROBI: Eleven spots inside Kamiti Prisons are potential graves where the former freedom fighter Dedan Kimathi's remains are lying.
Kimathi's family claimed the spots could finally solve the 59-year puzzle of where the field marshal was buried after he was hanged.
The British Government has to date remained silent on where Kimathi's body was buried but his wife Loise Mukami said yesterday when receiving his trial file, released by the United Kingdom, it could be easy to identify him as he was allegedly buried while in handcuffs.
"They (British Government) know where they buried my husband. They have given us the file, then let's have the body too so that he can be buried," she said.
The 85-year-old granny arrived at the Supreme Court building on a wheelchair. She looked frail due to advanced age.
Clad in a yellow dress, dark-green coat and a white headscarf, she was wheeled into the Chief Justice's chamber but opted to walk to receive the file, though she struggled on each step.
With the help of her daughters, she received the file outside the court's building and addressed the media, saying that her prayer was to have her husband's body laid to rest in a hero's way.
Her daughter Evelyn Wanjugu said her mother had requested Kenya's first President in 1963 to pursue where her late husband was laid but she has never had an answer to date. Wanjugu said a DNA test could also be used to resolve the issue if the body is exhumed.
"Eleven spots were identified inside Kamiti Prisons but we have not done exhumation. For 59 years, nothing has been found about our late father but we are grateful that we finally have his trial file," Kimathi's daughter said yesterday.
The file resolved the myth on where the execution was done. One narrative was that Kimathi was hanged in Nyeri and the other was that he was hanged in Kamiti Prison.
According to the execution papers, the freedom fighter was hanged on a Monday morning at the Kamiti Maximum Prisons.
On February 18, 1957, doctor K.E Robertson confirmed that Kimathi was dead and the execution was carried out by a Mr Whitehall. According to the endorsement paper, the former freedom fighter was put to the gallows at 6am.
"I hereby certify that I was present at the execution of Dedan Kimathi at about 6am this morning and after the execution, I examined the body of the deceased man and found life to be extinct. Death was caused by hanging and was instantaneous," Robertson recorded.
Governor of the Kenya colony, Sir Evelyn Baring, signed Kimathi's warrant for execution two days prior.
According to the warrant, Kimathi's body was to be disposed of by either cremation or burial, but it would be at the discretion of the Prison boss.
Kimathi was arraigned in court for illegally possessing a firearm contrary to regulation 8A (1) emergency regulations of 1952. The court papers seen by The Standard read that it was a 38-caliber Webley Scott revolver.
He was charged on two counts, the first of which attracted a death sentence and the second one was to have him in jail for seven years, committed to hard labour.
Kimathi's case file shows his trial started on October 19, 1956, at 10:20am and after losing his appeal, the then Chief Justice of the protectorate Kenya Kenneth Connor sealed his fate by ruling that Kimathi ought to be hanged for the first count and be subjected to hard labour for seven years.
The colonial government, according to the trial papers, seemed to be in a hurry to eliminate him as he was arraigned in court in October, convicted on November 27 the same year and placed on the gallows three months later.
"Dedan Kimathi Wachiuri on or about the 21st day of October 1956, in Tetu location in Nyeri district in Central Province had in possession of a firearm, to wit, a 38 Webley Scott revolver, without lawful authority or lawful excuse," the charge sheet read in part.
Kimathi's lawyer Mr Miller earned Sh4,405 from the trial. He was paid Sh3,000 for representing Kimathi in court.
The lawyer from Cumming and Miller Advocates got an additional Sh78 for accommodation at the White Rhino Hotel in Nyeri and Sh853 being fare to Nyeri and from Nairobi.
Kimathi's son, Simon Maina, complained of neglect by the Government.
He said that Kimathi's family continues to live in despair despite their father's efforts to liberate Kenya.
"We are still struggling as a family, our educated sons have no jobs," he said.
Chief Justice Willy Mutunga supported the family's quest for the body to be exhumed.