MPs blast EACC over Kazungu clearance fiasco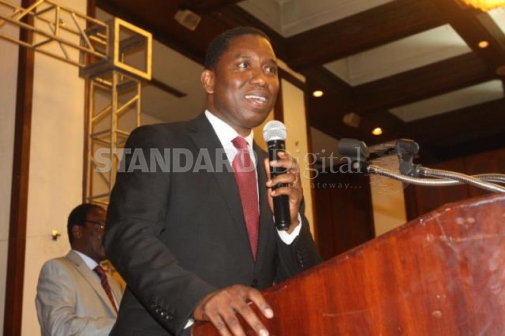 The Ethics and Anti-Corruption Commission (EACC) was yesterday put on the spot for wavering in the clearance of nominees for Cabinet and State department jobs.
The MPs blasted the EACC for "spoiling names of people based on rumours." They questioned why it was difficult for the commission to do a thorough investigation and come up with a foolproof verdict of either culpability or innocence.
In the meeting chaired by Speaker Justin Muturi at County Hall, Nairobi, Majority Leader Aden Duale (Garissa Township), Deputy Minority Leader Jakoyo Midiwo (Gem) and Moses Cheboi (Kuresoi North) upbraided the chief executive of the commission, Halakhe Waqo, for refusing to clear three nominees.
"This is about lives of Kenyans, leaders and citizens, because the Public Appointments (Parliamentary Approval) Act says for you to mention anyone adversely you have to swear an affidavit. There are people who have lost their jobs, their careers have been destroyed because of mere allegations. As Parliament, we are under obligation to protect citizens," said Duale.
Cheboi added: "We are here because of you! People have lost jobs. And here we are again, and someone is going to lose a job because of your failure to exercise due diligence."
The MPs were upset that the commission had failed to clear Dan Kazungu over graft allegations, which were likely to ruin his career.
"Cabinet Secretaries have lost their jobs because of allegations. What we are going to do about our colleague? If we approve his nomination, he will resign as MP to join the Cabinet, and if his name remains mentioned, he will have to step aside for EACC to finish investigations," said Midiwo.
The Speaker added: "The committee has to approve or reject the nomination, or take no action and then Kazungu is deemed to have been appointed. You can see the dilemma!"
Waqo said they had to clear Kazungu, the nominee for Cabinet Secretary on the Mining job, because, the timing of the complaint had shades of mischief. The EACC boss faced the Committee on Appointments chaired by Muturi and explained the indecisiveness of the commission in clearing Kazungu and two other nominees.
"That timing was suspicious. We have a responsibility to safeguard individuals against malice or ill-will. We have a duty to verify whatever information that we got. Based on the timing, it is not something I can hold against this individual to stop him from assuming this position," Waqo told the MPs.
Waqo said he first wrote to the MPs on December 7, 2015 saying there were issues with Kazungu, Nancy Karigithu (PS Maritime Commerce) and Victor Kyalo (ICT). Then he asked for a follow-up report to ascertain the facts of the case against the nominees.
The EACC boss said, he checked the information and analysed the evidence.
"After seeing that, we sat as a team and analysed the situation, this could be a correct situation, but in terms of timing or strategy, I could see some other motives. Our position was that we cannot use this to deter this individual from rising to this position," said Waqo.
It is with that in mind that they cleared the nominee.
"In the experience of how we have been responding to such cases, when we find records have some issues, we mention that. We remain open, and disclose the same to the vetting entity and then we go ahead with ascertaining the status on our side," said Waqo.
He added: "In this case, Dan Kazungu, is in the system, found that there is a complaint against him. We appreciate the fact that the candidate is a politician. We also look at a situation where we could have enemies and opponents, real or imagined. When we look at the candidates, we look at a situation where justice and fairness is subjected in the process."