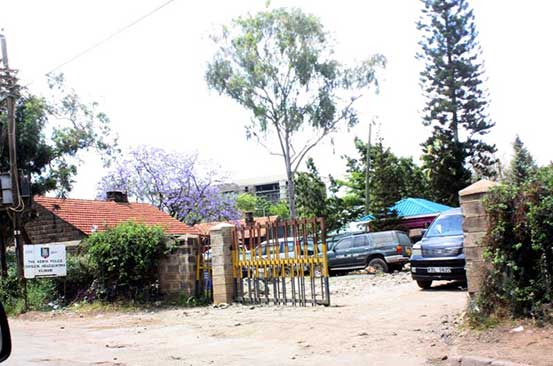 NAIROBI: Rape cases are reported to the police. But to whom do you report when the alleged rapist is a policeman? One young woman would answer: "Anybody but the police." And she has a reason, a big reason, to justify her answer.
The 26-year-old says she was repeatedly raped and beaten by an officer from Kilimani Police Station on Tuesday night.
"The policeman removed my panties and raped me. I fought back but he kept on hitting me until I stopped struggling. He continued raping me until I passed out," reads her statement.
As if to rub salt in the fresh wound, she spent the remainder of the night in the police cells. And the following morning the mother of a four-year-old suffered the indignity of being thrown out half-naked.
"In the morning, I asked to see the OCS and told him that I had been raped and beaten by one of his officers. He just laughed and told me that he had been told that I am epileptic and I imagine things."
Visible bruises
At the time she was talking to the OCS, she says, she had visible bruises on her legs and thighs and her face was swollen. She was half-naked, wearing only a torn T-shirt. She had neither skirt nor inner wear and could barely walk.
"He (the OCS) asked his officers to throw me out of the station. My purse and phone were at the counter but they refused to let me take them.
"I went out and begged a Good Samaritan for Sh100 so that I could go home. That's when a crowd assembled and some officers came and took me back to the station and later, a police vehicle took me to hospital."
An examination at the Nairobi Women's Hospital revealed heavy bruising on her genitals. She was tested for sexually transmitted diseases and put on medication. But the psychological agony remains.
She says she lives in fear, and is contemplating withdrawing the case due to threats from those she mentioned when she finally got to record her statement at the police station.
"They have told me if I don't drop the case, watanitafutia makosa nipelekwe Lang'ata Women's (Prison) na mtoto wangu ataachwa akiteseka (they'll pin charges on me and I'll go to jail, leaving my child to suffer)."
The people she points an accusing finger at are a policeman and her ex-husband's employer, whom she says she ran into while trying to get money for upkeep.
In her statement, the woman says she had gone to her ex-husband's place of work, a tour firm on Ngong' Road, on the afternoon of October 13. "I wanted money to buy food for my son since we had not eaten that day. My ex-husband wasn't in the office so I left and decided to come back later."
She says she went back at around 9pm, believing her former husband would be home.
"He lives in a small room next to the office. I went and knocked on the door but he didn't open even though I could hear movement inside the house," she says in her statement.
She decided to sleep by the door because, eventually, the man would come out of the room in the morning. But by 11pm, the night was too cold so she started banging the door and shouting.
"That's when I saw my husband's boss, Leshan (Lebasha), come into the compound. He told me to stop shouting. I asked him to tell my husband to give me money for my child's food or I wouldn't leave. He dragged me out of the compound and left me at the gate. He then told me to leave or he would call the police. I refused to leave and he drove off."
After about ten minutes, she says, Leshan returned with a policeman.
"He found me seated by the gate and kicked me in the stomach before beating me. He beat me up; blows in my ribs and my head.
"Together they dragged me on the ground to a thicket off Ngong Road, tearing my clothes. My husband's boss then held my hands as the policeman removed my panties and raped me."
When she came to, she says she found the officer in the company of two others.
"I started crying and one female officer told me to stop crying as she will help me. She helped me get into a Land Cruiser and I was taken to the cells where I spent the night."
However, Kilimani OCS Gilbert Ngui says the woman was arrested and brought to the station for creating a disturbance.
"Witnesses say she had been dropped at the complainant's property by two men in a white car. She was naked and drunk," Ngui says.
He also denies kicking her out of the station: "I'm a human being and I am here to serve the people. Which example would I be setting to my juniors if I chase away a naked rape victim? I wanted Leshan, who is the complainant, to come and sort out the issue with her since they know each other very well."
The OCS says when the woman informed him that she had been raped, he ordered his officers to take her to hospital.
Leshan denies facilitating rape: "I think she was raped elsewhere then dropped next to my property. Some people say they saw a white car drop her. I think those are her rapists. This woman is a drunkard; I know her very well because my driver was married to her," says Leshan.
He says on that particular night, he was called by one of his tenants, who said a naked woman was causing chaos on his property.
"I drove to my property, which also houses my office. I found her drunk and disorderly so I went to the police station and the OCS gave me three police officers, including one female, to accompany me back."
He says the police then took away the woman and he went home.
"The officer she claims raped her is a hardworking man I have known for many years," says Leshan.
Her husband denies having been in Nairobi at that time.
For now, all the woman hopes is that justice will come her way.