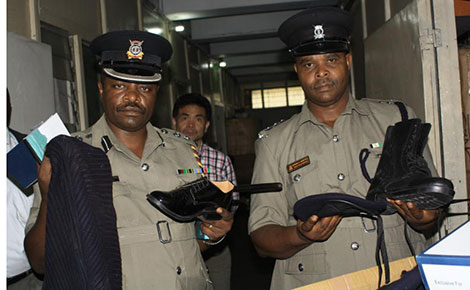 Central Police OCPD Paul Wanjina (Left) and Kamukunji OCS George Mureithi inspect police outfits seized Wednesday at a Go-down in Muthurwa, Nairobi. [PHOTO: WILLIS AWANDU/ STANDARD]
Nairobi, Kenya: Dozens of bundles of police uniforms and boots were Wednesday seized at a private warehouse in Muthurwa, Nairobi.
Two suspects — a Kenyan and a Rwandese — were arrested following the seizure of the uniforms that were in 30 sacks.
Different cheque books and receipts for Mama Lucy Kibaki Hospital found besides the sacks were taken by police.
There was confusion on whether the uniforms were meant for Kenya Police or their Rwanda counterparts.
But an order found in the godown showed the uniforms were destined for Rwanda's National Police Service.
Read More
Central OCPD Paul Wanjama confirmed the uniforms belonged to the Kenyan force.
"We don't know how they found their way here but we have found a demand letter from Rwanda Police which is an indication they were headed there," said Wanjama.
He said his officers received a tip-off from some workers at the godown and rushed to seize the consignment.
An officer confided the uniforms are on demand in the region for guerrilla wars but Wanjama said they were yet to establish the recipients of the cargo.