What to do when you are involved in an accident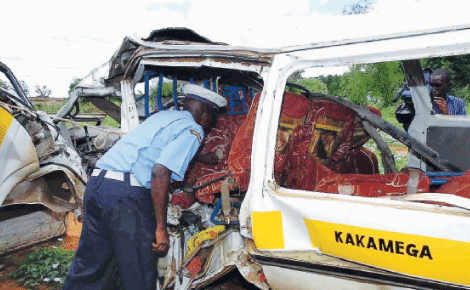 A police officer inspect a matatu involved in an accident. Drivers involved in an accident are adviced to flee the scene if life or property is at risk. (Photo:File/Standard)
By JOE KIARIE
Nairobi, Kenya: Drivers involved in road accidents should flee the scene if their lives or property is at risk. This is the advice police officers are offering to motorists after a rowdy mob burnt to ashes a private vehicle that knocked down and killed a pedestrian along Mbagathi Way recently.
In the incident, the pedestrian was crossing the road while carrying a mattress when he was knocked by a speeding car.
Ironically, the accident took place a few metres away from a footbridge, which pedestrians rarely use.
The driver was attacked by irate onlookers when he alighted from his Toyota Prado, prompting him to run for his life while his vehicle was set ablaze.
"When you have caused, or have been involved in any road accident, the law says you must stop, help those who might be injured and report to the police as soon as possible within 24 hours," Peter Isanda, a chief inspector of police in charge of road safety.
Many motorists fear that it is a criminal offence to leave an accident scene.
"However, if the situation is risky and there is threat to your life or property, take off and report the accident at the nearest police station where you can also be protected," he advises.
The same approach, Isanda explains, should apply when an accident happens in an unsafe isolated location, especially at night.
"It is good to be alert at the scene and be on the lookout for any threats to your life. If possible, mark the position of the vehicle before removing it from the scene to aid investigations. If that is not possible, you can later accompany the police to the scene where they can use speed marks and eye witnesses among other means to obtain details of the incident," he states.
The chief inspector, however, warns against hit and run cases, saying any motorist, motorcyclist or cyclist who takes off and fails to report an accident to the police will be dealt with as per the law.
Cases of motorists being attacked at accident scenes have been on the rise, with mobs instantly taking sides.
Last August, a police officer was seriously injured in Kisumu after boda boda operators pelted him with stones following an accident with another vehicle. The two parties were awaiting traffic police officers to arrive when the operators attacked the officer. His efforts to drive off to Central Police Station were futile as they chased him on motorbikes and cornered him at a roundabout where they stoned him, inflicting serious head injuries.
Where cold sends mentally ill pupils home
Every year in July, something peculiar happens at a school for the mentally incapacitated children in Tetu constituency, Nyeri County. The school sends the pupils home because of cold weather.