Deputy President William Ruto's spokesman carjacked, robbed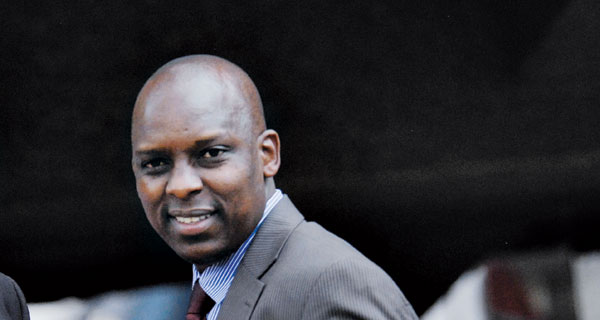 Deputy President's spokesman David Mugonyi
By Amos Kareithi and Cyrus Ombati
The audacity of the attackers baffles; they pounced on the Deputy President's spokesman not far from the heavily guarded and patrolled Nairobi State House.
They sprung at a well-lit driveway leading to Mr David Mugonyi's quarters, along Dennis Pritt Road, which one can only reach by driving past the gate to President Uhuru's private residence, and the entrance to State House.
Mugonyi, who lives next to St George's Girls High School, had the horror of his life as the attackers first claimed they did not know him, then said they had been sent to him, and demanded Sh1 million.
From the 10pm incident, they would drive around with the spokesman of the holder of the second most powerful office in Kenya, till well after 1am. All the while they received and transferred money sent through Mugonyi's M-Pesa account by friends who tried to reach the former Nation Media Group writer.
Security sources revealed the Deputy President was briefed and it is believed he in turn informed the President. They further added the rescue plans and phone tracking involved top State security teams.
The incident captioned the sad picture of insecurity in the country, coming just a few days after Uhuru's kin was carjacked and robbed along Uhuru Highway, then dumped on the roadside.
Gunmen
Mrs Jean Njeri Muhoho, 56, an aunt to the President, was carjacked by three gunmen and driven around the city for more than two hours before she was dumped along the Northern bypass near the International School in Gigiri. Mrs Muhoho is the wife of former Kenya Airports Authority Managing Director Mr George Muhoho.
The gang of four, who eventually dumped Mugonyi in Mlolongo, meaning they brazenly drove with him through the main city streets and onto the busy Mombasa Road, bore what to Mugonyi looked like pistols.
"Two men had strategically placed themselves outside his gate as he waited for it to be opened. Holding what looked like pistols, each of the gangsters tried to yank open the front door. He raised his hands in surrender,' a police officer told The Standard, quoting Mugonyi's statement.
However, his Toyota Prado, registration KBM 979S, automatically locked its doors, denying the gangsters access. As the thugs shouted, ordering Mugonyi to open, he too was pleading with them to stop tugging at the doors, with his hands raised, as it would not open unless the 'unlock' handle was pulled from outside and the 'open button' pressed from inside simultaneously.
When the gangsters finally entered the vehicle they threw Mugonyi to the back as one of them whipped him with a pistol on the left side of his head.
The gangsters then unleashed terror, slapping Mugonyi several times as they frisked him.
They also demanded his gun, which he does not have, and demaded details of where he works.
They took all his personal effects, including his identity and Press cards. When they learnt Mugonyi worked at the Deputy President's office, one of the gangsters gleefully remarked: "Tumetumwa kwako. Leo utatupa milioni moja. Tunajua una account nzuri." (We have been sent to you. You must give us one million shillings. We know your bank account is fat)
Kilimani Divisional Commander Peter Katam told The Standard: "When we got information that Mugonyi had been carjacked from his neighbour, the signal was circulated to all police officers in the city. Every police officer including the Presidential Escort Unit was involved in the operation to rescue him," explained Katam.
The operation, involving police squads on foot and in cars was led by Nairobi police commander Benson Kibue, who told The Standard they are pursuing the attackers. By last night the vehicle had not been traced.
The attackers first took Sh28,000 from Mugonyi . They then demanded the Sh37, 000 he had in his Mpesa account. "They gave him a telephone number he was to send all that he had in his M-Pesa account. They ordered him to call his friends and tell them to send him money," a police officer investigating the case said.
In total the gangsters received Sh120,000 which was sent from Mugonyi's two cellphone lines.
They continued until Mugonyi's M-Pesa account could not send or receive any more as it had reached its limit.
"Every time a friend called, the gangsters demanded to know who he was. They then told him to tell them to send me money. They were very happy when the money was sent and did not harass him as he was co-operating," another officer added.
Even when Mugonyi's phone could not receive or send any more, the thugs had other numbers which they instructed him to give to those who called him. When the callers dried up, the thugs ordered Mugonyi to call more of his friends.
Meanwhile, Katam explained that police officers were following the signals emitted by Mugonyi's phone before it was finally switched off.
Ordinary criminals
"They seem to be ordinary criminals but we are yet to catch them and the car that they stole," said Kibue. "I can't remember all the places we went but they were interested in money. They took money that had been sent to my mobile phone and other valuables. My car is also yet to be recovered," read Mugonyi's statement.
He was driven along a number of roads and ended up on Mombasa Road as his car was trailed by another small car and finally abandoned near Jomo Kenyata International Airport.
At some point Mugonyi walked in the dark to the nearest lighted area, a residential house where the guards would not let him in but just directed him towards Mombasa Road.
He walked to Mombasa Road and was walking towards Mlolongo when he spotted police officers who finally rescued him past 1.30am.
He was first taken to Nairobi Hospital where he received several stiches before he was finally allowed to go home. He recorded his statement at Kilimani Police Station.