Share certificates now electronic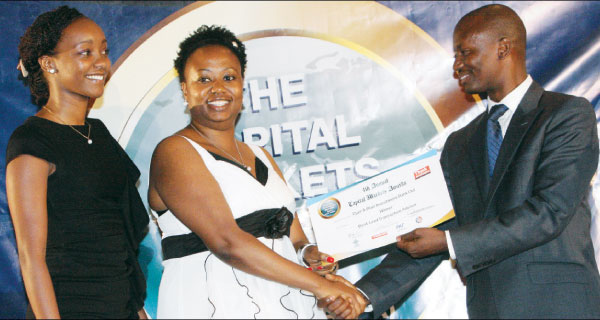 Diamond Trust Bank staff members join their CEO Nasmin Devji (middle) in celebrating her award for CEO of the Year during the 4th Annual Capital Markets Awards organised by Think Business at Hotel Intercontinental on Wednesday. [Photo: Jonah Onyango/STANDARD]
By James Anyanzwa
The process of converting physical share certificates of companies listed at the Nairobi Securities Exchange (NSE) into electronic format was completed on November 1.
The Central Depository and Settlement Corporation (CDSC) Chief Executive Rose Mambo said the process dubbed 'de-materialisation' was successfully concluded with 62 listed companies being declared 'de-materialised.'
Ms Mambo said this process is a culmination of a ten year journey, which began with the immobilisation of share certificates in order to create transparency and enhance efficiency in the trading of securities.
" From the de-materialisation date, which is now past, all securities were held in electronic form and the underlying physical certificate is no longer recognised as evidence of ownership of shares listed at the bourse," she said.
After de-materialisation, the ownership of securities will now be in an electronic holding maintained by the Central Depository System (CDS) operated by CDSC. Holding of share certificates in electronic form is meant to eliminate risks associated with the paper-based trading system and raise the capital market's profile in adherence to international best practices.
Physical share certificates have given rise to serious challenges including duplication of shares, loss and mutilation of certificates, signature mismatches and a laborious transfer process.
"The enhanced efficiency arising from de-materialisation is expected to encourage more investors to flock to the securities exchange," said Mambo.
Awards ceremony
She was speaking during the Capital Markets Awards ceremony in Nairobi on Wednesday.
During the event, British American Tobacco Ltd was declared the best quoted stock in Kenya while the best performing stocks in the alternative investment market segment included Limuru Tea Company Ltd, Williamson Tea Kenya and TransCentury.
Mr Peter Munga of Equity Bank was declared the Chairman of the Year while the CEO of the Year award went to Mrs Nassim Devji of Diamond Trust Bank.
The awards were sponsored by among others The Standard Group Ltd, Strathmore School of Business, PKF Consultants and CDSC.