Joy for heroes as State plans to honour them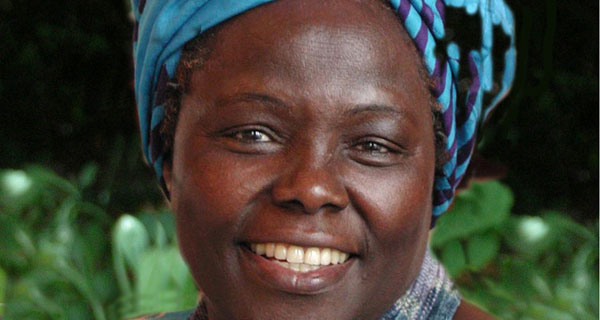 Wangari Mathai PHOTO: COURTESY
By JOE KIARIE
For the past 56 years, it has proved mission impossible to dethrone Joe Kadenge as arguably the finest footballer Kenya has ever produced.
But while his soccer wizardly remains a talking point down generations, the legendary sportsman has been condemned to a life of dire want. He barely has anything to show for his fame.
"People have been singing my name for decades, but I must admit that life has been very hard on me. Most people think I am rich but they are wrong," says Kadenge, 78.
"I played out of passion and patriotism, not to earn money, but life has changed and individuals who gave their all for this country are really suffering"
At the old age of 70, Kadenge still eked out a living as a taxi driver, a business he quit after suffering stroke in 2006. He has since been sickly, largely relying on well-wishers for survival.
His anguish, and that of many other great yet poor Kenyans might, however, be a thing of the past if Parliament passes a Bill that proposes official recognition and a range of statutory benefits for national heroes.
The Kenya Heroes Bill, 2013, which was formally introduced in Parliament last week, seeks to provide heroes with financial support and also introduce a system through which dependants of fallen heroes will be supported.
Take a quick survey and help us improve our website!
Take a survey
It requires the government to set up a Heroes Fund exclusively for heroes and their dependants who are in need of financial assistance.
The state will bear the responsibility of offering disadvantaged heroes the highest attainable standards of healthcare, accessible and adequate housing, adequate food of acceptable quality, clean water, as well as social security.
Moreover, the government will have to fully educate dependants of such persons up to tertiary level and further provide employment opportunities for those who have relevant qualifications.
Persons declared heroes shall also enjoy privileges such as invitations to national and community functions as state guests, having towns, institutions, roads, streets, parks, estates and major landmarks named after them as well as having major events and festivities organised in their honour.
To cap this, they will receive medals, insignia, commendations and certificates, not to mention publication of books depicting their respective roles in the country's history, or the social life of the society. The books shall be part of the educational curriculum.
Under the Bill, acts of heroism will be drawn from areas such as liberation struggle, sports, arts, spiritual leadership, peacemaking, statesmanship, philanthropy, entrepreneurship, indigenous knowledge, cultural values, scholarship and research among others.
"A person declared a hero under this Act may be awarded during the lifetime of the hero or posthumously," the Bill, which was tabled by Majority Leader Aden Duale, reads in part.
Patriotism, vision, integrity, selflessness, talent, commitment and discipline are among the qualities that will be used to qualify one as a hero.
Evelyn Wanjugu, the last-born daughter of celebrated freedom fighter Dedan Kimathi, says the passing of the Bill would be a dream come true for families of liberation heroes.
"Kimathi's family has since independence knocked on every government door seeking government help, but in vain. The same has been the case with families of other fallen freedom fighters," says Wanjugu, 42.
Dr Phoebe Asiyo, who is among the few women leaders who have made indelible marks in gender advocacy both locally and internationally, underlines the need to support dependants of heroes.
Glad tidings
"We have many heroes who have lost their lives for the sake of their country. Their families have been left to suffer and the idea to give them some comfort in life is a welcome one," she says.
Asiyo, however, cautions against overloading the plan and advises that any monetary support be within the confines of the economy. She also pleads for a selection panel that reflects nationhood, ethnic and gender balance.
Asenath Odaga, a celebrated writer and publisher with over 50 books to her credit, terms it a pity that most artists die in utter poverty despite inspiring millions of people through their creative works.
James "Demosh" Omondi, 55, a retired boxer who remarkably won a record 100 out of 102 international bouts during his glory days, welcomes the move.
James Sianga, an iconic footballer and coach who has recently been ailing, terms such a Bill glad tidings.
However, some Church leaders are wary about the scheme, especially when it comes to celebrating spiritual leadership.
"We are likely to see a process laden with corruption, tribalism and nepotism," says Rev. Wellington Mutiso, immediate former General Secretary of the Evangelical Alliance of Kenya.
John Njenga, the Emeritus Archbishop of Mombasa, says spiritual leaders should be taken care of by their respective churches when they retire.
Police reservist, two herdsmen killed in raid
A Kenya police reservist and two herdsmen were killed when suspected Pokot cattle rustlers raided Kainuk area in Turkana south district and took off with several heads of livestock.