Stalled tannery drives irate farmers into brokers' arms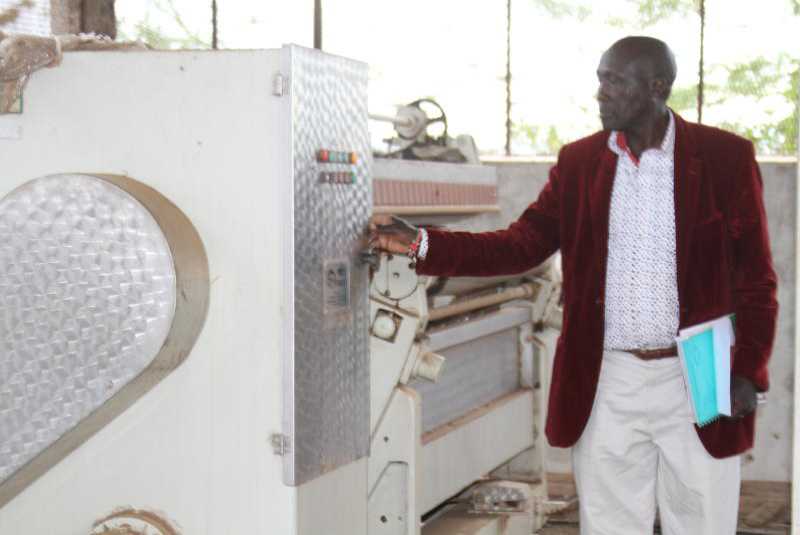 An ambitious project started nine years ago to rescue livestock owners from the clutches of greedy brokers now lies in ruins.
A narrow overgrown path leads to the stalled tannery in Mogotio, Baringo, where an imposing but incomplete building and rusted machinery offers a clue that Sh18 million of taxpayers' money was pumped into the facility.
And with its demise, the lofty dreams and great expectations of farmers and investors have dulled with each passing year.
"It is a shame. The structure was part of ambitious projects that we thought could help farmers add value to their hides and skins. In this area, livestock are a major revenue earner. Almost a decade later, farmers are almost dismissing it as a white elephant," said John Cheruiyot, the administrative secretary of Kimora self-help group.
Untapped market
The project, which started in 2009, was Kimora's brainchild. Members approached the government to fund the tannery's construction to exploit the untapped market of adding value to hides and skins.
As fate would have it, the proposal was approved for funding under the Economic Stimulus Programme (ESP) and Sh18 million channeled through the Kenya Leather Development Council.
The ESP was crafted to be the engine that would restore the economy on a growth path, expand monetary opportunities and create employment.
The tannery was one of the Sh22 billion ESP projects initiated in 2009 when President Uhuru Kenyatta was the Finance Minister. Many would stall when funding dried up.
"This was a brilliant idea. Initially, we wanted to tap county farmers before expanding to cover the entire Rift Valley," Mr Cheruiyot said.
Nine years later, the equipment bought to start the project lies idle, rusting in an empty hall.
"The building is not finished. The equipment cannot be installed because there is no power or water. Although the machines are there, farmers are still selling skins for Sh100 to brokers who resell them at better prices," said Binnot Kiptum, a resident.
Mr Kiptum said although a number of young people were trained on leather skills ahead of the start of the project, their employment hopes had been shattered.
"The youth were encouraged to take courses so that they could offer the required labour in the industry. Years later, no one is talking about the project, even as middlemen continue to buy the commodities at cheap prices."
Kiptum said a local donkey slaughterhouse, Goldox Kenya Ltd, was earning millions of shillings for exporting unprocessed donkey hides, adding that the tannery could have seized the opportunity to process skin before export.
"Years after our proposal, a donkey slaughterhouse came up and started exports that are raking in millions in the international market."
Cheruiyot said the tannery was devolved to the county government, which has given funds to continue construction.
"The county has put in almost Sh12 million for fencing to avoid encroachment, putting up a gate and building an ablution block."
But the project, according to Cheruiyot, is "in a bad state" as locals continue to raise concerns.
Sleeping giant
"The national and county governments should come together and look at how they can see this project to completion. It is a sleeping giant that needs intervention. Unfortunately, it seems that it is one of the least prioritised by the county government, yet it can be one of the main revenue earners in the country," he said.
An estimated Sh25 million to connect electricity and water, and set up lagoons is still needed to complete the project.
"We hope this will be among the priorities for funding because farmers are at a loss," Cheruiyot said.
Livestock owners currently sell goats and sheep skins for Sh50 and cattle hides at between Sh80 and Sh100 depending on size.
The cattle population in Baringo is estimated at 100,000, with 500,000 goats and 400,000 sheep.
"We have enough livestock to run the tannery," said Joseph Kimaiyo, a resident.
To fight drought, involve communities
According to the latest information from the Meteorological Department, rainfall will be poorly distributed in April, May and June, and this will have a serious impact on agriculture