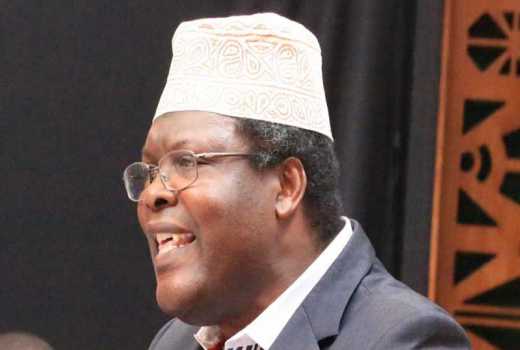 Controversial politician and lawyer Miguna Miguna has taken the Government head on for deporting him to Canada. In his petition scheduled to begin in the High Court today, Miguna, through lawyer John Khaminwa, presents a number of demands to whose compliance by the government he wants the court to grant. He wants the Government compelled to cater for his bills, facilitate his travel back to the country and provide him with security as he clears his name from the issues that led to his deportation.
SPURIOUS CLAIM
SEE ALSO: Meet Buckwheat, the donkey you can hire to crash Zoom meetings
"He is entitled to return without any further delay and respond to the spurious claim of being in the country illegally and all other charges that were labelled against him. He wants to come to defend himself and prove the crimes committed against him by the Government," said Mr Khaminwa. Miguna also wants the court to suspend the Government declaration that he is not a Kenyan citizen and that his presence in the country is contrary to national interest. In addition, he wants Interior Cabinet Secretary Fred Matiang'i, Attorney General Githu Muigai, Director of Immigration Gordon Kihalangwa, Inspector General of Police Joseph Boinett, Director of Criminal Investigations George Kinoti and Head of Flying Squad Said Kiprotich held personally liable for violating his rights. "The petitioner must be allowed back to prove they [officers] violated the Constitution and are not to continue holding public office," said Khaminwa. Miguna says the Government officials should be in jail for disobeying a court order to present him in court.
SEE ALSO: China charges two detained Canadians with alleged espionage
He also wants the court to suspend a gazette notice by Dr Matiang'i declaring the National Resistance Movement an outlawed group.
KENYAN CITIZENSHIP
He argues that he has never renounced his Kenyan citizenship and that the procedure used by the Government to strip him of his citizenship rights was illegal and unconstitutional. Miguna avers he is not afraid to return and wants the Government to restore his travelling documents to enable him to return home and fight charges levelled against him. "The petitioner was scheduled to appear before a magistrate on February 14. The charges are criminal in nature and have bearings on his reputation. It was therefore illegal and grossly inhuman to deport him without giving him opportunity to clear his name," said Khaminwa. The petition is supported by an affidavit sworn by lawyer Nelson Havi, who says Miguna's troubles stemmed from his support for the Opposition and his fight for electoral justice.