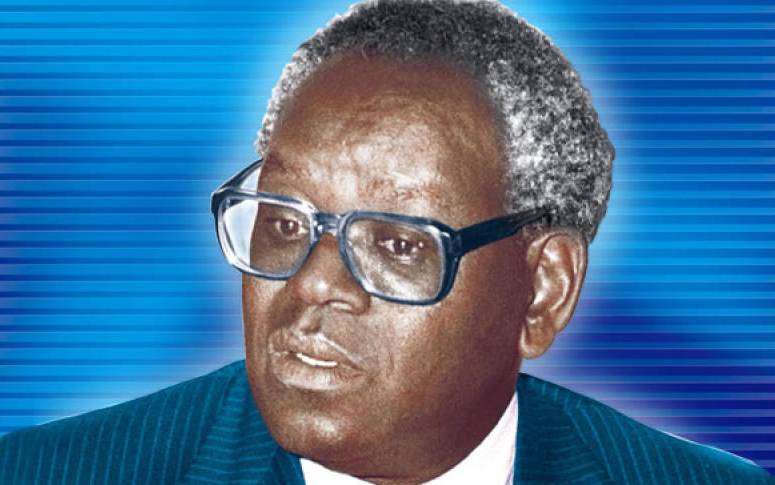 The doctors had spelt out their grim predictions. But after many hours, his prayers were answered.
His wife Beatrice Nyindombi would live. So too would the little bundle that had triggered all the panic. And for her trouble, she would be named after her mother, Beatrice.
Many years later, to ease the confusion in the family, the daughter's name would be shortened to just three letters. That is how Bea Wanjiru Karanja came to be.
"It was a difficult birth. That is why my father had chosen the name Beatrice for me so that in the event my mother succumbed, he could still have me. In the event I too had died, every time he called my mother's name, he would remember me," says Bea.
What a joy it was for a mason's son, Josephat Njuguna Karanja, who had gone to Britain to study and ended up being Kenya's first ambassador to London in 1963, where he met Nyindombi, a nursing student who later gave him two daughters and a son. Trickier situations would dog the diplomat later in life.
His London posting also brought him new friends and some powerful foes who would later try to make his life miserable.
Although Karanja the diplomat, don and politician has been dead for 26 years, his life and times in politics epitomise the paradox of Kenya's politics and the curse of the country's past and current vice presidents and deputy president.
His life also mirrors the illusion that is political power, which like a tornado, blows powerfully all in its way and then dissipates like a weak breeze on a hot night, impotent and ineffective.
Today, the white tombstone beckoning form raised ground along a well-paved path off Kenyatta Road leading to Gatundu, promises a story of a man who was once great.
But the overhanging bougainvillea twigs embrace the pathway in a stranglehold, discouraging strangers from delving too deep in his family secrets.
This is no ordinary tombstone. Underneath lies Kenya's fifth vice president and his secrets that have been resting here since 1994 when he died.
The security detail that once strutted in and out of his coffee estate and demanded that his children book appointments before seeing their father and await official invitation before attending his functions are long gone.
Locked in the cobwebs of history are the memories of the diplomat-turned-politician who was once accused of ordering politicians to kneel before him. Dr Karanja was picked to replace Mwai Kibaki as vice president in 1988.
He was a creature of controversy and his short stint as Kenya's second most powerful man ended ignominiously when in his own words "common decency was thrown out of the window and replaced with political thuggery".
Ironically, he contested and won Mathare parliamentary seat after its occupant, Andrew Kimani Ngumba, was hounded out of office and had to flee the country for fear of being detained.
Karanja too was felled by his own sword, opting to resign as the vice president just one year after assuming office rather than be dragged through political muck. He was accused of behaving like a demi-god by Kuria Kanyingi, a lowly motor vehicle inspector.
Then the cantankerous Embakasi MP, David Mwenje, assigned himself the role of bringing down the bespectacled giant. He named Karanja in Parliament, leading to the formation of a commission of inquiry to hear how Karanja had misused his powers.
It was a devil's alternative. Whatever option the diplomat took, he would lose one or both. And in a split second, he made a compromise with fate, and both friend and foe were baffled for decades to come.
Karanja's successor, George Saitoti, another don, would also be humiliated and he too, would quit in a huff in March 2002. This was after the realisation that he was not a heartbeat away from the presidency as he had assumed, having served as President Daniel Moi's vice president for 13 years.
Karanja's once lush Crops Estate along Kenyatta Road is unrecognisable. The 500-metre driveway his limousines cruised along as he came to inspect his thriving horticulture side hustle has been dented by trucks ferrying building material.
A few metres from his gate is a sign proclaiming an upcoming housing estate, which is nearing completion. The developer has constructed the bungalows just next to Karanja's final resting place.
When we visited his estate or what remains of it, last week, a young man who introduced himself to us as Njuguna Karanja, the former vice president's grandson, said he was unaware of the estate's former name. He had to enquire from his father, Timothy Karanja, who was resting in one of the farmhouses.
Please understand
When he came with an answer, the young man first demanded to know why we were interested in his grandfather but mellowed when told that it was for a historical piece.
Apparently, the betrayal Karanja suffered as a politician still haunts the family and runs deep.
Njuguna was just about to lead us to his grandfather's grave when his mother, who introduced herself as Waceke, drove into the compound in a red Mercedes Benz.
After introductions, Waceke laughed off our questions and said: "Mzee is resting there in peace. Just let him rest. I do not think it is a good idea to write about him."
When informed that her husband, Timothy, had given us an appointment the following morning, she smiled knowingly and said: "I wish you luck. You can come tomorrow but you must call first." With that she shooed us out without volunteering her husband's contacts.
When we called later, Timothy was not enthusiastic about a press interview and declared: "I do not want to talk about my father. Please understand."
He was equally cagey when asked how his mother, Beatrice Nyindombi, could be contacted.
"I cannot give you my mother's contact. Thanks for calling," he said as he terminated the call.
Earlier in the week, when Timothy learnt that the Sunday Standard was interested in his father's story, he was reluctant to meet the team. However, he begrudgingly gave us a date on a Friday. His directions led to Githiga, past Ndumberi in Githunguri, Kiambu County, where his father once duelled with Arthur Magugu.
At Githiga, Timothy was nowhere to be seen. His 52-year-old cousin, Josephat Njuguna Muiruri, was surprised, saying he could not remember when he last saw him.
But Muiruri had glowing memories of his uncle, whom he credited for paying his school fees when he was in college in Thika.
"He was like a father to me. He was so generous and loving. He is the one who bought my grandmother Mine Wagikuyu this piece of land which I now call home," he said.
The vice president's only surviving sister, Nancy Wanjiru, who is now 75 years old, attests to Dr Karanja's generosity, saying as the eldest son, he took up leadership of the household very early after the death of their father, Njuguna Wa Mieru.
"He bought my mother two acres of land at Gatitu village. He then constructed her a beautiful stone house. Every Christmas he could organise a huge family gathering. In fact, he bought all his six brothers land," Wanjiru said.
The Christmas family get-together are still fresh in Bea's memory. The daughter also recalls how her doting father insulated them from politics and took them to different cities in Europe.
"I still recall how odd it felt being prevented from getting close to your father in public. We could only attend his events if we had been booked. You could not ride in his vehicle with him but that is what happens when you are so close to power," she says.
Wanjiru says Karanja bought her a piece of land in Ruiru. The nucleus family too was not left in want.
The former vice president was not a pauper. When the High Court on March 19, 2014, made a verdict of how his estate was to be shared, it was clear he was a man of means.
He had parcels of land in New Muthaiga, Thika, Ruiru, Changamwe and Kiambu as well as 100 acres in Kajiado. All the property, according to an agreement reached during the succession case was shared out among the widow, son Timothy and daughter Beatrice Wanjiru.
The ties that once bound the family are no more but Karanja is still remembered fondly.
Although some people have claimed that Karanja was aloof, his family and residents of Githunguri still remember him as a humble man who once penned an application letter in Gikuyu, entreating them to vote for him as an MP.
The undated application letter reads in part: "I greet you together with all members of your family. This letter is to notify you that I am seeking to be your MP in Githunguri. I beseech you to vote for me when elections come so that I can be your voice in Parliament."
He signed off the letter just, "tigwo na thayu wa Ngai. Ninii murataggwo, JN Karanja (May the peace of God be with you. This is your sincere friend….)"
In the personalised letter, Karanja had included a short resume detailing how he had been Kenya's first high commissioner to the UK and later served as Mzee Jomo Kenyatta's representative in the Vatican. He later headed the University of Nairobi as vice chancellor for nine years from 1970 to 1979.