Water shortage hits Kisumu as hyacinth rots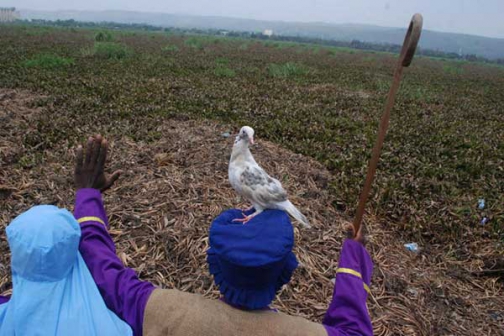 Residents of Kisumu now face water shortage as the water hyacinth which has carpeted Lake Victoria starts to rot, affecting quality.
The Kisumu Water and Sewerage Company (Kiwasco) has warned of possible rationing in pockets of the lakeside town as the stubborn water weed covering the Winam Gulf reaches old stage and is rotting away.
In a press release Saturday, the managing director David Onyango said the company's abstraction point at Dunga beach had been affected, dealing a blow on the quality and quantity of supply.
"The water hyacinth has reached its old stage and it is now rotting and sinking. This is adversely affecting the raw water quality at our abstraction point, this has necessitated reduced production at our Dunga treatment plant which may lead to some areas receiving supply at low pressure than usual" the MD said.
He added, however, that the company had improved treatment at their Kajulu plant, which draws water from Kibos River, to plug the shortfall caused by the negative effects of the dying water weed.
"We wish to assure our customers in the affected areas that water quality is not compromised," he said.
Affected areas include the industrial area, the central business district and Nyalenda, Milimani, Patel Flats estates.
In January, the firm rationed water in parts of the town as the reigning drought affected abstraction from River Kibos which feeds its Kajulu treatment plant. The situation was worsened by pollution of the river which empties into Lake Victoria.
It is not known how much longer the weed will remain at the shores of the lake with experts warning that the weed will only multiply.
A Sh81 million machine bought to help in the fight against the weed has been lying at the Kisumu port due to what officials from the Lake Victoria Environmental Management Program attribute to mechanical deficiencies of the expensive machinery.
"The shedders have very short shafts and cannot be effective in a situation where the weed concentration is heavy, those who made it therefore need to make these adjustments before it can be useful," said a source at LVEMP.
LVEMP Communication Officer Nicholas Manyoro however attributed the wait to a series of procedures which "have to be followed before the machine can become operational."
Research papers show that the weed is one of the fastest growing plants on earth and reproduces by way of runners or stolons, which eventually form daughter plants. Each plant can produce thousands of seeds each year, and these seeds can remain viable for more than 28 years.