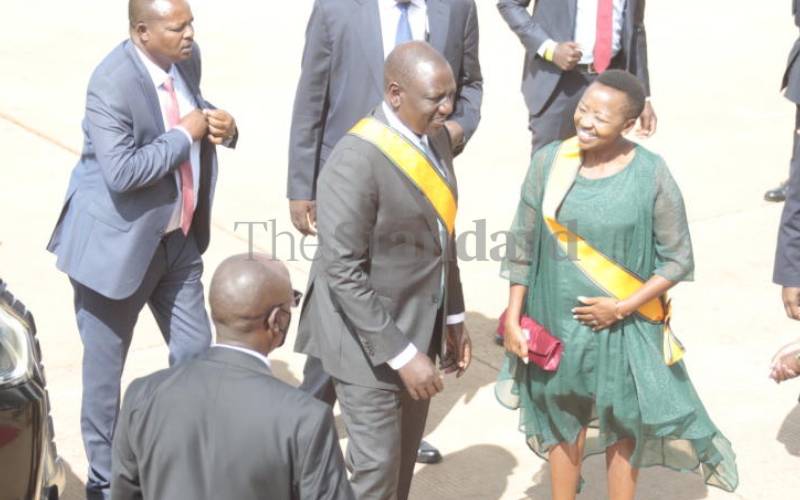 Political Chessboard rewards good strategy even when it hurts because nobody has a sweet tooth for truth.
President Uhuru Kenyatta has never spared his deputy disgrace from the time William Ruto decided to break the first of the 48 laws of power. Therefore, Uhuru's (mis)treatment of Ruto on Madaraka Day was warranted but emotional!
I say the president was justified in denying Dr Ruto a platform to build himself as he did during the national prayer day, the BBI launch and other public events. But, his refusal to recognise his deputy during Madaraka Day was emotional and might cause voters to set Uhuru on the ballot and thus, disadvantage Raila Odinga.
From delivering freestyle speeches to articulating issues with an aura of PhD to outshine his boss, Ruto has never made Uhuru comfortably superior. Thus, Uhuru is left with no option but to fight.
Robert Greene advises that an attempt to outshine your master hurts their ego and bears consequences. Ruto is a good orator, and that's his Achilles heel. But, unfortunately, he hasn't concealed his 'talents' and 'strengths' to the chagrin of the first of the 48 laws of power. Resultantly, he has accomplished the opposite with his boss.
The consequences depend on how the master handles the guillotine that he uses to crush his friend-turned opponent. It can bear results both ways. First, let's know that as the master, Uhuru is a human being. Greene drew lessons from the war strategists of antiquity. He concluded that since Adam, no master tolerates his juniors' humiliations. Each of us has an ego to protect. Wisdom knows that a wounded ego is hard to conceal.
So is Uhuru to blame? If he gave Raila a chance, we could blame his gesture - but he smartly denied both a chance. The gesture ducked the potential crowd supremacy sideshows we are usually treated to during such events. Were Raila and Ruto caught off-guard?
Unquestionably, Raila was aware he was not going to speak. Ruto was either caught off-guard, or he could have had some intelligence on the State House plan to mute him. But, being his last such event as president, we could argue that it was Uhuru's day, and he needed some peace of mind when delivering his 'exit' speech.
Obviously, the strategies of political battle don't allow the powerful one to let his enemies stand on his shoulders to greatness. Instead, the aim should be to give the competitor no chance of shining. According to Teun van Dijk, a Netherlands scholar in text linguistics, two binary strategies are used to win in political discourse.
They include emphasising the positive side of self while underscoring the weak side of your competitor and reducing negative aspects about self while keeping the positive side of your competitor at a bare minimum. It is a strategy that the president is using on his deputy. In the mix, Raila becomes collateral damage. Will the move bear fruit? Only time will tell!
However, we must point out that Uhuru's decision not to recognise his deputy was antithetical. It gives Ruto sympathy from Kenyans. On the contrary, the political heavens interpreted the gesture as emotional and dangerous.
Adding to his unremitting refusal to shake Ruto's hands in past public events, this displayed revulsion toward his deputy - the political spouse he chose and made his deputy without coercion. Such gestures could place Uhuru on the ballot come August 9 and might work against his preferred candidate, Raila.
In conclusion, it was justified for Uhuru to snub Ruto and prefer his peace, but openly refusing to recognise the deputy president's office was emotional and putting politics in the heart. As Nicollo Machiavelli advises in The Prince, every prince ought to desire to be temperate and not unkind.
-Dr Ndonye is a lecturer in the School of Music and Media at Kabarak University