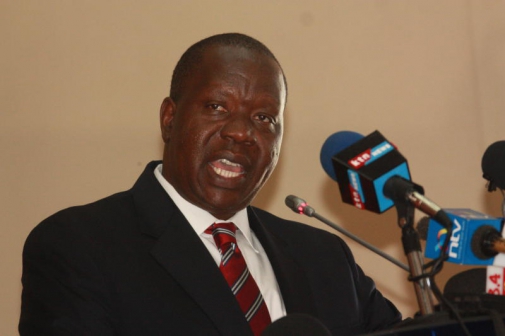 No one will give you a medal if you call me Kenya's sceptic-in-chief. That's because I own the title — hands down, and everyone knows it. The reason why I am an unrepentant sceptic is not because I am a pessimist. On the contrary, I am a realist who sees things as they are, and wonders why they aren't different. I hate wishful thinking, but admire thoughtful wishing.
That said, I believe Education CS Fred Matiang'i has most likely pulled one of the biggest numbers on Kenyans in decades. He's served up nothing but KCSE Kool-Aid and every villager is drunk with the syrupy stuff.
They say a drowning man will hold on to anything, a reed, even a live snake, to save himself. Kenya's educational system, once among the continent's best, has totally collapsed. Teachers, including university professors, are objects of ridicule. Once upon a time, the most revered professional in Kenya was the primary school teacher.
I know this only too well because my primary school teachers were my role models. I wouldn't be the person I am today without them. That was eons ago. It's not that teachers became horrible. No — it's the State that destroyed the school system. Today, teachers are the lowest of the low in society. The epidemic of exam cheating over the last two decades sealed their fate.
Today, Kenya produces illiterate university graduates. That's because they didn't actually earn the grades for college. They bought exams and cheated their way to university. At university, they bought their degrees. That's why top politicians are flocking universities to "earn" degrees. Why else would a grown man — some even at the pinnacle of power — pretend to be going back to school to get a masters or a doctorate? That's because degrees are on order like a carton of milk in our universities. Get this — three quarters of our so-called universities are nothing but worthless diploma mills and school kiosks. The so-called "professors" there teach nothing but voodoo academics. Many are semi-literate and largely unschooled.
Read More
But now every village must have a university. We've lost it — completely. That's why when Dr Matiang'i released the KCSE results amid much fanfare I knew he was laying it on thick. The results — if truth be told — were incredible. He flipped the script from the previous year and gave the country a shocker. A grade of 'A' was as rare as the snow on the equator. In contrast, 'C' and 'D' grades were in plentiful abundance.
Previously, the reverse was true. But in 2016, the schools that had splurged on 'A's were hit the hardest. In a year, their students had gone from the brightest to the dumbest. Dr Matiang'i left behind a wasteland of academic carcasses — an epochal kill.
The "no-nonsense" CS told the country that he had cleaned up the system. In one fell swoop, the son of Matiang'i slew the demons of cheating cartels and the web of syndicates that had completely corrupted the bone marrow of the education system. And Dr Matiang'i had done it without firing a single shot, or sending a single culprit to jail. To assure the country this was no tomfoolery, Dr Matiang'i produced Prof George Magoha, the vaunted educator, as Exhibit A. I don't know Prof Magoha, and can't impugn his credentials. But I want to state here — categorically — that he's just a proxy for Dr Matiang'i. Nothing more. A regime trots out an "expert" to inspire confidence and silence critics.
Something doesn't add up. The 2016 KCSE results are simply too fishy — not believable. In a democracy, public officials can't get away with telling citizens to take their word for it. Trust me, Dr Matiang'i says. I say — nyet! In street language, I want him to show me the goods — the evidence. Where have the cartels gone? Are they just hiding? Who were the people behind them? Why haven't they been caught? If Dr Matiang'i knows them, why are they not in court? How do we know the previous cartels haven't been replaced by new ones? Importantly, how is it possible to clean one aspect of an entirely rotten system without a systemic and publicly-accountable overhaul?
I sent out a widely discussed tweet rejecting the KCSE results. One person who was dejected by my tweet asked me why I didn't want to hope and wish for the better. I do — but not by being fed a whole bunch of hooey. I know something about education as a former dean of an American law school.
You don't reform a collapsed national system in a year. It's never been done anywhere. I urge the State to instead form an independent stakeholder commission to fully investigate, re-think, and reformulate Kenya's education system. Stop giving us Kool-Aid.