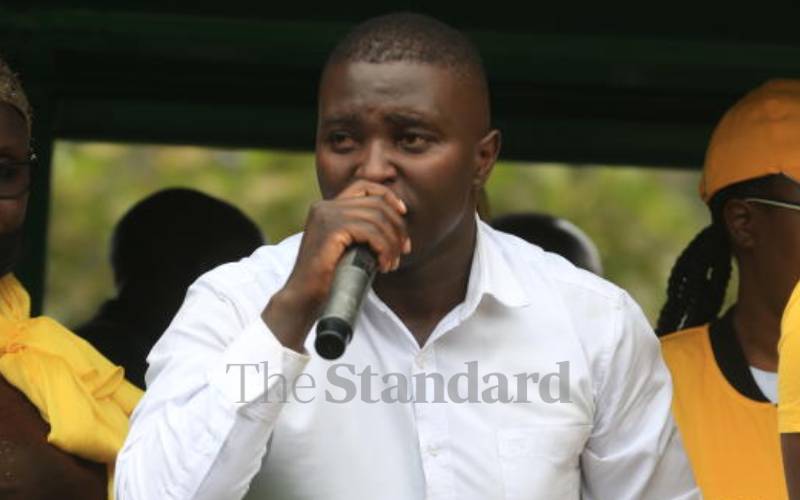 Politicians have devised new ways to woo voters in Thursday's parliamentary and ward by-elections in Kiambaa and Muguga.
The latest entrant in the high stakes mini-polls campaigns, which came to a close yesterday, are musicians cashing in from the Jubilee and the United Democratic Alliance (UDA) mega clash.
Some of the artists have composed songs in praise of the candidates, and these have become campaign anthems.
One of the artistes, Ngaruiya Junior, said he took it upon himself to help UDA's Kiambaa parliamentary candidate Njuguna Wanjiku, as he has been his fan for long even before he joined politics.
Ngaruiya added that though they had received tokens for their street performance, there were other factors that had propelled musicians to perform alongside the politicians in the by-elections.
"As performing artists, we rarely get an avenue to air our grievances so when someone comes and gives us an ear, we feel indebted," he said.
Ngaruiya added that Deputy President William Ruto had become accessible to upcoming musicians.
"He (Ruto) has met us, listened to us and bailed out some of us, so we certainly feel the need support his bid and his allies' campaigns," he said.
Popular musicians have been used to draw crowds during campaigns by engaging the electorate through song and dance.
In light of President Uhuru Kenyatta's ban on the political gatherings to curb the spread of Covid-19, the respective campaign teams have been forced to come up with different strategies to woo voters.
The artistes, while riding on open trucks fitted with ear-shattering sound systems, have been going round towns psyching up crowds before politicians take to the podium.
Muigai Njoroge, one of the most popular Kikuyu gospel artiste's, has composed a Benga vernacular song praising one of the candidates vying for the Kiambaa parliamentary seat.
Austin Muturi with his hit song irathiro ria riua which loosely translates to "from the sunrise of the 15th to sunset, our candidate will have won", sends the crowd into thunderous applause.
Yesterday, security officers had a difficult time controlling large crowds that had turned up to listen to the musicians at Karuri.
Among the secular artistes were John Njagi, Samuel Muchoki (Samidoh), Franco Wa Subu and Kuruga wa Wanjiku. Gospel musicians included Loise Kim, Austin Muturi, Milcha Njambai and Betty Bayo.