Online exchanges expose Samidoh's complicated life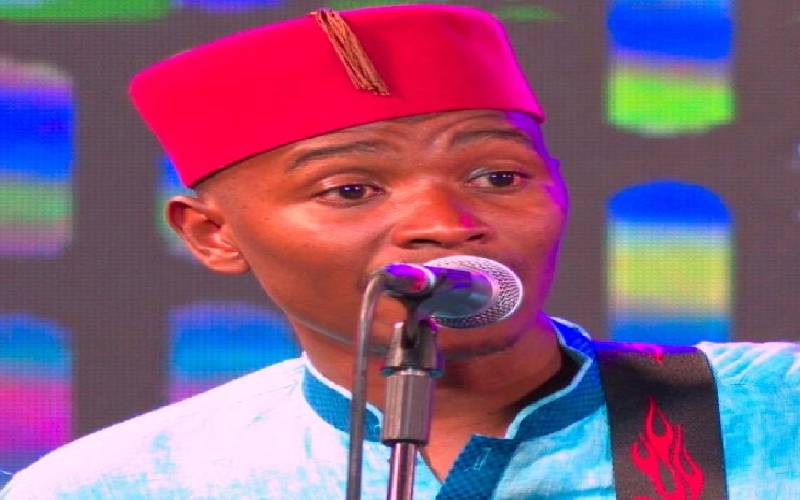 Muchoki Ndirangu, popularly known as Samidoh, is not your everyday entertainer. He is a police officer by day and keeps his fans on their feet by night.
Currently rated the hottest mugithi artiste, Samidoh is known for electrifying performances and witty engagements with fans while on stage.
But away from the fame on stage and his day job of keeping law and order, the Kikuyu music singer has created a whirlwind of controversy.
Rumours emerged last year that city politician Karen Nyamu and Samidoh were having an affair, but the two maintained that they were just close friends. At the time, Nyamu, a 2017 Nairobi County Woman Representative hopeful, was pregnant.
During an exclusive interview with The Standard weeks before giving birth, she was hesitant to reveal the name of the father of her baby.
But yesterday, Samidoh put up a post on his Facebook page where he said he is in a relationship with the city politician, who is better known as 'Bae' to her supporters.
In a long social media post, Samidoh, said he had a relationship with Nyamu, which led to the birth of her newborn son.
In his apology, the father of three said he would fully support Nyamu's son.
"I am sorry! I have put my family and myself in a bad situation. It is true I had a friendship with Nyamu and its this involvement that led to the birth of an innocent child whom I have and will always support both emotionally and materially. I am a proud father to my children," he said.
Samidoh's apology comes days after his wife Eddah and Nyamu had a heated exchange, online following a video posted by the politician of the singer carrying their son while singing for him.
In his post, Samidoh condemned the videos' timing, adding that it led to his wife and child being attacked on social media.
"I am, however, perturbed by the motive and timing of these past videos which have led to unnecessary trolling of the child and my wife. I have never left my wife of 11 years for another woman. I apologised to her and my family before.
"I now apologise to you my fans for setting a bad example. I take full responsibility for my mistakes. We have had our own shares of ups and downs but we are stronger and happy together," Samidoh said.
Following the artiste's post, Nyamu soon after said Samidoh did not put out the whole truth and warned him against over-apologising..
"It was easier to declare the whole truth and not just half of it because you will soon become a slave to apologies. You have done nothing wrong babe," Nyamu said.
There had been speculations in the last few months that the two were intimately involved, especially after Nyamu posted a video of her and Samidoh spending time together in Dubai.
During an interview with a local radio station, Nyamu said the video was blown out of proportion and that she even pulled it down because she did not have any ill intentions.
Different angles
"Samidoh is my friend. I thought I would just post the video just like you post your other friends. However, people started commenting, bringing in different angles, like about Samidoh's wife, and so I decided to pull it down. I did not have any bad intention, plus Samidoh is his own brand, and I did not want to tarnish it. We were in Dubai where Sonko and other politicians were too, and we were staying around the same area," she said.
Samidoh has also denied dating Nyamu in the past, stating that she was just one of his many fans.
"I have a wife with children, and I do not intend to get another. I have not been dating her, she has just been my big fan for a long time," he said.
"They claim I even attended her baby shower na sikua Nairobi. I have not even met her for over three months after I cut ties with her since I realised our friendship would affect my family."