Pangolin trafficking increase by 400 percent, Kenya marked as critical exit point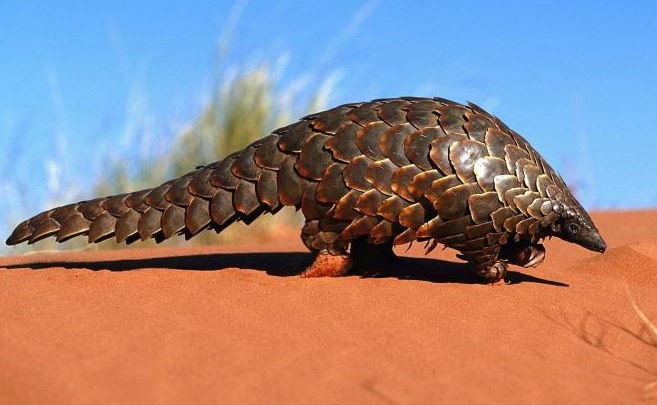 A report has revealed that pangolin scales seized globally increased by nearly 400 per cent in the last five years, with more than 323 tonnes of product seized during the period.
The report titled 'Tipping the Scales' was released this month and lists Kenya among critical exit points for pangolin products. Nigeria and Cameroon top the list.
It exposes the growing trafficking of African pangolins into China's traditional medicine industry and analyses 899 seizures between 2015 and 2019.
"Wildlife traffickers, driven by lucrative profits derived from the traditional Chinese medicine market in Asia, hunt pangolins, threatening the species' survival," the report notes.
Pangolins, are recognised as the world's most trafficked mammal where poachers target their keratin scales to fill the demand for scales and meat used in the manufacture of Chinese traditional medicine. Throughout sub-Saharan Africa and Asia, poachers hunt all eight species of pangolin.
The report shows that the most frequent form of intercontinental pangolin trafficking from Africa to Asia relies on the air transport sector, including passenger-carried products and air freight. Between 2015 and 2019, nearly 13 tonnes of pangolin products were confiscated in 88 seizures from the air transit sector traveling between Africa and Asia.
During the five-year period, air shipments of pangolin products that originated in Africa transited through airports in at least 120 instances. Forty-two shipments passed through 22 African countries, among them Kenya.
Some African countries through which illicit shipments of pangolin products transited in the last five years included Nigeria, Cameroon, Ethiopia, Ghana, Kenya, South Africa, Congo and Mozambique, among others.
"'Other' countries are all countries with air trafficking instances, but that did not appear in the top nine countries with the most instances.
They include Cameroon, Equatorial Guinea, France, Germany, Ghana, Guinea, Kenya, Laos, Liberia, Macau, Malaysia, Morocco, Mozambique, Netherlands, Qatar, Republic of the Congo, Sierra Leone, Singapore, South Sudan, Sudan, Thailand, Togo, and Vietnam," the report noted.
The final destination of pangolin products trafficked via commercial airlines is most frequently mainland China, followed by Hong Kong. Vietnam, Laos, and Malaysia each tie for the third most common final destination, according to the report. Maritime trafficking has been the choice for the largest intercontinental shipments of pangolin products from Africa. Between 2015 and 2019, over 127 tonnes of pangolin products were confiscated from just 26 maritime shipments exported from Africa to Asia.
"The primary destinations of known pangolin seizures are Vietnam, Hong Kong, and China. En route to these and other markets, pangolin products often transship through countries like Singapore and Malaysia, each of which is a potential point of interdiction," the report says.
Of the 30 maritime pangolin seizures linked to Africa between 2015 and 2019, only four of them were seized in Africa.