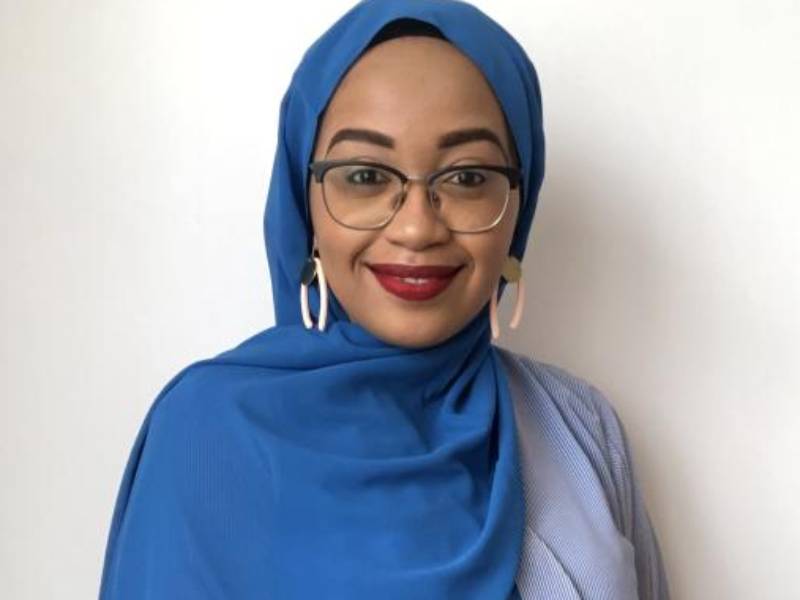 Author, Chief Administrative Secretary and big sister are among the titles 29-year-old Nadia Ahmed Abdalla holds.
She describes herself as the black sheep in her family. "I grew up in a blended family that has very strict values. I have always been the black sheep in the family because I believe my voice must be heard and women need to do more than what the society allows us to do. I was entirely raised by my step dad because my parents separated while I was still very young. As for my biological dad, I recently started knowing about him more, something that my late mum wouldn't have had any problem with," she says.
Nadia recalls always being curious about why she wasn't in a normal family setting like other children. She admits to have subconsciously developed some issues while growing up.
"As a child, I always wondered why my family wasn't in a normal set up like the other families. I think I subconsciously developed some issues, daddy issues, and as a child you tend to blame yourself for your parents not being together. However, after understanding the dynamics, you let go of those issues," she says.
She describes herself as a young, unconventional Swahili lady with strong views and beliefs about how women and girls should be when it comes to being part of the social economic sphere, giving back to the community and building the country.
Born and raised in Mombasa, Nadia did her primary and high school studies in Mombasa before moving to Kuala Lampur, Malaysia, where she did her Bachelor's degree in Public Relations and Mass Communication. She then moved to Germany for her Masters degree in Arts International Relations and Cultural Diplomacy.
She joined the Madam President competition on KTN last year, fueled by her desire to show young girls from her community that they can be part of something bigger than what society has given to them.
"I am driven by the zeal of influencing change in our society. I am very hard working and a go-getter working towards changing the narratives of the minorities in our country. I wanted to show young women and girls who looked like me that we can also be part of the decision-making table, part of policy reforms and just be a representation of the minorities, which is where I come from. My decision was solemnly based on the idea that I need more of us to occupy spaces and break cultural ideas of women just being enough with what society allows us to be," she says.
Nadia describes her experience on Madam President show as empowering and educative. She says the experience made her learn different leadership tactics and boosted her confidence and self-esteem as a young leader.
"I was on a platform that put together 47 women who were doing remarkable things in their own spaces. The experience really boosted my self-esteem and confidence. I'm happy the youth in my county were motivated by the bold step I took to be part of the show. I got the rare chance to be part of some programmes and built a few networks here and there," she says.
Nadia believes she gained the lessons and exposure she needed to amplify her leadership journey despite being eliminated after getting to the final 18. She says that, like every other competition, everyone has their own choice when it comes to their competitors her performance on the show was okay.
"After the show, life has been an enlightening step at a time. I became a mentor to youths, I championed for mental health even more and managed to be part of groups that championed for it. I enhanced my entrepreneurship journey even more and built more networks," she says.
Nadia has worked closely with young people and the community. Her passion for mental health and empowering women led to her starting her own company where she trains young women on how to speak articulately and speak up about issues they are passionate about.
"I used to plan and champion a lot of social issues that were affecting the youth. I would design online campaigns that would trigger conversations and utilise my Internet presence by adding value to everything I was doing and selling. From that, I worked for a few months at Mombasa County department of trade, tourism and investments as a chief tourism officer and from there, this year in January, I got appointed as a CAS at the Ministry of ICT, Innovation and Youth Affairs," she says.
Nadia recalls the day. She never expected it. As much as leadership and diplomacy have always been her core interests and a source of motivation in her career, being appointed as a Cabinet Administrative Secretary wasn't something she saw happening in her late 20s.
"I was in Mombasa actually, at work. We were having breakfast at the office. My reaction was out if this world as I was shocked and in disbelief. I immediately lost my appetite and couldn't eat anymore. I just didn't believe I had gotten such a huge appointment at my age," she recalls.
How things have changed
Nadia says that since her appointment, things have changed. Even though the job does not have the glamorous chase cars and everything else, she has a body guard who she admits is very helpful whenever she has to go out and meet crowds.
"Doing this job has been empowering and the reason behind it is having an extremely supportive Cabinet Secretary, Joe Mucheru. Being at the Ministry and in this position, I am given a chance to learn and experience, and also my ideas are heard and some implemented. And being at a space where I am able to amplify innovations and work with the youth for me is the ultimate reward given to influence change and make a difference," says Nadia.
On losing her mother
A few months after her appointment, Nadia lost her mother to cancer. Her mother had been battling cervical cancer since 2018 and passed away in June 2020. She recalls her journey as painful but rewarding as she was able to take care of her mother and was with her throughout her fight until she took her last breath.
"Watching my mom fight cancer was very painful but the journey was also rewarding. I was able to take care of my her until the very minute of her last breath and, to me, that's the ultimate blessing God could ever give me. It was painful because cancer is such an evil disease. It takes away your happiness as a family, robs you of your financial capacity as it is an expensive disease. It was heartbreaking to see my mum suffer when I couldn't do anything to ease her pain. Only she knew how she felt, and I couldn't take away her pain," she says.
Nadia advises women to get screened for cancer early rather than live in fear of not being sure if you have it or not. She says having cancer is not a death sentence as there are many survivors who have beaten it.
"Moving on has been hard but I thank God that I have people around people who love me and show me so much love and care. I have discovered that everyone grieves differently so I never know when or where I will think of her and tear up but I live each day knowing that God will give me the strength to keep going," she says.
Nadia explains that she always acknowledges her emotions and faces them, allowing herself to feel everything knowing that God's will and grace is with her and her family. When she is not working, she spends her time with her brother and cousin. They cook together, watch movies, go for walks and when alone, she writes.
Writing is therapeutic for her and she is currently working on her second book. This keeps her busy and drifts her mind away from work and life events. The first was 'Feminist in the US'.
As a young woman, Nadia believes that personal branding is very important.
As a feminist and a voice of many young women in the society, she believes having your own brand is what defines and introduces you to the world before anything else.
Nadia attributes a huge part of who she is today to her late mother who always reminded her of the importance of being known for the unique element that she would share with the world.
Inspiring figure
She believes the other part of who she is was achieved by her interest in being more than what society made her believe she could achieve.
"I draw a lot of inspiration from my late mum. She really inspired me with the way she lived her life and how she always put my brother and I first in everything she did. Michelle Obama and Oprah Winfrey inspire me to keep going and fuel my ambition," she says.
The young CAS sees everything as a lesson or a stepping stone. She believes that only good things lie in the future for her.
"I have no regrets in life. Everything is a lesson and not a failure. Every lesson is also a stepping stone to a new level. I believe the future has so much in store for me and I cannot wait to get there and experience it all. One thing is for sure, I am ready for what lies ahead because my journey is a powerful one," says Nadia.