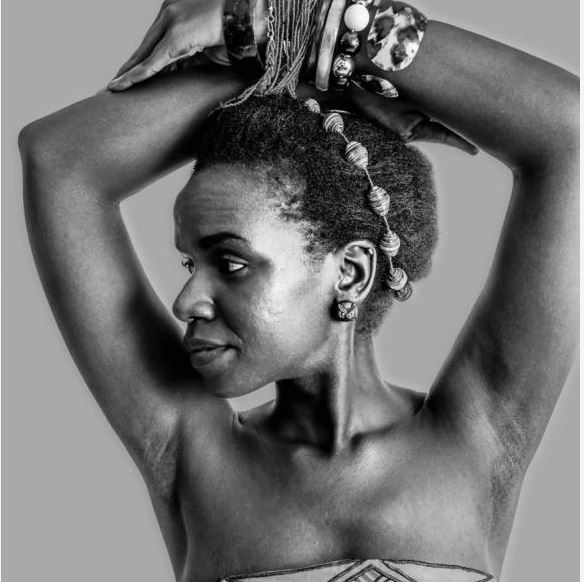 The Mombasa-born songstress is sassy and bold. But that wasn't always the case. Crystal Asige, 28, lets us into her world and takes us through her journey of self-acceptance.
When Crystal goes to bed every night, it is with one fervent wish. "That I will fall into a dream-filled sleep. Whenever I dream, everything is so vivid. So vibrant," she says.
She goes silent and stares into the distance, as though in a trance. I don't want to break her reverie. So we sit in silence.
"In this one dream, I was staring at a red brick wall," she continues softly. "It was just like in the movies. And then in front of the wall was a yellow flower with green leaves. I could see it perfectly, every little line on the petals. I woke up in the morning and I was smiling the whole day. It was a beautiful flower. When I am awake, I don't remember colours that well."
Read More
She doesn't say this with any hint of bitterness.
Crystal Asige has accepted the fact that with each passing day, her world will get dimmer. And it doesn't make her sad. It used to. In fact, she went through a period of depression.
"I was desperate to get my sight back. I remember having some conversations with God. I asked God why. 'Tomorrow, God. You say that you are God? Then give me my sight back tomorrow,' I would tell him. And the next day when I woke up, I would still be blind."
It was a stretch of darkness for the young woman, visually and emotionally. And while losing a sense is not a walk in the park for anyone, for a young woman at the cusp of adulthood, it was deeply traumatising.
"My life was at a standstill because I was waiting for my eyesight to come back. I was chasing after something that was already gone," she says.
And when she realised that her sight wasn't coming back, she decided to go on a bender; after all, nothing in life is guaranteed.
"I compared my situation with death. We all know we are going to die one day. And how else can one prepare for it other than to stay in the moment? So I decided to live it up -- have fun with my friends. I went a little overboard. Too much drinking, too much partying. It was a distraction and a way to cope with what I knew would eventually happen."
But all that is many moons ago. And if that teen had met the woman she would later grow into, she would do a double take.
Minutes earlier, she had waltzed towards me for the interview, all slim curves and confidence and looking quite chic in her get-up. And she had extended a supple hand to me in greeting. Her other hand holds Faith.
Faith is her white cane.
She named it that because she lives by the philosophy 'Walk by faith, not by sight'. From her ears dangles a pair of crisp white earphones. They are connected to her phone. And I assume she is listening to music. She isn't. She later explains that she wears them because they help her read things on her phone.
I have caught her at work, at the Open Institute where she works as a programmes manager when she is not in the studio belting out hits. She slants her face towards me and it is then I gaze into the most startling eyes; one an intense blue and other glassy. The pair is just as remarkable in person as in her music videos. She smiles as she takes a seat and for a minute, I forget that she can't actually see me. It is surreal, and she laughs when I say so.
A soft lilting laugh that seems to visibly relax her.
Well, she can see, just not the way the normal sighted can, she explains.
"I can't see detail but I have light perception in my left eye. My right eye doesn't see at all. I can tell that right now it is daytime. If I am walking at night and a car flashes its headlights, I can see that. If I look up I can tell if there are light bulbs. It is very foggy, very blurry. It is sort of like when you are in a bathroom and you shower and you clean the mirror."
At 14, and in high school, she slowly began losing her sight. She was born with a progressive eye condition called glaucoma that took root later on.
"That just means slowly by slowly my eyesight gets worse. The reason for that is because there is too much pressure in my eyes and the higher the pressure, the more it eats away at the retina at the back of the eye. The retina is like the cable that sends information to your brain.
That cable is slowly being eaten away by the pressure in my eyes. There is no cure for it. There are only eye drops that I use to help the symptoms like pain."
It isn't all bad though, she reassures me. Losing one sense often comes with other heightened senses.
"I have loads of extra tools in my superpower box. My spatial awareness is way better. My hearing too. There was a time I was in a supermarket with a friend and I could hear her vibrating phone buried deep in her bag. She was oblivious.
"I am also way better at recognising who someone is by their footsteps. Physical, psychological and spiritual senses are much more heightened," she says.
She has come a long way with self-acceptance, and today, she inspires many young men and women going through unwelcome changes in their lives.
"Today, I don't wake up in the morning and wish I had my sight back. It would be nice to have it back, but it is not with the desperate need that I had years ago."
Finding her voice
Her voice holds a low timbre when she talks, and as we sit on the veranda, people pass by saying hello to her. She has become a popular figure thanks to her new feature on Sol Generation's song Extravaganza. Music, she says, is the one area she always wanted to succeed in.
"My mum says that when I was about four, I would come home from school and instead of crying to her about the playground bullies, I would sing to her about my experience. Later I would discover poetry and realise that If I wrote a poem and put a beat and a melody to it, it became a song!
She was always ultra-determined to show off her talent, and did everything she could. Meeting Sauti Sol and joining their stable was almost predestined.
"I first met Bien (member of Sauti Sol) about 12 years ago. I was in high school and I used to take all my lunch money and save it, so that I could get onto the night bus on half term and end term breaks to come to Nairobi to find people that believed in what it was that I wanted to do, which was sing.
"I'd go from place to place, theatre to theatre, club to club – trying to look for these musicians who were in Nairobi, that I had been told were the gatekeepers who could help. I went to all the competitions that could help you get deals were in Nairobi.
"Out of many producers I met, one of them was Bien. He invited me to where they used to record back in the day, which was Penya and he gave me advice but it ended there," Crystal says.
About two years ago, Bien was looking for songwriters and someone recommended her.
"By then, I had already built my brand as a singer, speaker and Visually Impaired People (VIP) ambassador. Even now, I listen to Extravaganza and I still get excited listening to it," she says.
At this point, she tugs at her earing. A constitution of gold and black rectangles with a golden bee sculpted on the front. The accessories complement the black slacks and yellow blouse that complete her ensemble. Her knack for dressing beautifully is evident even in her old music videos. However, it hasn't affected her sense of style.
So does she have a stylist in her entourage? I prod.
"I hardly remember colours, but I definitely know that my favourite were gold and red. Whenever I go shopping, I have somebody with me who describes the clothes. If they say it looks cute on me I will buy it, and every time I touch that top I will know that is the yellow top – because of the material and details. And now that I am with Sol Generation, the stylists are of course better," she says.
Pretty soon, it is time for her to go back to work, and as we walk arm in arm to her office in the building, I ask her if she is seeing anyone.
"I have no special man in my life," she admits... "but if any suitors are interested, they better come correct!" she says with the air of a person absolutely sure of what she needs.
And best be sure that she doesn't need sight to evaluate one's character.
"I am not attracted to people by the way they look. So I judge people by what they say, the tone of their voice – you can tell a lot by their tone, their energy. I think I am more attuned to people's energies too.
Just before I leave, she asks me to tell our readers to watch out for Lenga, her soon-to-be released single.