Sheila Mwanyigah's mother on why she decided to be a cop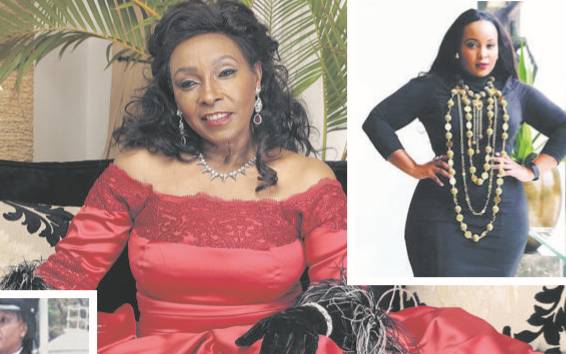 Born in Kirinyaga, Agnes Wanjiru Mwanyigah, mother of media personality Sheila Mwanyigah, joined the police force when doing so for women was rare, thanks to her talent. The mother and grandmother of two was born to Buckstone Mwangi Wamahio, son of Chief Wambugu Katitu of Nyeri and Joyce Wamwirwa Njumbu, daughter to Cannon Johana Njumbi. The latter is a respected man who educated many and has a school Njumbi Girls Secondary built in his honour.
Mwanyigah was born and brought up in Kirinyaga with her grandmother after her father who hailed from Nyeri separated with her mother.
She later studied at Martin Luther Primary School, Nairobi. Agnes was among the first to join the police force band way back in 1973 when women were hardly accorded the opportunity to do so. She says she takes pride in her upbringing, which played a big role in molding her career.
"I frequently accompanied my mother to work at the Government Printer before she was later transferred to Kenyatta International Convention Centre, across the police headquarters," she says.
During the time, they would meet police officers on the roads and saw how beautiful they looked in their uniforms, in particular, an officer by the name Mrs Mwangangi.
"I wished for the day I would serve in the service with them," says Agnes whose dream came true at 19. "December 13, 1973, is a date that will forever be etched in my memory. On this day, due to my interest in music, I was selected to join the Kenya Police Band at the police depot," she reveals.
Agnes was overjoyed and felt the need to represent her gender with gusto to prove to the world that women can excel in any area.
"Being part of the police band was a privilege. I earned Sh250 per month, but I also lived in a good house in Nairobi's South C estate, with three of my colleagues," says Agnes, who met her husband to be, Inspector Gideon Mwanyigha, then director of Kenya Police Band Number One.
"He was a humble, handsome man from Taita," she says, adding it was love at first sight. "One thing led to another and, with time, he proposed to me. We tied the knot in 1975 having been blessed with two children — Sheila being one of them." As a female police officer, Agnes had to navigate her career while raising their children.
"The fact that we were allowed to have two children because one could only have two spells of maternity leave. I chose my career and with no regrets," she says.
During her tenure as a law enforcement officer, Agnes focused on protecting people and property. Other duties included patrolling areas she was assigned. She responded to calls, enforced laws, made arrests, issued citations and occasionally testified in court cases.
"Despite my busy schedule, I am happy that I was able to fulfil my dream at the end of it all. Although I occasionally miss my police job, having served there for four decades, I try to engage in various activities to keep myself busy," she says.
Now in her 60s, she still makes it a point to keep fit by running up to 12 kilometres a day. "I also love spending time with my two granddaughters from his son Mark," she adds. Mwanyigah describes her relationship with her husband as complex.
"He was my boss and husband. It wasn't easy. He was a very attractive man, so I ensured that I was always ahead of the pack. We were both performers with fans who looked up to us as their role models," she says.
They had to be cautious in how they carried themselves in public places. "Imagine someone asking you for your wife's contacts - and vice versa. Not everyone knew we were married," she adds.
Besides being a great husband, and a father Mwanyigah says as a couple they displayed a united front.
"We made the rules that were to be followed in the house. My husband always made time to check on the children's homework before he left to catch up with his friends. He even taught our children how to shine their shoes to military standards. My son Mark became a scout and later on joined the military," she says.
However, despite the good times, they spent together, it was brought to an end with the death of her husband, which remains such a huge loss.
"There's so much I still needed to learn from him. He was a wise and transparent man. We were a partnership," she adds. Despite her huge loss, Agnes describes her relationship with daughter Sheila as easy. "Sheila and her brother have been the pillar of my life since the loss of my husband," she says. Agnes adds that as a student, her daughter was an obedient and responsible child. Though she wished for her daughter to become a doctor, she chose music, she has always been supportive of her ever since.