Like father like son: The obsession with African languages and the 'jukebox' motif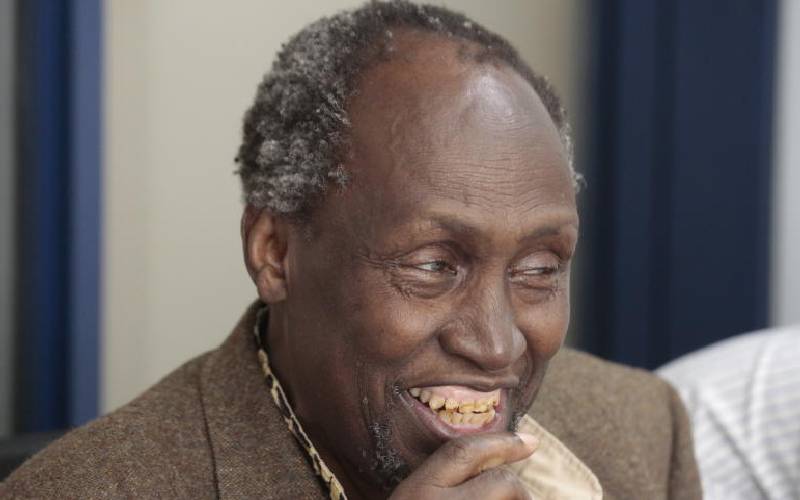 The gods may have conspired to deprive Kenyan writer Prof Ngugi wa Thiong'o of the coveted Nobel Literature Prize, but they have been kind enough to gift his four children the power of fiction writing.
One of his children has stood out with remarkable and revered achievements that have elevated and replicated him to his father. The 48-year-old Mukoma wa Ngugi has lived true to the saying in Chinua Achebe's Things Fall Apart that if a child washed his hands he could dine with kings.
Indeed, Mukoma has followed his father's footsteps, rising to a Professor of English at Cornell University in the United States besides being a promising writer of different literary genres. His 81-year-old father is a distinguished Professor of English and comparative literature at the University of California and a celebrated author.
As Mukoma too has an array of works, including the novels Nairobi Heat, Mrs Shaw and Black Star Nairobi, his father has Weep not, Child, The River Between and Matigari among several other publications. While Mukoma has not published in Gikuyu, his father specialises in telling the story in Gikuyu from his American abode.
The duel between father and son is symbolicaly set in Limuru, the very ridges where both were born generations apart. It is as if the gods have conspired to expose "the river between' Ngugi and his son's generation. And the wrestling of the minds is appropriately labelled 'The duel of the ridges' talk whose theater is at St Paul's University in Limuru.
Confront his son
What irony for the aged writer to confront his son in a church based organisation given that the play that saw him detained, Ngaahika Ndeenda, was critical of the church which is "used as a vehicle to mersmerise the poor while their ancestral land is snatched away."
In their duel where the minds and language are used as sharp swords, the duo fascinated everyone as they faced off in the humour-laced literary discourse that left many tongue-tied.
The fully packed amphitheatre saw many who missed seats making themselves comfortable on the tiled floor as the duo arrived to a loud applause.
Ngugi jogged his way into the dais as his son walked leisurely from behind as he chuckled at his father's anxiety as they both joined Dr Joyce Nyairo who moderated the talk.
Ngugi started off by recognising some attendants and his family. However, the author who has since been termed the 'language warrior' found himself speaking Gikuyu language until he was awakened by laughter from the audience.
Nevertheless, he punctuated his statements in Gikuyu in what he apologetically explained, "It shows where my heart in language is." The trend continued even as he read snippets from his Kenda Muiyuru: Rugano rwa Gikuyu na Mumbi, an epic that is yet to be translated as The Perfect Nine.
However, Mukoma, who is taller than his father, steered away from using his father's tongue, although he nostalgically recalled growing up in Limuru.
To demonstrate that he was bilingual and a language warrior just like his father, he recited one of his poems he wrote in Xhosa, a South African language. The Xhosa poem translated as "Home is home" thrilled the audience.
He elicited laughter when he read the translated version and teased that he had translated his writing to English "unlike some of us", casting a glance at Ngugi, who sprang to his feet only to be restrained by the moderator.
In defence, Ngugi too said he knew other African languages other than his mother tongue as he demonstrated his mastery of Dholuo by attempting to charm the audience with a few Dholuo words. He even recited a poem he composed in Dholuo when he recently visited Kisumu.
While Mukoma said literary prizes matter, his father downplayed the desire by writers to be Nobel laureates. Ngugi claimed he does not write for prizes and values more "Nobel of the heart" than any other. He jokingly recalled some years back when it had been rumoured that he would be declared the winner before another author was announced.
"Journalists walked into our house and they were really sad. My wife took time to console them," he said amid laughter from the crowd. He judiciously pronounced on the literary prize: "I have no say in the decision making."
Mukoma said such recognition matters but insisted that it would be of more significance if those writing in local languages are given more attention.
Mukoma co-founded Mabati Cornell Kiswahili Prize for African Literature in 2014 with Dr Lizzy Attree.
The two writers also shared literary musings, with each revealing that they do not have specific times when they sit and write.
Missed a plane
"I am not disciplined enough to write between scheduled times. I tend to write in one place maybe for a month and keep moving," Mukoma disclosed.
His father said, "I don't have writing hours. It depends on my mood. I once missed a plane because I was engrossed in writing."
Then there is a jukebox motif recurring in the works of Mukoma and his siblings as well as their father.
Tee Ngugi, Nducu wa Ngugi, and daughter Wanjiku wa Ngugi are also among Ngugi's children in writing whose works, as Mukoma and Ngugi revealed, have jukebox surfacing somewhere in their narratives.
Wanjiku authored The Fall of Saints, a novel themed on child trafficking.
Nducu has City Murders, a crime thriller, while Tee has two anthologies of short stories titled Seasons of Love and Tears.
The family members said they exchange manuscripts before they send their works for publishing.
"A writer is half confidence, half-doubt," said Mukoma as he thanked his father for taking time to look into his manuscripts.
Ngugi said the entry of his children into writing has inspired him, adding that he felt privileged.
"There is always an element of doubt and sometimes you may need somebody to say something," said Ngugi.
At last, the duel ended with a friendly handshake punctuated with wide smiles and chuckles between father and son, with Mukoma, promising to knock off his father in a physical duel thereafter.