Reggae-robics: Where the beat meets the fit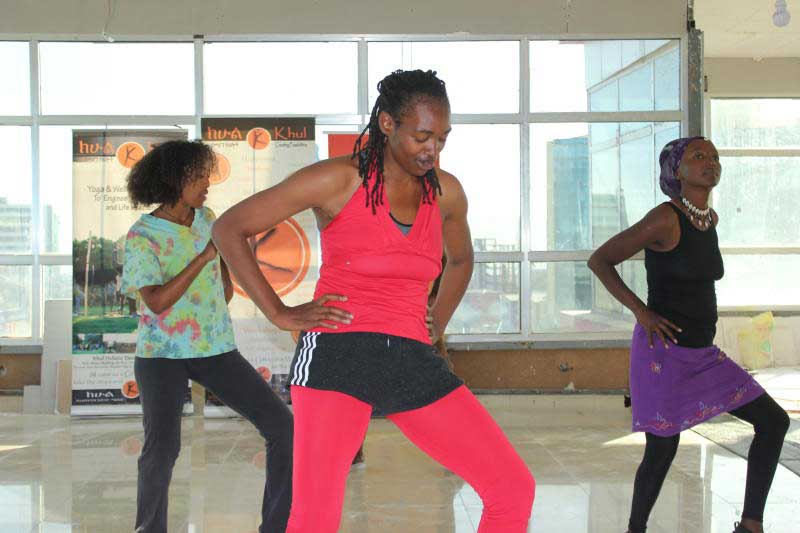 Reggae-robics sounds simple, especially if you love reggae music. But the fact that you follow Zela Africa Gayle's agile moves forces you to stretch muscles, resulting in exhaustion. In the end, however, one is rejuvenated, especially where regular exercise lacks.
"It is about encouraging people to move to reggae rhythm freely, discovering what their bodies can do creatively. The basis is not to lose weight, but if you do, well and good," says Ms Zela at the GoDown Arts Centre after one of her sessions.
Zela chose reggae as the conduit for reggae-robics because she identified with it and believed it carried inspirational messages with unique viewpoints.
"I was born in Jamaica and partly raised there. When my mother was pregnant, I would squirm and fidget in her womb. So my parents decided they would either name me Zeal if I was a boy or Zela if I was a girl. My name came through since I have been dancing all my life," the dance fitness trainer says.
Zela grew up listening to the conscious music. Her father Carl Gayle is also a legendary reggae journalist from the 1970s, while her mother, Askale Selassie, was the promotions and marketing manager of the legendary record house Tuff Gong, and the first promotions and publishing manager of Virgin Records and Frontline Label.
Tuff Gong is the production house founded by legendary reggae musician Bob Marley in 1965. World renowned artistes travel to record in the studio, the birthplace of some of the greatest reggae hits.
Currently, Zela resides in Ethiopia, where she teaches dance at an international school.
"Before I moved to Ethiopia, I had started coming up with the moves for reggae-robics. When most people hear that it's dance-fitness, they tend to think it is dancehall-orientated, but it's just pure reggae niceness fused with dancing and fitness moves. There is no unnecessary movement of hips, just plain reggae songs that I have customised to fit into the regime," she says.
There is a break where the participants practice a bit of yoga.
The regime promotes a calm, relaxed mind and body, releases tension and you also keep fit while listening to music.
Before she came up with the current reggae-robics regime, Zela had been recording herself practicing simple moves to inspiring reggae music.
"As a result, I had a VHS tape of around one and a half hours. When DVD technology came, fitness enthusiasts' research revealed that you could exercise for 15 minutes and remain fit. I researched more on fitness and came up with moves with a lasting impact on the body," she adds.
The fitness enthusiast intends to patent the art, dance and fitness such that everyone who practices it will have to use my customised reggae music moves. So far the reception has been amazing. According to the founder of Inner Zeal Productions, reggae-robics should ideally be practiced for at least 50 minutes for you to feel the maximum effect on the body and mind.
"I have done it in Ethiopia where I got a massive turnout, in Europe and now in Kenya. Before I patent it, I want to travel and spread reggaerobics under my company, The Inner Zeal Productions," she says.
Although one may recognise a Reggae tune during the sessions, the music that Zela uses is recorded in Jamaica. The musicians are paid by her to compose unique tunes that fit authentic moves from the Jamaican genre.
"My family had always wanted to relocate back to Africa since we consider it the mother land. We even travelled to Ghana when I was young, but we couldn't migrate back then. However, I vowed to come back to Africa after I completed my course in dance at the Winchester University," says Zela.
After completing her course in the UK, she travelled to Cuba to expand her knowledge in dance, and got the chance to learn traditional African dances, South American salsa, rumba, to name a few, an exposure she enjoyed.
After a short stint in the UK, Zela started thinking of ways to return to Africa. "I decided to move after I attended the Ethiopian millennium celebrations in 2007 (2000 in the Ethiopian calendar)," she says.
Aside from reggae-robics, Zela loves teaching and impacting positive knowledge on children. At the international school she teaches traditional African dances, salsa and Caribbean-influenced moves.
IEBC advertises Chiloba's job
The Independent Electoral and Boundaries Commission (IEBC) has announced vacancy for the position of Chief Executive Officer.