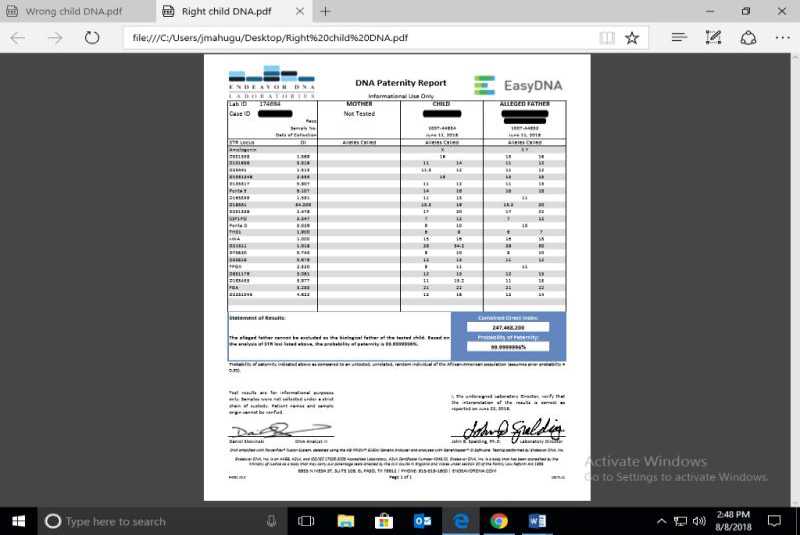 She was the product of a two-week fling with an old flame. He has been raising her with his new wife since she was five. His younger daughter is one and half-years-old. When he caught his wife cheating earlier this year, he was devastated, and doubts as to how long the affair had ran plagued his mind. She swore it had only been a few months, but he felt the prickling need to do a paternity test on his youngest child. And when his wife protested the move, to appease her, he decided to carry out tests on both children. When the results came out, one child was indeed not his. But it was not the child he had expected. It has been a little over a month now, but the remnants of the shock are still evident on his face. As he tells me his story, he pauses often as if the news is yet to sink in. The older child was not biologically his, while the younger one was. He hadn't seen that coming, and it feels like his heart has been broken a second time.
SEE ALSO: Coronavirus leaves Spain's interior a tourist desert
"I had a two-week affair with her mother after high school and that was it. We did not meet again for eight or nine months," he says. "One day she called me up and said she had just given birth. Stunned, I asked her when she had gotten pregnant and who the father was, but she told me to stop asking questions." A week later, during the Easter of 2010, she called him again and asked him why he wasn't visiting his child. At first, he had doubts that the child was his, especially because the mother had said nothing during the months they had been apart. "She told me that she had wanted the baby to be born first." After four months, he visited them. "I was looking at the baby and searching for clues that she was really mine. I saw some similarities and I decided to take responsibility because I believed that since I had brought the girl into the world, I should bring her up." He was 22, and even though they no longer had a relationship, he catered for his little girl.
SEE ALSO: For fathers starved of gratitude, appreciation
"She gave me focus and she always knew I was her father," he says emphatically. While incessant requests for money bothered him, he wanted to be in his child's life, and when the little girl turned five, he asked to be allowed custody of the child. A request the mother agreed to. And so he brought her home and raised her with his new wife, with whom they had another daughter.
Fate's twisted joke
As he explains how much pain he feels, his face contorts as though in physical pain. Then he waves his hand as though willing it away. And just as fast, regains control of his emotions. "I found the DNA center in Nairobi's Upper Hill area through a friend who had also had it done," he explains.
SEE ALSO: Meru suspected kidnappers arrested
How much was it? I prod. "Each test was Sh24, 000 and the results come out after seven to ten days." "Do you know what's funny?" he asks me. "What?" "I was not doubtful while waiting for the results for my firstborn. She looks more like me. Guess the joke was on me." But he is not laughing. He was in Bomet for work when he got the news. "I was with my friends in the car, having just had lunch when the guy from the DNA centre called me and asked if I would like to have my results sent on email. I agreed. Usually, you pay a deposit, they do the test and then you pay the balance to get the results. I paid the balance and they sent the email immediately and also decrypted it for me, as the results are usually encrypted if you do not get them on hardcopy." His eyes went right to the bottom of the page where the results were written. "Probability of paternity: 0%." It stated. "My heart stopped. It felt like a part of me had left my body. I had been talking about something with my friends and I went so silent that they got worried." He told them the news. For a moment, the droning of the engine and the wheels of the car was the only sound that could be heard until somewhere in the recesses of his mind, he heard his best friend let out an expletive and a "Why are women like this?" "This should change nothing," his friend continued, encouraging him to continue raising the child as his. At that point though, nothing made sense to him. "I was so angry. I felt like people had been walking all over me. I felt that because she knew I could not abandon my own child, she had taken advantage of me." Regrouping in the forest There was only one thing left to do. To talk to the child's mother. But he didn't want to talk to her, so he texted her that he knew the girl wasn't biologically his. "At first she said she did not believe me and said she had to see the results in person. Then she apologised and said she always thought the child was mine and that she was ashamed. That she really didn't know who the girl's father was," he says. Feeling really violent and about to blow his top, he left his phone at the work premises, drove as far as he could and into the forest where he found a clearing, and stayed there for three hours until he calmed down. He couldn't go back to Nairobi as scheduled because then he would have to face the little girl. Instead, he stayed in Bomet for four more days.
Daddy I miss you
The day he arrived home, the girl came in running, excited to see him. "She ran and hugged me, saying, 'Daddy I always miss you so much when you go'. I felt like crying. She had just started exams, so she was telling me about how she had gotten 96 per cent in Maths. She couldn't stop talking. I was responding to her but it was not the same anymore." His eyes light up when he describes a near-perfect child. "Everyone loves her. Her coaches say she is one of the best children in their classes. She is very disciplined and obedient and raising her was great. I have taught her self-defense through martial arts classes and she is very good at it. She is better at physical activities than the boys in her school," he says proudly. "One time she was hit by another child and she did not fight him back. This is despite her being a professional child martial arts fighter. She told me that she was afraid of hurting the other child. She has a pure heart. I wanted to train her to have a chance at the olympics. I was so proud of her. Still am."
To raise her or not?
He wrestled with the question of whether to keep her or not, and is still very conflicted. "I feel like I won't give her 100 per cent of me and if I cannot do that I should not keep her. She deserves someone who will give her his all without holding back," he says. He would probably have had an easier time deciding if he was sure her mother would parent right. "Recently, the child said she had missed her mother and I decided to take her to visit. When we got there, her other children (she has since had two more) were so disheveled. This was at 6pm and they told me their mother was at the bar where she works," he says. He decided to leave the little girl there, and for now, he is not sure if he will get her back. "I still don't know what to do. I might change my mind because her mother might start filling her mind with negative thoughts of me. But for now, I don't know. That was too much betrayal." Did his marriage to his cheating wife survive? "No. I couldn't take that betrayal either. I however, have custody of our daughter.