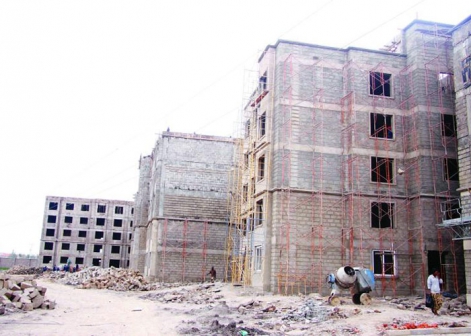 Two recent reports from the Central Bank of Kenya have rattled the real estate industry. In its Bank Supervision Annual Report 2015 released last week, CBK undertook a detailed survey of the real estate market in Kenya. The results were either 'good or bad' depending on whether one is a buyer or a seller in the property market.
Lenders may have been glad to see a jump in mortgages from 22,013 loans in December 2014 to 24458 loans, an increase of 2,445 loan accounts or 11.11 per cent. They may see this as a mark of confidence in their products.
To home buyers, however, the report contained what has been the bane of the industry for some time now, an increase in home prices resulting in poor sales. According to the report, "the average mortgage loan size increased from Sh7.5 million in 2014 to Sh8.3 million in 2015 due to increased property prices." The results of bad sales were captured in an earlier report by the bank.
The Quarterly Economic Review covering the first three months of 2016 stated that real estate had emerged as the biggest culprit when it came to piling up non-performing loans on the lenders' books.
According to this report, non-performing loans (NPLs) increased by 15.8 percent from Sh147.3 billion in December 2015 to Sh170.6 billion in March 2016. Real estate contributed to 42.3 per cent or Sh5.9 billion, "attributable to slow uptake of housing units".
In the last 15 years, the sector has emerged as the sector of choice for any investor looking for both short and long term financial gains. The city government's rezoning of some areas in Nairobi saw rows upon rows of apartments spring up overnight in areas where stand alone houses reigned supreme. Lavington, Kileleshwa and Kilimani took the lion's share in the new apartment boom.
But then came the unsustainable land prices with an acre of land in the city fetching up to Sh178 million. In Upper Hill, an acre sells for half a billion shillings. The ever shifting sands that is real estate sector in Kenya has made some people wonder if the segment is as resilient as it is touted to be.
Some investors who would have looked for a bargain in land prices have opted to buy complete units, rent them out in the short term and hope for a good sell in the future.
"Investors are now opting to buy property which they can rent out in the short term and sell in the long term. Most are opting to buy properties which are easier to offload than an acre whose high price makes it harder to find an immediate buyer," said Sakina Hassanali, head of marketing and research at HassConsult.
For a sector that was supposed to make developers smile all the way to the bank, the slow uptake of completed units points to a long and agonizing wait.
According to the Kenya Bankers Association, though home prices were on an upward trajectory in the second quarter of 2016, the climb was quite minimal to write home about. "The average cost of houses across the country increased by 1.74 per cent over in quarter two, compared to 1.4 per cent rise recorded in the first quarter of the year. The fixed base index showed prices grow at a slower rate across all the regions, a pointer to the general trend towards entrenching house price stabilization," said Jared Osoro, KBA director of research and policy.
Despite the slow movement of housing units, stakeholders are still optimistic that real estate remains a viable investment vehicle. They have always downplayed the much talked about housing bubble bursting despite the price of houses rising beyond what could be said to be their true value in recent years.
Developers and financiers have argued that the Kenyan market is fundamentally different from the Western countries that experienced a crash eight years ago.
According to Ian Henderson, managing director at Superior Homes Kenya, lenders in the UK financed home purchases to the tune of "four times the annual earnings of buyers without any real due diligence."
Lenders, he says, were heavily exposed in case of default. Availability of easy credit in the UK and the United States created a situation where lenders were more concerned on sales than in the borrowers' ability to repay.
"You could walk into a bank branch with no deposit and walk out with enough to buy your property and an extra 10 per cent to spend as you wish," he says.
The Western markets were made worse by speculators who could pay a small percentage during construction and "flipping" the homes to new owners upon completion.
With interest rates dropping and strict lending requirements abandoned, it was estimated that "56 per cent of new home purchases during that period were made by people who otherwise would not afford them under normal lending requirements," stated the online Investopedia.
In the long run, demand for new units decreased or stagnated in these markets while supply increased resulting in sharp drop in prices. The bubble had burst!
Still, does the spiraling non-performing loan book not an indicator of a slowdown in the sector? I posed this question to Frank Ireri, group managing director at HF Group. "I am not worried at all at what is termed as a non-performing loan in the housing sector. Such a loan is well secured and it only termed as non-performing, not due to the borrower's inability to repay but due to government bureaucracy that delays the property registration process," he says.
It can take almost a year for individual units in a large project to be registered. "We have even allowed people to occupy our new project in Komarock without receiving payments due to such paperwork delay by the government," he adds.
According to Ireri, financiers have tried to lobby the government to amend the Banking Act so that the period in which such loans are treated as non-performing can be extended from the "current six months to at least a year" with little success.
Well, only time will tell if the lull will result in a storm in the sector or the clouds will just dissipate.