God does not exist in Harrison Mumia's world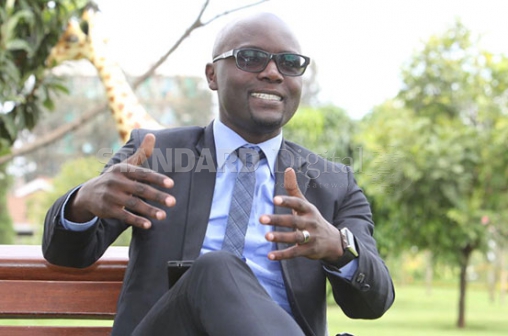 NAIROBI: February 17 should be declared Atheists' Day.
That is according to Harrison Mumia, the president of Atheists in Kenya which was officially registered three days after this Valentine's.
"We will petition Parliament to legislate that public holiday," Harrison vows. "We have religious holidays. Why not us? We will move to court if they discriminate against us. Under Article 8 of the Constitution, the government cannot to run the country based on any religion."
Talk about watershed moments.
Harrison, 37, is a history buff and a disciple of Richard Dawkins, Ayaan Hirsi Ali and the late Christopher Hitchens.
Do not get it twisted, though. Harrison is not the textbook cult demigod. Neither is he, he clarifies chop-chop, a devil-worshipper or Freemason. "Devil-worshipping is a religious concept. Can Christians stop telling us that we are devil-worshippers? It is them, the religious people, who came up with Old Nick!"
Atheists In Kenya is the first atheist society to be registered in Africa. "Which is very progressive," Harrison opines. "It means our Constitution recognises rights of minorities, and freedom of conscience and association. Instead of condemning AIK's registration, Kenyans should be celebrating," he says.
Harrison, a sharply-dressed amiable dude in designer glasses, is an alumnus of Jomo Kenyatta University of Agriculture and Technology. He works in the corporate communications department at the Kenya School of Monetary Studies.
It was at Kenya School of Monetary Studies that he embarked on a higher criticism trek, triggered by what he calls critical thinking. But before atheism happened, President Mumia was a Pentecostal.
GOD IS LOVE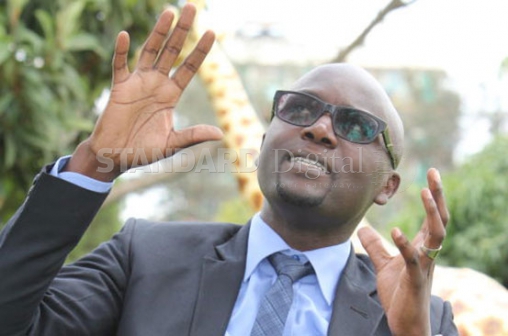 "The questioning begun because of Scriptural contradictions. My biggest problem with the Bible is we are told God is love. But if you look at the Old Testament carefully, God comes out as very jealous and vengeful," he rants.
"Look at this rationally: if today we were Egyptians, and our firstborn sons suddenly died because we hear there is a god somewhere who is annoyed, it would be immoral. And such a god does not deserve worship.
"Then there is the story in Genesis, about Adam and Eve. If God really wanted Adam and Eve to live a good life, why did He introduce a serpent? Those are simple questions, but they represent what we call cognitive dissonance."
For atheists, evolution is a fact. The atheists' body promotes science, and wants the government to be keener on scientific research as opposed to creationism.
They state that, claiming, "God created this", is a simplistic view.
Harrison bemoans the stigma associated with atheism. When his story was publicly published in 2014, a female colleague refused to greet him. He got calls from acquaintances and relatives. Some told him he was abnormal. Others said he was lost. There are colleagues who kept asking if he was "okay". To date, some people never accept his business card, which has AIK's loud and proud logo and motto.
He tells me of atheists on the "down low". Men who are caught between belief and babes. Men who cannot publicly declare they are atheists lest they be ditched by their hitherto unaware spouses.
Then there women who give Harrison the ultimatum that, to "put a ring on it", he must become a Christian.
"My dad freaked out," Harrison juxtaposes his parents' mixed reactions.
"He told me I was risking my job. That the Central Bank of Kenya may have a problem with me coming out because I may give my employer bad press. My mother is still praying for me. I think she is being the good Christian mom."
Harrison points out that, in Kenya, women atheists are very few.
"Women are more religious than men. Women have 'nurturer' encoded in their DNA. Women want to look up to something and that is why they get married," he says.
AIK drafted a proposal on how they want religious studies to done in public schools, which they presented to Education Cabinet Secretary, Fred Matiang'i.
AIK wants the current form of religious studies scrapped. This means Christian, Islamic and Hindu religious subjects — the principal faith syllabi in schools — will face the scalpel.
Their radical surgery entails crafting a curriculum that takes into account that those three are not the only religions. Instead of teaching just three subjects to specific children, AIK proposes that all schoolchildren should be taught — not for indoctrination — all religions.
AIK may seem to be on cruising on easy street now; even pushing a humongous envelope.
But the road to registration was anything but easy. Last year, AIK officials went to the office of the Registrar of Societies, several times, and spoke to the Deputy Registrar.
"The Registrar said, 'Mumia we cannot register you unless you change the name, Atheists in Kenya' and I asked why we should change the name yet we are atheists."
The registrar told them the name was not so friendly.
"I told him that was the name we were registering under as there is no law that requires one to change a name when registering.
He says the Registrar told him the preamble of the Constitution says Kenya is religious country and that "we believe in the existence of a god. So if he registers us, he would be contravening the Constitution."
Harrison says he told the Registrar that, in his view, the registration of AIK was not unconstitutional.
Then the urbane dude posits: "I am fed up with people saying our country is founded on religious values. If that is the case, why are we so corrupt?"
Harrison asserts that the Registrar was making decisions based on personal religious preference and could not separate his faith-life from his civil duties.
In January, AIK got a letter stating they could not be registered because — to quote, verbatim — "they are a threat to the peace and order of this country."
The atheists' community was furious. They lodged an appeal through their lawyer and AIK member, Ruth Mosoti, and delivered it to the Attorney General's office.
HUMAN EMOTION
"Our Constitution's preamble does not capture the aspirations of atheists," Harrison argues. "The preamble is not the Constitution. The Constitution starts with Article 1, and our registration is mainly based on the Bill of Rights. In a court of law, you cannot argue any case based on the preamble. That is something we have to make crystal clear."
I probe Harrison about the recurring "hate handle". That there are people who swear on their sacred text that AIK's president is just another Bible-basher clothed in atheism attire.
"Hate is a human emotion," he sighs. "We are allowed to hate. I hate the idea that so-called prophets are taking advantage of gullible Kenyans to steal their money, performing miracles that cannot be scientifically-verified.
"I hate the idea that children, as young as five years old, are being taught that heaven and hell exist. I hate the idea that Muslim women are supposed to wear hijab and cover their faces.
"I do not hate Christians but some practices by religious people are hateful and disgusting, and they deserve to be condemned. Let us not make hate look like a very strange thing to do. What is wrong with hating bad things? he asks.
Then Harrison digs his heels in, saying sin is a concept we need to do away with.
He says it is wrong to call somebody a sinner, because that is condemnation.
"I think what we have in this world are the right things, and the right people. We know what is right and what is wrong. A prostitute, for example, she makes her own decision. She's not hurting anyone. Why should I have a problem with that?
"Issues to do with sexuality are individual issues. We should not tell people that they cannot be what they want to be on the basis of religious morality. Our position is that gays and lesbians do not deserve condemnation. They deserve to be accommodated. They deserve to be loved, even by Christians. They deserve to be accepted. That is the problem with sin. Sin makes them look and feel bad."
To be a member of AIK, one has to be 18 years old and above. Plus, they have to be an atheist or skeptic.
"We are not like Christians and Muslims, who indoctrinate children when they are very young. If and when my children tell me they want to go to a church or mosque, I will allow them, but I will not take them," he says.
"And I need to clear this too: I can marry a woman of any religious persuasion. However, religion has messed up so many things. It is the great divider. It says one cannot marry because they do not share the same beliefs."
And if you are wondering why Harrison's still cleaving onto his patronymic first name, he says he will soon change it. He declares that it makes him a slave, and reeks of mental colonisation.
Another thing that is changing is perceptions to Harrison's cuppa. From the interactions, in the seemingly-cushy offices to out in the lush lawn, I perceived camaraderie between colleagues. They have come around to accept the adage, different strokes for different folks.
I ask Harrison if that colleague still dishes him cold shoulders.
"Oh! She retired," he smiles. "But, eventually, she came back and confessed and said she just felt bad that I am an atheist. I am pretty sure she reconsidered, and thought to herself: 'Mumia is still a good person; his ism hasn't messed up his decency."